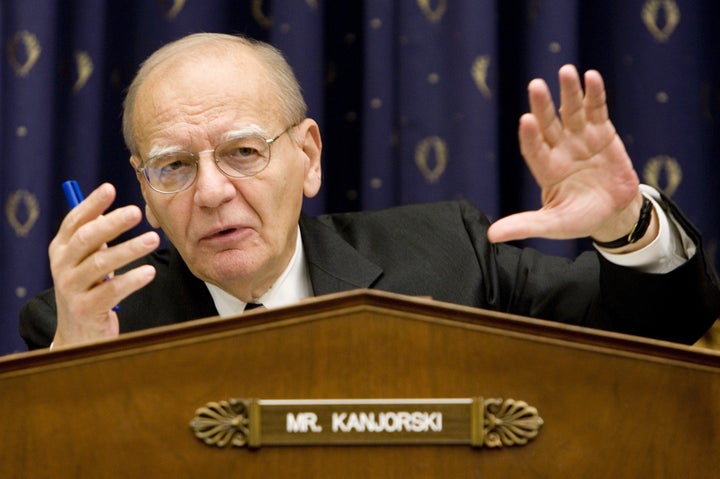 Former Congressman Paul Kanjorski (D-Penn.) on Monday joined a chorus of voices calling for more civilized political discussion in the aftermath of the weekend's devastating shootings in Arizona. Unlike many of those appeals, however, Kanjorski's appears somewhat tainted by a past that shows him to be part of the problem that he is now seeking to rectify.
In an op-ed in The New York Times, Kanjorski uses his own experience of working through the infamous attack on the House by Puerto Rican nationalists in 1954 to argue that "all Americans" need to take it upon themselves to defuse tensions:
We all lose an element of freedom when security considerations distance public officials from the people. Therefore, it is incumbent on all Americans to create an atmosphere of civility and respect in which political discourse can flow freely, without fear of violent confrontation.
While certainly a valid plea, a brief look back at this piece on Kanjorski from The Scranton Times-Tribune in October -- which reportedly followed a period of self-induced seclusion that the then-incumbent and spontaneous congressman had brought upon himself to avoid controversy -- shows that he had produced some extreme violent rhetoric of his own:
"That [Republican candidate Rick Scott] down there that's running for governor of Florida," Mr. Kanjorski said. "Instead of running for governor of Florida, they ought to have him and shoot him. Put him against the wall and shoot him. He stole billions of dollars from the United States government and he's running for governor of Florida. He's a millionaire and a billionaire. He's no hero. He's a damn crook. It's just we don't prosecute big crooks."
Rick Scott was indeed one of the key focal points of an investigation into medicare fraud charges filed against healthcare company Columbia/HCA, though no charges against him were ever produced. Scott is now Governor of Florida.
Calling all HuffPost superfans!
Sign up for membership to become a founding member and help shape HuffPost's next chapter