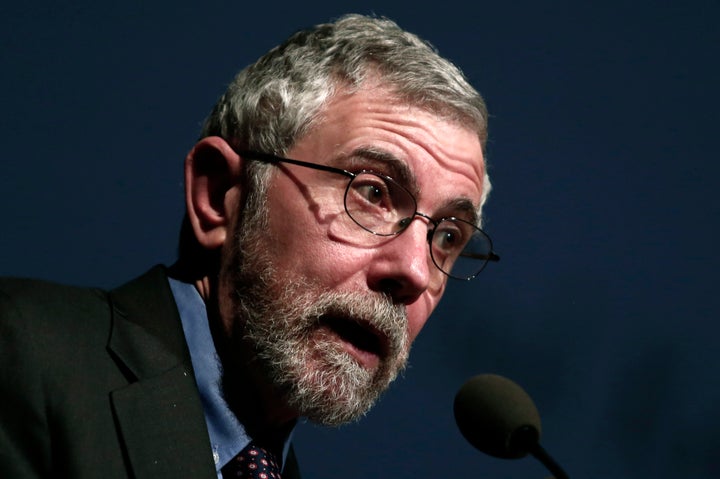 Paul Krugman on Thursday warned of dire environmental consequences if Democrats fail to gain a majority of seats in the Senate.
During an appearance on Bloomberg TV, the Nobel Prize-winning economist said that, even if Hillary Clinton wins on Nov. 8, President Barack Obama's signature piece of climate policy, the Clean Power Plan, could be derailed if a Republican Senate majority blocks every Supreme Court justice she nominates.
The plan has been stalled since February, when the Supreme Court, in a 5-4 decision, granted a stay to 29 states and a slew of industry groups who appealed the rule. The U.S. Court of Appeals for the D.C. Circuit held a marathon session in September to weigh the plan's future and a decision is due in the coming months. If the Supreme Court continues without a ninth justice, any appeal of that ruling would likely split the country's top court 4-4, which would affirm the lower court's decision.
"If the Democrats take the Senate, we probably save the planet," said Krugman, who recently bemoaned the absence of climate-related questions during the president debates. "Climate change has turned out to be an easier issue economically, and an easier issue politically than we thought."
Improvements in technology have made clean energy cost competitive with fossil fuels. The historic 180-country agreement reached in Paris last December, which goes into effect on Friday, has given markets the clearest signal yet that the world economy is ready to begin weaning itself off carbon.
Political gridlock in Washington has dimmed hope for legislation that would help the U.S. meet its goals for cutting carbon emission.
"We have a Republican Party that's been radicalized," Krugman said. "The only way policy gets made is through executive action."
The Clean Power Plan, which was carried out through executive action, imbued the U.S. Environmental Protection Agency with new powers under a 46-year-old provision of the Clean Air Act to force utility companies to reduce their emissions. Under the plan, the power sector is projected to reduce its carbon emissions by 32 percent below 2005 levels by 2030.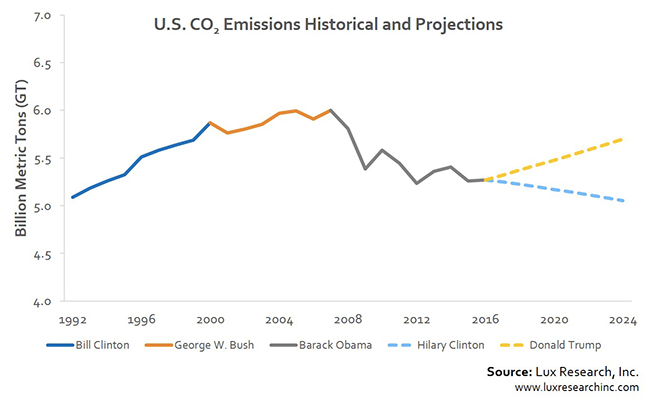 "You go for what is, in the end, something that is a top-down regulatory thing," Krugman said. "It's a not-too-bad second best."
But first, Clinton needs to secure a White House victory on Election Day. The Democrat has a 98.6 percent chance of winning, according to HuffPost's election model. HuffPost Pollster, which aggregates publicly available polling, shows Clinton taking about 48 percent of the vote nationally to Donald Trump's 42 percent in a head-to-head matchup.
That's good news for the climate. A victory for the Republican would reverse most of the progress made in cutting carbon pollution during Obama's eight years in office. After two terms of Trump policies, emissions would be 16 percent higher than after two terms of Clinton's policies, amounting to 3.4 billion tons of carbon over the next eight years, according to a study released Wednesday by the independent data firm Lux Research.
"As independent analysts, we don't endorse candidates, but the data and analysis clearly show that energy policy and the resulting emissions will go in very different directions under Clinton and Trump," Yuan-Sheng Yu, an analyst at Lux, said in a statement. "Climate change hasn't been front-and-center in media coverage of this election but voters should be aware of the implications of their choice on this important issue."
Cristian Farias contributed reporting.
Popular in the Community