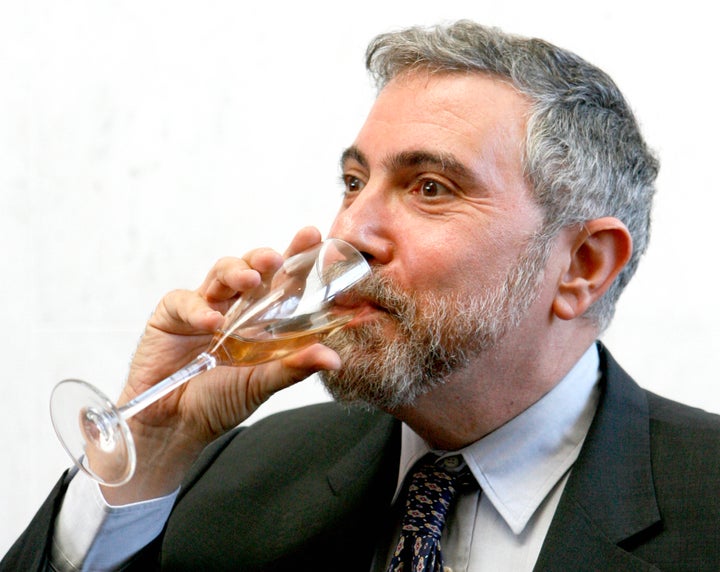 Paul Krugman on Tuesday brushed off the argument that voters are drawn to Donald Trump because his bombastic, anti-trade rhetoric offers them hope for the job market.
Rather, the Nobel Prize-winning economist said the Republican nominee plays to racial tensions among white, low-income voters who blame immigrants and people of color for their financial hardship.
"Economic anxiety is not a very good predictor of who's a Trump supporter," Krugman said during an interview on Bloomberg TV. "Racial antagonism is a good indicator of who's a Trump supporter."
A former reality TV star, Trump has billed himself as a "blue-collar billionaire," whose fascist stylings and rejection of traditional presidential decorum make him a voice of the common people. He has vowed to champion the factory workers whose jobs were outsourced abroad in recent decades. He has committed to slashing restrictions on coal, the dirtiest fossil fuel, to spur job growth in the struggling mining sector.
More concretely, Trump said on Fox Business last week that he would "at least double" his Democratic rival Hillary Clinton's proposal to spend $275 billion rebuilding ailing infrastructure across the U.S. The move was a departure from the usual Republican orthodoxy around limited government spending. Krugman questioned the sincerity of his promise, despite the fact that negative real interest rates make it profitable for the government to borrow money.
"He heard someone say we should borrow money for infrastructure, so this week he's saying that's what we should do," Krugman said.
Touting his wealth and high-profile real estate career ― both of which he inherited from his father ― he claims to be a naturally better steward of the economy than Clinton, who has spent most of her career in public service.
"We have this delusion that business experience has a lot to do with running economic policy ― they're just different domains," Krugman said. "Generally, great businessmen often have no clue about macroeconomics."
Trump has pledged to dismantle international trade agreements and impose huge tariffs on imports from Mexico and China, potentially sparking a trade war. Combined with his promise to deport all 11 million undocumented migrants and build an expensive and dubiously-effective wall along the U.S.-Mexico border, Trump's economic policies could throw the country into the longest recession since the Great Depression, according to a June report from economists at Moody's Analytics.
"The idea that this is what it's about, that his China bashing and his trade stuff is really behind the movement [is false]," Krugman said. "I think what's really happening is all these subterranean impulses driving the Republican vote for decades are just coming to the surface."
Indeed, Trump's candidacy has amplified voices and views ― such as white supremacy and anti-Semitism ― long considered too taboo for the political mainstream. After endorsing Trump, David Duke, a former leader of the Ku Klux Klan, announced his own bid to represent Louisiana in the U.S. Senate. Droves of supposed Trump fans have organized online attacks on Jewish journalists, going as far as to develop a Google Chrome extension that identifies people with traditionally Jewish surnames to more easily target them for harassment. Trump's long history of making vile statements about women first came to light last year, when he suggested Fox News host Megyn Kelly asked tough questions of him during an early primary debate because she was menstruating.
Despite his myriad comments insulting people of color, religious minorities and women, Trump insists he is neither racist nor misogynistic, and blamed the media for its adherence to social norms around respecting other people's backgrounds.
Related
Popular in the Community