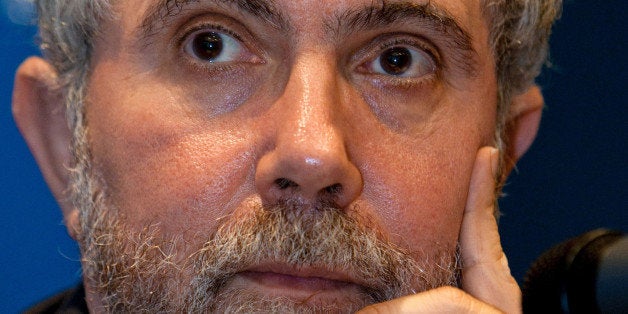 Paul Krugman thinks Harvard economist Greg Mankiw forgot an important detail in his new paper, "Defending The One Percent": Social inequality just keeps growing.
The Nobel Prize-winning economist and New York Times columnist wrote in blog posts Saturday and Sunday that rising social inequality makes it less likely for children born into poor families to earn more money later in life. Krugman illustrates this point with a chart from Miles Corak, an economics professor at the University of Ottawa, that shows a widening gap between how much money the rich and poor spend on their children.
Earlier this month, Mankiw wrote that the top 1 percent of society is richer because they contribute more to society and in essence earn more as a result. But, as Krugman points out, the former economic adviser to President George W. Bush fails to acknowledge how much society has changed in the last 50 years and how those changes lead to differing opportunities for children, depending on the family into which they are born.
"It was a different country, one in which ordinary public high schools were often pretty good, in which good higher education was available cheaply at state universities, in which almost none of the vast apparatus of tutors and private instruction now used by the elite existed," Krugman wrote, referring to how America has changed since 1958, when Mankiw was born.
As Krugman notes, he is not the first to take aim at Mankiw's defense of the richest members of society. Dean Baker, co-director of the Center for Economic and Policy Research, points out that even if the top 1 percent deserve to earn more because of their contributions to society, policy plays a large role in deciding how much they are rewarded for those contributions.
Calling all HuffPost superfans!
Sign up for membership to become a founding member and help shape HuffPost's next chapter
BEFORE YOU GO
PHOTO GALLERY
Paul Krugman's Greatest Takedowns