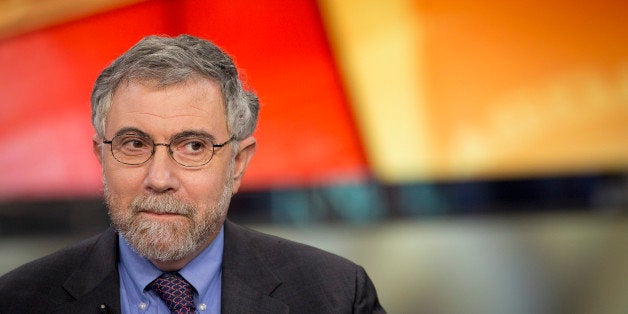 Paul Krugman is giving Niall Ferguson the silent treatment. Sort of.
Ferguson's latest series of attacks, called "Krugtron the Invincible, Parts 1, 2 and 3," take aim at a variety of Krugman's arguments, but the Cliff's notes version is basically: Krugman is wrong pretty much a lot, refuses to admit it and has marshaled an army of lesser-known, but still known, economic writers to defend his wrong ideas. (Full disclosure: we at HuffPostBiz probably fit into this category.)
Matthew Yglesias of Slate hits a similar note, while simultaneously claiming to "turn the other cheek" at Ferguson:
"Ferguson might want to consider a meta-rational approach in which he wonders if the range of people who disagree with him about such matters doesn't possibly reflect Ferguson's own wrongness rather than the vast reach of the Krugman conspiracy."
And finally Business Insider's Josh Barro probably offers the best take because it includes a Lindsay Lohan reference:
"Niall Ferguson will teach us the importance of humility! Presumably in the same manner that Lindsay Lohan can teach us the importance of sobriety."

26 Economists You Should Be Following On Twitter