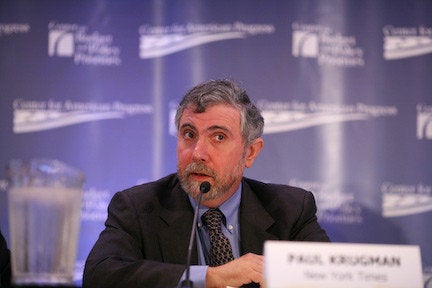 Paul Krugman says that the Republican Party may throw the modestly rich "overboard" to protect the fortunes of multi-millionaires.
In a blog post on Tuesday, Krugman focuses on one tax proposal floated by Congressional Republicans that would essentially create a "tax bubble," disproportionately hurting the upper middle class. (Nate Silver has an explanation and a chart here.) Krugman writes that taking this tack would let the GOP protect the super-rich at the expense of the working rich (using the decades-old language of Oliver Stone's Wall Street) who make six-figure salaries.
"When push comes to shove, the GOP seems ready to throw the bottom 90 percent of the top 1 percent overboard, in order to protect its real patrons, the superelite," Krugman writes.
The tax system brackets give marginal rates. This means that if the raise bumps you into a higher bracket then you pay more taxes only on the income in the higher bracket. Suppose that the tax bracket for income under $200k is 25 percent, and for income over $200k is 33 percent. If you get a raise that pushes your income from $195,000 to $205,000 then you only pay the higher 33 percent tax rate on the $5,000 that is above the $200k threshold not your whole income. Therefore, there is no (as in none, nada, not any) way that getting more money, and being pushed into a higher tax bracket will leave you with less money after taxes.
One Republican proposal would tax a household's entire income at the highest rate possible, rather than just the portion of income that exceeds a certain limit. Doing so would penalize some people for making more money, as Nate Silver notes.
Calling all HuffPost superfans!
Sign up for membership to become a founding member and help shape HuffPost's next chapter
BEFORE YOU GO
PHOTO GALLERY
The Richest Men Ever