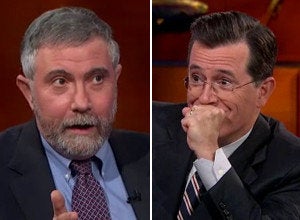 Paul Krugman had an alternately terrifying and hilarious discussion with Stephen Colbert on Tuesday's "Colbert Report."
Krugman was on to talk about the economic crisis. He repeated his mantra that government spending was badly needed to spur economic growth. Colbert said that regulation was "strangling" business confidence, which was a nice segue for Krugman's well-known "confidence fairy" that would save the economy.
"There might be children right now," Colbert said. "The confidence fairy is real, right?"
"Will you say right now that we are headed into another depression?" Colbert asked. "We're already in a kind of a depression," Krugman calmly said. Colbert visibly blanched. The look of terror that crossed over his face was rather priceless.
"That physically hurt to hear you say," he said. Colbert wondered if, as in the 1930s, people should start making musicals where young blond children "sing ditties with aged Negroes."
"I thought that iPads are basically the equivalent," Krugman said.
"Did you just call iPads an aged Negro?!" Colbert said. "I am not going to sit here and have a Nobel laureate make racist statements about Steve Jobs!"
WATCH:
International users click here.