NEW YORK -- Paul Krugman is a combative guy.
The Nobel Prize-winning New York Times columnist routinely challenges a vast array of intellectual opponents -- journalists, economists, political leaders -- on the future of the economy and politics, focusing in recent years on austerity measures that cut government spending.
Not unlike the battle-hardened Mario Brothers or the Zelda franchise's sword-slinging hero Link, Krugman is "always quarreling" with different adversaries, Bloomberg Markets executive editor Ron Henkoff told The Huffington Post on Tuesday.
So when magazine editors decided to include Krugman in its upcoming rivalry-themed issue, they illustrated him as an 8-bit character from a 1980s video game.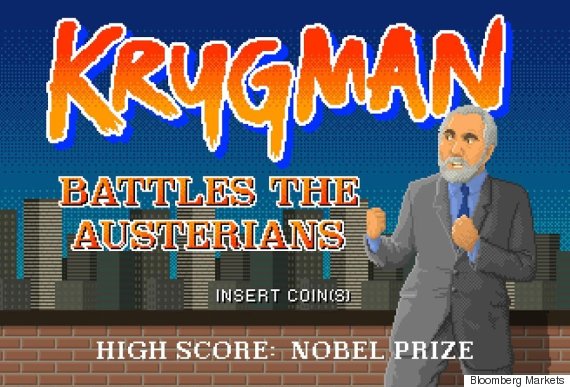 "It seemed like a natural way to do it, like a vintage video game where you have a protagonist battling all these enemies, and just bashing them," Henkoff said. "In the end -- and I don't want to give too much away -- he declares himself the winner."
Pixelated Krugman is only an illustration -- not part of a playable game, Henkoff said. Scottish artist Walter Newton designed the graphic.
The cheeky imagery is a relatively new move for Bloomberg Markets, usually among the more staid publications in Bloomberg LLC's growing stable of media properties. The graphic feels more in line with its sister title Bloomberg Businessweek's edgy artistic direction. But the company is shifting toward a more general interest media strategy. So, Siung Tjia, Bloomberg Markets' creative director of four years, has been encouraged to experiment.
"We looked at new ways we could approach the journalism that we approach, which is serious and important, but can also be conveyed in a way that's engaging and entertaining," Henkoff said.
The issue, which goes to print at the end of next week, will hit newsstands on June 22.
The real Krugman did not respond to a request for comment.
Calling all HuffPost superfans!
Sign up for membership to become a founding member and help shape HuffPost's next chapter