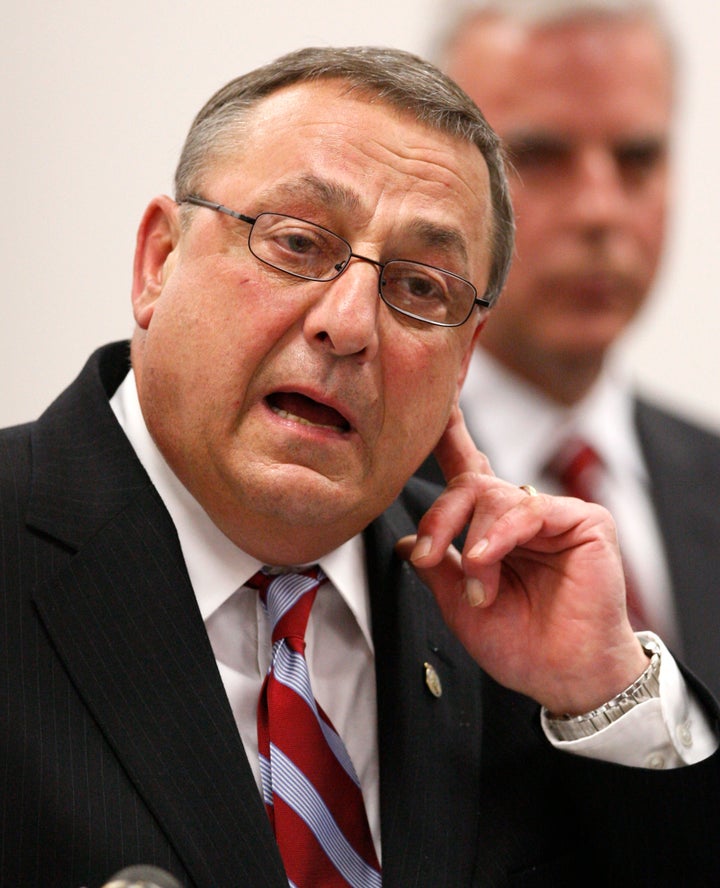 Maine Gov. Paul LePage (R) recently characterized efforts by a state Democratic legislator to coordinate a meeting with him as disingenuous "bullshit."
State Rep. Andrew O'Brien (D) met with LePage and three job-seeking constituents over the weekend, following months of failed attempts by O'Brien to organize a sit-down to discuss concerns over unemployment insurance and Maine's jobless population. The impromptu parley came after complaints by state lawmakers and other protests regarding claims that the LePage administration had barred O'Brien from using a state career center facility to host sessions with unemployed constituents.
A press release from LePage's office after the meeting implied that there were frustrations from both parties regarding the preceding difficulties, but suggested that the exchange had been generally cordial. LePage's subsequent comments, however, didn't appear to corroborate this account.
Eric Russell at the Bangor Daily News reports:
When Capitol News Service reporter Mal Leary questioned LePage after that closed-door meeting with O'Brien and the three job seekers, however, the governor had a different take.

Asked by Leary what he thought of the meeting and ultimately about O'Brien's letter, LePage talked for a couple minutes about the politics involved.

"It's all a big play and I think it's bullshit," the governor said, pausing for a minute then adding slowly, "Bull ... shit."
LePage is well known for his colorful rhetoric and blunt assessments. Before winning election in 2010, LePage drew fire for proudly telling a GOP forum that voters could expect him to tell President Barack Obama to "go to hell." LePage later told the NAACP to "kiss my butt" when the group alleged racial insensitivity following the governor's absence at a Martin Luther King Day event.
LePage's relations with Maine's labor community have also been strained. Earlier this year he ordered the removal of a large mural that allegedly depicted pro-labor images, inviting criticism from many union advocates around the nation. It turned out that he'd never actually seen the artwork. LePage also raised eyebrows this year when he voiced support for loosening the state's child labor laws
REAL LIFE. REAL NEWS. REAL VOICES.
Help us tell more of the stories that matter from voices that too often remain unheard.