LePage made the wildly inaccurate claims during an August town hall in which he said he had collected pictures of every single drug dealer arrested in Maine since January. His office released the binder on Monday after public records requests from The Huffington Post, several other outlets and the American Civil Liberties Union of Maine.
He also claimed in August that people of color in his state were "the enemy" because they made up the "overwhelming majority" of those arrested for drug dealing.
"Look, a bad guy is a bad guy, I don't care what color it is. When you go to war, if you know the enemy, the enemy dresses in red and you dress in blue, you shoot at red, don't you?," he said. "You shoot at the enemy. You try to identify the enemy. And the enemy right now, the overwhelming majority right now coming in are people of color or people of Hispanic origin. I can't help that. I just can't help it. Those are the facts."
Just 47 percent of those pictured in the binder arrested for opioid-related charges appeared to be black or Latino, the Press Herald found. Fifty-three percent of those pictured appeared to be white.
Statistics on Maine arrests for making or selling all types of drugs in 2014, the last year for which FBI Criminal Justice Information Service data is available, show that only 14.1 percent of the 1,211 people charged were black. The Maine Department of Public Safety doesn't include race when compiling and analyzing crime data, The Associated Press reported this month.
"Whether or not his assertions were deliberately misleading, they were dangerous and racist."
Alison Beyea, executive director of the ACLU of Maine, said LePage's claims were unquestionably racist.
"The governor greatly exaggerated the percentage of people arrested for dealing drugs who are Black or Hispanic," she said in a statement. "He then used his false claims as the basis for calling people of color the enemy. Whether or not his assertions were deliberately misleading, they were dangerous and racist."
The binder is a compilation of news clippings and releases from law enforcement announcing drug-related arrests. Several of the items have handwritten notes scrawled across them requesting photos for LePage's "album." Beyea criticized the governor for using such an unreliable source to make claims about criminals in Maine.
"The governor has multiple agencies at his disposal that collect arrest data in Maine. It is outrageous that he would rely on an incomplete collection of newspaper clippings and emails to make false, inaccurate accusations about people of color," she said. "It's time for the governor to stop using people of color as a scapegoat for Maine's drug problem, and to start proposing real solutions based on actual facts."
LePage revealed the existence of the binder in August after he was widely criticized earlier this year for making racist claims about those arrested for drug dealing in his state.
"Guys with the name D-Money, Smoothie, Shifty, these types of guys. They come from Connecticut and New York, they come up here, they sell their heroin, and they go back home," LePage said in January. "Incidentally, half the time they impregnate a young, white girl before they leave, which is a real sad thing because then we have another issue that we've got to deal with down the road. We're going to make them very severe penalties."
Connecticut Gov. Dannel Malloy (D) said the release of the binder only underscored how inappropriate LePage's comments were.
"Sadly, it's no surprise that Governor LePage's comments are being proven as outright falsehoods. His comments are as wildly outrageous and out of line today as they were then," Malloy said in a statement to HuffPost. "The reality is that the heroin addiction not discriminate and to truly address this epidemic, we have to bring people together ― not create fictitious divisions."
Before You Go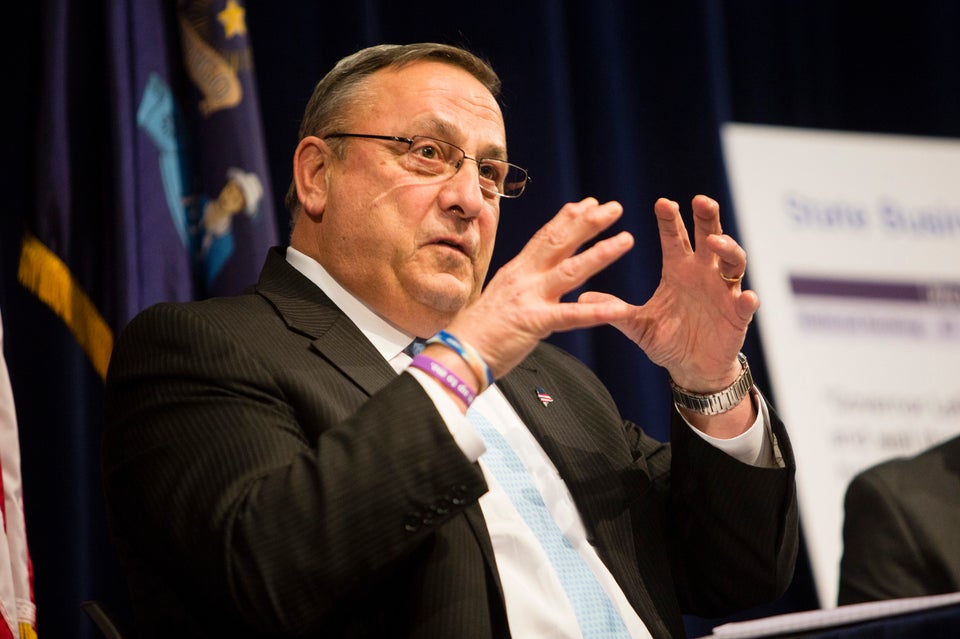 Paul LePage's Greatest Hits
Popular in the Community