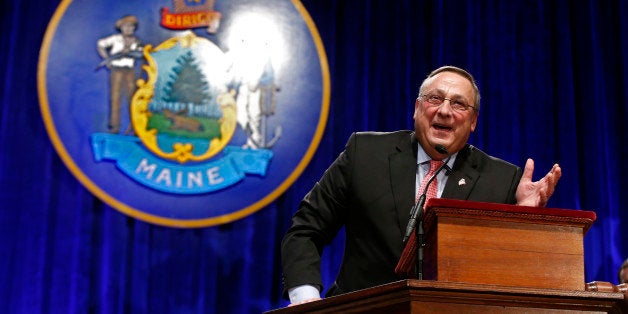 Maine Gov. Paul LePage (R) wants to kick poor people off food stamps and welfare if they have drug-related felony convictions and also to expand a recently enacted drug testing program.
The 1996 welfare reform law banned drug felons from receiving food stamps or benefits from the Temporary Assistance for Needy Families program. The law let states waive the restriction, and Maine is among the majority of states that have either modified the ban or removed it altogether, according to The Sentencing Project, a criminal justice reform nonprofit based in Washington, D.C.
It was politically favorable in the 1990s for elected officials to be both tough on crime and tough on welfare. In recent years, tough-on-crime politics has given way to criminal justice reform, but cracking down on welfare seems popular as ever. LePage and other Republicans in Maine and elsewhere campaigned successfully on welfare reform in the last election.
"While the issues can overlap, I think that some policymakers see them separately and aren't as conscientious as they should be about the impact a felony drug ban can have," Jeremy Haile, federal advocacy counsel with The Sentencing Project, said in an interview.
The Sentencing Project suggested in a 2013 report that banning benefits for people with felony convictions increases the likelihood they'll wind up back in prison.
Under a new law that took effect in January, Maine started requiring convicted felons to undergo drug screenings if they wanted TANF benefits. LePage's new proposal would deny drug felons both TANF and Supplemental Nutrition Assistance Program benefits while requiring all TANF applicants to answer a questionnaire about drug use. Based on their answers to the survey, applicants suspected of drug use would be referred for urinalysis. People who test positive for drugs would have to complete a drug treatment program if they want benefits.
A summary of the new proposal provided by LePage's office noted that a 2011 poll found widespread support for welfare drug testing.
"We have long believed that this is an appropriate path to take to ensure that the benefits are being used to support families on their pathway out of poverty and to ensure appropriate use of taxpayer dollars," Maine Department of Health and Human Services commissioner Mary Mayhew told The Associated Press.
Want more updates from Arthur? Sign up for his newsletter, Off Topic.
Calling all HuffPost superfans!
Sign up for membership to become a founding member and help shape HuffPost's next chapter
BEFORE YOU GO
PHOTO GALLERY
America's 'Working Poor'