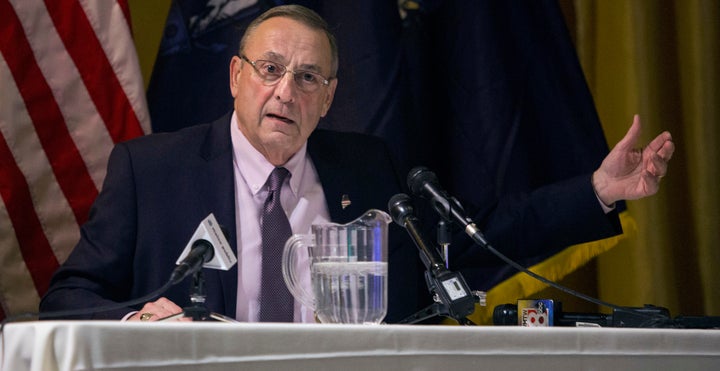 "This is when you know it's not about the press, it's not about reporting, it's about poking a certain person in the eye for six-and-a-half years," he said, referring to his time in office. "I'll tell you, they're so bad. You know what we found that works? We go to Facebook Live, and we ignore them, and they get even angrier." 
While the stories about LePage planning a mid-shutdown vacation cited GOP state senators, he claimed the reports stemmed from his comment that his pen ― his power as governor to sign bills into law ― would be vacationing during the shutdown. 
"The press just ran [with that comment], and they're so, so vile and inaccurate," he said. "I just love to sit in my office and make up ways just so they'll write these stupid stories. I mean, they are just so stupid, it's awful."
He continued, "I'll tell you, the sooner the print press goes away, the better society will be. ... They're useless."  
A spokeswoman for LePage, who first won his office in 2010 and won re-election in 2014, did not immediately return a request for comment. 
You can listen to audio of the interview below:
"I'm serious," he said in August. "Everything will be put into writing. I'm tired of being caught in the 'gotcha' moments."
His latest comments come as President Donald Trump ― whom LePage supports ― has continued his own war against the media. In the last week, he's attacked the hosts of MSNBC's "Morning Joe" and tweeted a 2007 clip of himself beating up WWE owner Vince McMahon that had been edited to to replace McMahon's head with the CNN logo. 
BEFORE YOU GO
PHOTO GALLERY
Fake News Spread By Social Media During The 2016 Election