A drug addiction treatment center in Sanford, Maine, has announced it is closing, blaming the policies of Gov. Paul LePage (R) for its decision.
"We're in the business of treating the disease of addiction," Charles Faris, president and CEO of Massachusetts-based Spectrum Health Systemssaid in a statement Monday. "In Massachusetts, we're seeing law enforcement helping addicts get into treatment. In Maine, Governor LePage is discussing calling in the National Guard to combat the state's drug epidemic while leaving multi-million dollar grant opportunities for funding treatment on the table."
"As a not-for profit, we rely upon our partnerships in government; unfortunately, we feel the current administration lacks interest in supporting the evidenced-based [sic] solutions we provide," he added. 
The Sanford outpatient clinic was Spectrum's only facility in Maine and the first to provide medication-assisted treatment in York County. Spectrum said the clinic was treating 105 patients as of last week -- up from roughly 50 in January -- and it has already started giving notice to the people it serves.
"Folks are devastated," Spectrum spokesman Brendan Melican said. He added that the state Medicaid program cut the company's reimbursement rate to a point where it was not able to sustain a clinic.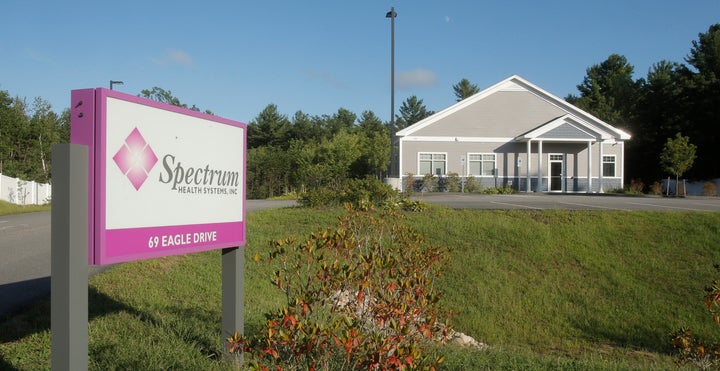 Jim Cohen is Spectrum's outside legal counsel who helped get the clinic permitted. Spectrum was in discussion with the state about the facility as early as 2009, five years before it was able to start taking patients. 
The state cut the reimbursement rate twice while the clinic was under construction. But since Spectrum had already committed the resources to permitting and building the facility, it decided to go ahead anyway. That decision ended up being unsustainable. 
"It's a difficult environment because there is a tremendous need for services," said Cohen. "Maine is experiencing an opiate epidemic, but yet the funding to ensure that there are treatment services to help people who are in need has not been there."
Opiate addiction has become one of Maine's most pressing issues, touching people of all demographics in every area of the state. Heroin overdose deaths jumped from seven in 2009 to 57 in 2014, according to the Maine Office of Substance Abuse, and the number of residents seeking treatment went from 1,115 in 2010 to 3,463 in 2014. 
On Wednesday, LePage will convene a summit on drug abuse, bringing together addiction experts and state, local and federal law enforcement officials to address the crisis. 
Advocates were particularly upset this month when the LePage administration decided not to pursue up to $3 million in federal aid for states to improve services and increase medication-assisted treatment for individuals with opioid use disorders. 
"Applying for a significant grant like this requires an enormous amount of staff time, and that's why [the Maine Department of Health and Human Services] does not apply for every grant opportunity offered by the federal government," agency spokesman David Sorensen told the Bangor Daily News at the time. 
In his July 29 radio address, LePage also said the state had hundreds of thousands of dollars in addiction treatment funding that was going unused each year, while advocates said they had no idea that money was available.
In response to the Spectrum clinic in Sanford closing, DHHS told the Bangor Daily News, "Spectrum has made the business decision to close its only methadone treatment clinic in Maine after a short time in operation. In state fiscal year 2014, Spectrum served 38 Medicaid patients, and the number of patients it served grew to 85 in state fiscal year 2015. We are not certain if treating just 2 percent of those receiving treatment in Maine had a bearing on the decision to close."
It added that it will work to transfer patients to the next nearest methadone clinic. 
Calling all HuffPost superfans!
Sign up for membership to become a founding member and help shape HuffPost's next chapter