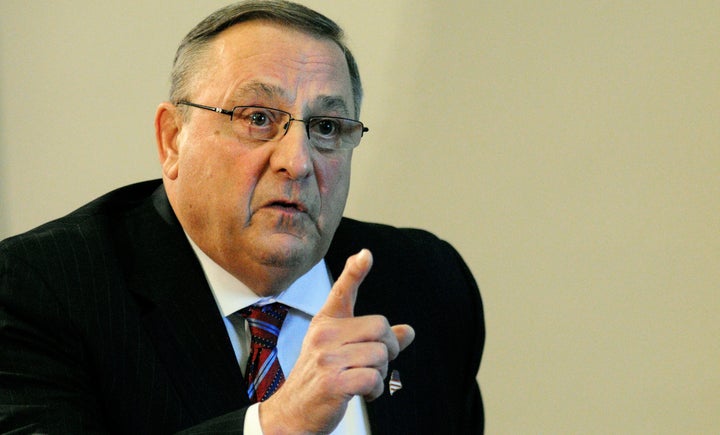 Maine Gov. Paul LePage (R) has been on the defensive since he vetoed a bill last month that would have increased access to a lifesaving overdose medication.
"Naloxone does not truly save lives; it merely extends them until the next overdose," he argued. The legislature, however, overwhelmingly overrode his veto.
In town hall events this month, LePage has continued to insist that naloxone, also known as Narcan, isn't a solution, repeatedly pointing to the case of a student at Deering High School as an example of why it's problematic.
"A junior at Deering High School had three Narcan shots in one week. And after the third one, he got up and went to class. He didn't go to the hospital. He didn't get checked out. He was so used to it. He just came out of it and went to class," LePage said in Lewiston on May 4.
LePage again talked about Deering High School overdoses during a recent town hall in Damariscotta, according to the Bangor Daily News. And on a radio show Monday, he said he knew of at least two other students in eighth and 11th grades who overdosed.
"I know of one situation where a high school kid was airlifted to Maine Medical and he survived," the governor said. "So they're in our schools. We can say all we want, that they're not in our schools and you can ask for all the apologies in the world, but let's keep our kids alive."
LePage's office did not return a request for more details on these students. But Deering High School has said flat-out that the governor's story is made-up.
"It's not true. It's absolutely not true," school principal Ira Waltz told the Maine Public Broadcasting Network in early May. "We don't even possess the medication in the building. And I checked with the school nurse and the school-based health center, and we have no access to that medication. And so, if there was an overdose at Deering, we would have called 911. That would have been our intervention."
But on Monday, LePage continued to insist the Deering High School tale was real.
"It was not fabricated. This was an actual conversation," he said, noting that Portland Police Chief Michael Sauschuck was "in the room" when he heard the story.
On Tuesday, Sauschuck also said LePage's story was false. He said the governor was referring to a conversation with Steve Black, the school resource officer at Deering, that took place last fall. Black did not talk about overdoses at the high school.
"It did not involve Deering High School, it did not involve a school bathroom," Sauschuck said, according to the Maine Public Broadcasting Network. "It did involve Deering Oaks Park. But that was one example. And, to be quite frank, there are scenarios where people are being [revived] multiple times. But how all that came together, I have no idea."
"It's not true. It's absolutely not true."
Deering Oaks is a public park, not a school. Sauschuck reiterated that Black "was not referencing any kind of overdose at Deering High School."
Nancy Dube, the school nursing consultant for the Maine Department of Education, said she has not heard of a serious drug overdose happening in a school in the state.
The governor's veto of the naloxone bill essentially argued that addict lives are not worth saving because they will simply overdose again -- an assumption that is not true. The measure allows people to go to a pharmacy to access the medication.
"Creating a situation where an addict has a heroin needle in one hand and a shot of naloxone in the other produces a sense of normalcy and security around heroin use that serves only to perpetuate the cycle of addiction," he wrote in his veto message at the time.
State Sen. Cathy Breen (D), a supporter of the legislation, called LePage's statement "insensitive."
"Gov. LePage is insinuating that Mainers suffering from addiction are beyond reach -- that they cannot be saved," she said in a statement. "I disagree. Narcan can be the difference between an early grave and an intervention that can put an addict on the path to recovery. We know that Narcan saves lives. It is incumbent on us to make sure it is readily available."
"I'm a pro-life person," added state Rep. Jeff Timberlake (R), who initially opposed the bill but eventually voted to override LePage's veto. "How could I possibly take the chance for somebody to live away from them?"
Popular in the Community