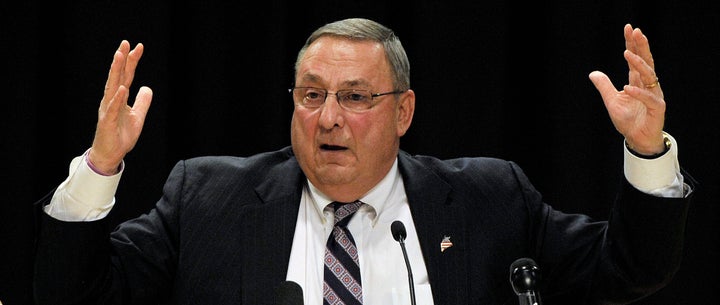 Maine Gov. Paul LePage (R) wants to wash his hands of the federal food stamp program because beneficiaries eat so much filthy junk food.
LePage told the Obama administration that he'd end the state's administration of food stamps if the U.S. Department of Agriculture won't let him decide which foods Mainers can buy with their benefits.
"It's time for the federal government to wake up and smell the energy drinks," LePage wrote in a letter to Agriculture Secretary Tom Vilsack.
"Doubtful that it will, I will be pursuing options to implement reform unilaterally or cease Maine's administration of the food stamp program altogether," LePage wrote.
States distribute the benefits but the federal government sets the rules for the Supplemental Nutrition Assistance Program, which serves roughly 44 million Americans nationwide, including nearly 200,000 in Maine.
LePage spokeswoman Adrienne Bennett told The Huffington Post in an email that LePage doesn't want to end SNAP benefits in Maine, just that he wants to let the USDA handle it. LePage's letter to Vilsack tells the secretary he ought to "start browsing the Maine classifieds for commercial real estate leases."
"The governor knows how to get attention," Bennett said on a radio program where she announced the letter.
LePage had asked the feds for permission to ban sodas and sweets from food stamp sales last year, which LePage's letter indicates had been denied earlier this month. The USDA has blocked similar requests from a handful of other states.
LePage wrote in the letter that the Obama administration must be in thrall to Big Candy, since it has cracked down on unhealthy food in the National School Lunch Program and also sought to spur healthier eating among SNAP recipients.
"The Obama administration goes to great lengths to police the menus of K-12 cafeterias but looks the other way as billions of taxpayer dollars finance a steady diet of Mars bars and Mountain Dew," LePage said.
"I can think of only one reason why the federal government would refuse to eliminate junk food from the EBT menu: special interests," the governor wrote. "Only when Washington politicians stop kowtowing to powerful retail grocer and junk good manufacturing interests will American taxpayers have a respectable food safety net."
In a statement, a USDA spokesperson said Maine couldn't show how its junk food ban would reduce obesity among Maine SNAP recipients.
"USDA has given Maine the opportunity to provide further clarifying information about their proposal, and we look forward to their response," the spokesperson said.
LePage isn't the only Republican governor challenging federal SNAP rules -- Wisconsin Gov. Scott Walker has sued the Obama administration for the right to make beneficiaries take drug tests.
Food stamps, which average $125 per month, can be used in grocery stores for any type of food except alcohol and hot prepared meals. Federal data show SNAP recipients' diets are basically the same as everyone else's, which is not very good.
This story has been updated to include comment from the USDA.
Popular in the Community