America's most ignorant governor is at it again.
Maine Gov. Paul LePage (R) released a false and misleading video on Thursday in an attempt to convince residents to vote "no" on "Question 1," a marijuana legalization referendum on the state's ballot in November.
"Question 1 is not just bad for Maine, it can be deadly," LePage warns, before claiming traffic fatalities have gone up in Colorado since the state legalized recreational pot.
In the video, LePage also asserts that marijuana is three times stronger than it was several decades ago. He then links the drug to the state's serious heroin and opioid epidemic, alleging that "people addicted to marijuana are three times more likely to be addicted to heroin."
He goes on to describe a dystopian future in which children and pets die from accidentally consuming "marijuana snacks," and in which drug culture impinges on "schools, daycare centers and churches."
"They will smoke weed and sell pot at state fairs," he adds. "Businesses could not fire employees for using marijuana."
In fact, marijuana has not had a noticeable effect on traffic deaths in either Colorado or Washington state, according to a new report from the Drug Policy Alliance, which advocates progressive drug policy reforms. The report found, however, that legal marijuana has generated $500 million in tax revenue for Colorado. It also resulted in Colorado making 46 percent fewer marijuana-related arrests from 2012 to 2014.
LePage is correct that marijuana is stronger than it used to be, but that change occurred while the drug was still illegal, so it's not clear how continued criminalization will address that concern.
And the availability of marijuana has actually proven to reduce opioid deaths. In the 23 states where medical marijuana was legal in 2014, there were nearly 25 percent fewer deaths from opioid overdoses, according to a study published in JAMA Internal Medicine.
Maine State Rep. Diane Russell (D) of Portland, who supports a "yes" vote on "Question 1," believes that LePage's video could actually help the campaign for legalization.
"If I have to pay taxes on my bourbon, you all have to pay taxes on your pot. We have to build schools."
"It is right out of 'The Boy Who Cried Wolf,'" Russell said. "If you keep telling lies or propaganda, eventually when you need them to hear the truth they are just not going to believe you."
"The magical thing he did is he took all the bullshit from the 1980s on and put it in one video," she added.
Russell also implied that LePage has not spent enough time at state fairs if he thinks marijuana is not already being smoked and sold there. Of course, the state isn't making any money off of those sales.
"If I have to pay taxes on my bourbon, you all have to pay taxes on your pot," Russell said. "We have to build schools."
Time will tell if the governor's appeal will sway voters in the the fight over legal pot in the Pine Tree State. Fifty-three percent of Maine residents plan to vote "yes" on the referendum, which would legalize recreational marijuana for people 21 or older, according to Portland Press-Herald poll last month.
LePage's views on marijuana legalization come as little surprise given his fact-free stance on the state's heroin crisis. He has supported a tough-on-crime approach to the drug abuse problem that even his fellow Republican governors have begun to reject.
In January, he memorably blamed the opioid epidemic on out-of-state drug dealers with names like "D-Money, Smoothie, Shifty," who he said were impregnating Maine's white women.
LePage claimed in August that over 90 percent of drug dealers arrested in the state were black or Latino, which was also proven false. Sixty percent of the people in the governor's personal binder of arrested drug dealers turned out to be white, according to an analysis of the binder's contents by the Portland Press-Herald.
Before You Go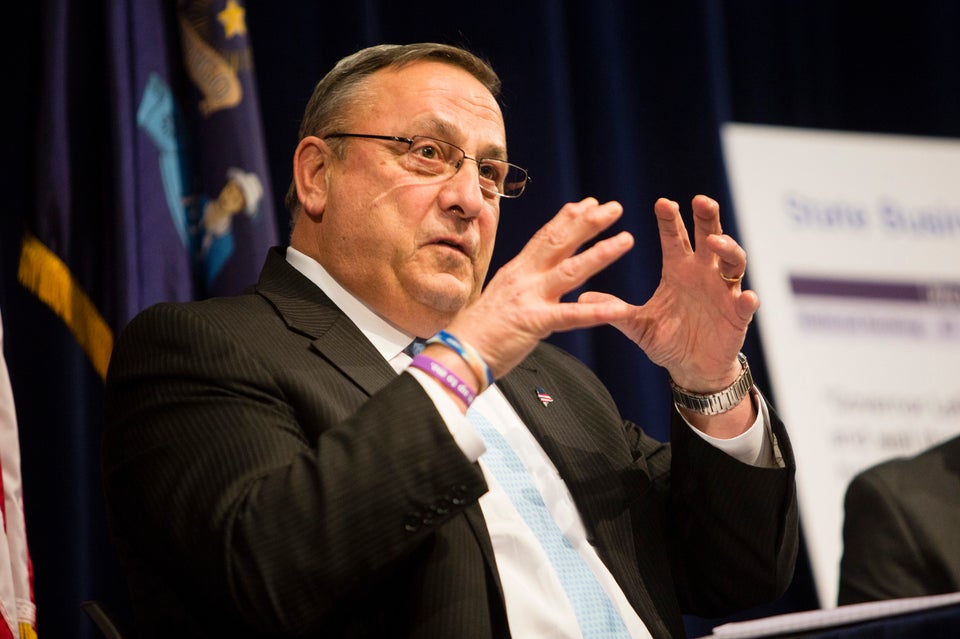 Paul LePage's Greatest Hits
Popular in the Community