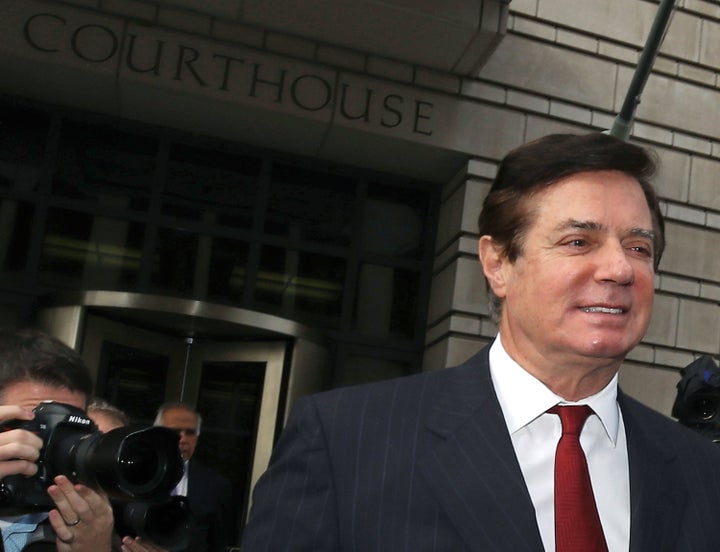 WASHINGTON ― An attorney for Paul Manafort, the former Trump campaign manager facing a variety of federal charges, argued Thursday that ghostwriting an op-ed with a business partner linked to Russian intelligence doesn't violate a court order, and that in fact, a ban on such activity would be unconstitutional.
Prosecutors working for Special Counsel Robert Mueller alleged earlier this week that Manafort was "ghostwriting an editorial" with "a long-time Russian colleague of Manafort's, who is currently based in Russia and assessed to have ties to a Russian intelligence service." Talking Points Memo obtained and published a draft of the op-ed, which was intended to be published by the Kyiv Post. The editor of the Kyiv Post called the piece "blatantly pro-Manafort." 
Manafort is currently on house arrest as he works out a bail package. U.S. District Court Judge Amy Berman Jackson, who is overseeing the case, had challenged Manafort to explain how his behavior wasn't a violation of her prior order to "refrain from making statements to the media or in public settings that pose a substantial likelihood of material prejudice to this case."
Just before the court's deadline on Thursday, Manafort's lawyer filed a memo stating that Mueller's team "misreads the breadth" of the order, and arguing there "has been no violation of the Order and no basis for the Government's withdrawal of its consent to the modified bail package."
Additionally, the government's interpretation of the order, wrote attorney Kevin Downing, "would unconstitutionally vitiate Mr. Manafort's rights to defend himself and his reputation, and to correct the public record." 
Downing wrote that the defense "did not, and does not, understand that the Court meant to impose a gag order precluding Mr. Manafort from addressing matters, which do not 'pose a substantial likelihood of material prejudice to this case.' The op-ed was to appear in a newspaper published, not in the United States, but in Kiev, Ukraine."
Downing said the order "only requires that the parties refrain from making public statements that 'pose a substantial likelihood of material prejudice to this case,'" and that the special counsel's standard "would lead to the constitutionally untenable conclusion that a defendant is not even allowed to maintain his or her innocence when such an order is entered because, by doing so, that statement might influence the public's opinion."
All Manafort had tried to do, his attorney wrote, was "to correct the public record in Ukraine concerning his consulting activities in Ukraine."
"In the Special Counsel's view, Mr. Manafort is apparently never allowed to set the factual record straight," Downing wrote. "He must simply remain silent while his reputation is battered, and potential jurors in this District might be tainted. Fortunately, the fundamental right of freedom of speech is not abrogated because a U.S. citizen is charged with a crime."
The memo is embedded below.
Ryan Reilly is HuffPost's senior justice reporter, covering federal law enforcement, criminal justice, and legal affairs. Have a tip? Reach him at ryan.reilly@huffpost.com or on Signal at 202-527-9261.
Calling all HuffPost superfans!
Sign up for membership to become a founding member and help shape HuffPost's next chapter