WASHINGTON ― Former Trump campaign chairman Paul Manafort pleaded guilty on Friday to two charges involving a wide range of criminal conduct as part of a plea deal and has agreed to cooperate with the special counsel probe being led by Robert Mueller.
President Donald Trump has previously discussed pardoning Manafort with his attorneys, but an agreement to cooperate with Mueller's team could put a potential pardon in jeopardy. Trump had previously stated his distaste for "flipping" and said it "almost ought to be" illegal.
Trump's lawyer in the investigation, Rudy Giuliani, said Manafort's agreement to cooperate with prosecutors is of no consequence to Trump.
"I can guarantee you he has no information harmful to the president," he told HuffPost late Friday, adding that he knows precisely what Manafort can offer Mueller. "I know because we have a joint defense agreement. He's not going to lie to make them happy."
"This has nothing to do with the president, nothing to do with obstruction, nothing to do with anything that they were charged to go after," Giuliani added. "They're obviously winding down."
Manafort, 69, appeared Friday in federal court in Washington, where he pleaded guilty to conspiracy against the United States and conspiracy to obstruct justice. The first charge covers a lot of criminal activity, including money laundering, tax fraud, failing to file reports about his foreign bank accounts, failing to register as a foreign agent and lying to the government.
Manafort was found guilty on eight counts last month following a separate federal trial in Northern Virginia and still faced 10 additional counts there in addition to the charges he faced in Washington. The 10 counts in Virginia will be dropped as part of Manafort's plea deal.
The plea deal states that Manafort "shall cooperate fully, truthfully, completely, and forthrightly with the Government and other law enforcement authorities identified by the Government in any and all matters as to which the Government deems the cooperation relevant."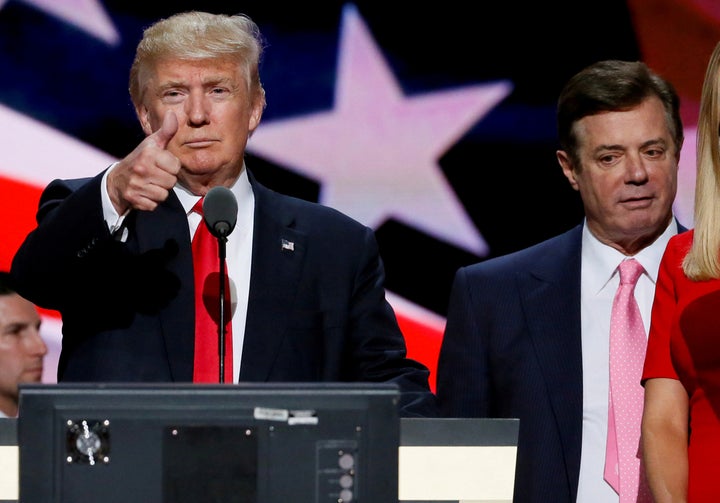 "This had absolutely nothing to do with the President or his victorious 2016 Presidential campaign," White House press secretary Sarah Huckabee Sanders said in a statement about Manafort's guilty plea. "It is totally unrelated."
Manafort will remain in custody, and a sentencing date still hasn't been set. It's unclear precisely what information Manafort could provide about Russian interference in the 2016 election, but he had close ties to the country and served as Trump's campaign chairman during a key part of the campaign.
Read the court filing below:
S.V. Date contributed reporting. This story has been updated with more details about the plea deal, and with comment from Rudy Giuliani.
Ryan Reilly is HuffPost's senior justice reporter covering the Justice Department, federal law enforcement, criminal justice and legal affairs. Have a tip? Reach him at ryan.reilly@huffpost.com or on Signal at 202-527-9261.
Popular in the Community