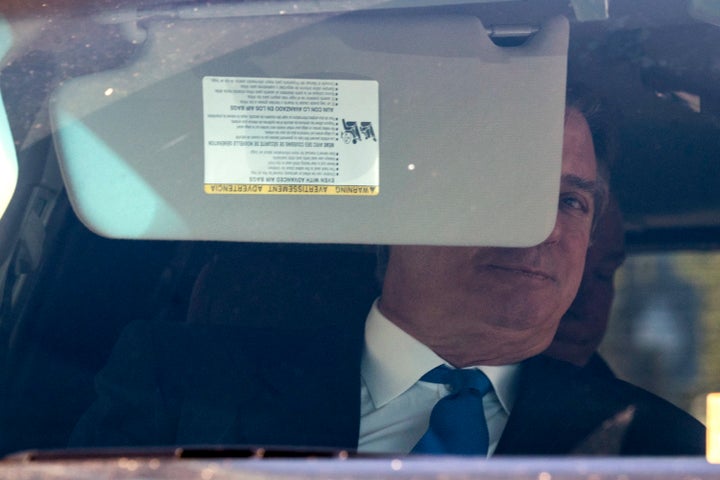 WASHINGTON ― Former Donald Trump campaign manager Paul Manafort, while under federal indictment that could send him away to prison for years, recently ghostwrote an op-ed with a Russian with ties to the country's intelligence services, Special Counsel Robert Mueller's team alleged on Monday.
Manafort, currently on house arrest with an ankle monitor, had reached a proposed bail deal with prosecutors that was awaiting court approval. But Mueller's team says the court should reject Manafort's request to modify the conditions of his pre-trial release because he has violated a court order that instructed him and other parties to "refrain from making statements to the media or in public settings that pose a substantial likelihood of material prejudice to this case."
Mueller's team allege that Manafort and a colleague were "ghostwriting an editorial in English regarding his political work for Ukraine" as recently as Nov. 30.
The article apparently has not been published, and it hasn't been revealed for what outlet it was intended.
"Manafort worked on the draft with a long-time Russian colleague of Manafort's, who is currently based in Russia and assessed to have ties to a Russian intelligence service," Mueller's team wrote.
"The editorial clearly was undertaken to influence the public's opinion of defendant Manafort, or else there would be no reason to seek its publication (much less for Manafort and his long-time associate to ghostwrite it in another's name). It compounds the problem that the proposed piece is not a dispassionate recitation of the facts," Mueller's team wrote.
Manafort's attorney told Mueller's team that they would take steps to make sure the op-ed wasn't published, according to the court filing. 
Manafort was charged on Oct. 30 a variety of charges, including conspiracy and money laundering, and pleaded not guilty the same day. U.S. District Court Judge Amy Berman Jackson, who worried that Manafort was a flight risk, admonished his attorney that the trial was "not a public relations campaign."
As HuffPost reported, Manafort has also claimed to be working with a mysterious company developing secure and virtually indestructible cell phones, but there's not much evidence that such a company actually exists. A spokesman for the special counsel team declined to comment on Monday on whether they are confident that the alleged company is real.
Ryan Reilly is HuffPost's senior justice reporter, covering criminal justice, federal law enforcement and legal affairs. Have a tip? Reach him at ryan.reilly@huffpost.com or on Signal at 202-527-9261.
Calling all HuffPost superfans!
Sign up for membership to become a founding member and help shape HuffPost's next chapter