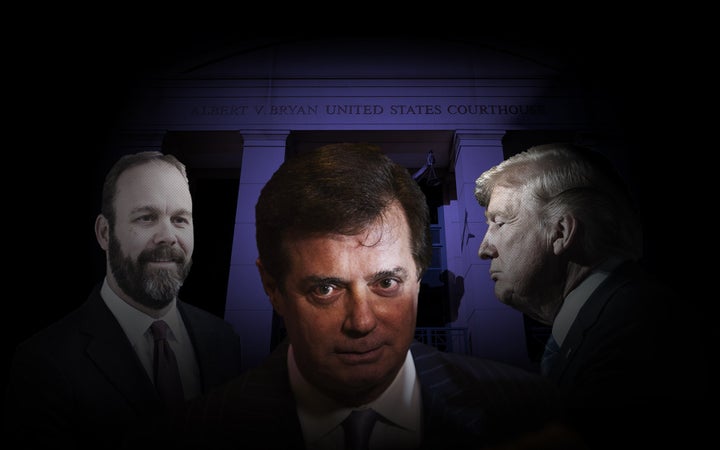 ALEXANDRIA, Va. ― Former Trump campaign chairman Paul Manafort, his attorneys would like a jury to believe, was simultaneously a highly skilled and sought-after political consultant and a clueless executive unwittingly benefiting from a conspiracy led by his right-hand man to keep foreign-earned cash out of Uncle Sam's pocket.
In the first four whirlwind days of the Manafort trial, unfolding in a cellphone-free federal court here a half hour south of the White House, Robert Mueller's special counsel team has laid out a compelling case that Manafort is a tax cheat.
They walked the jury through testimony from Manafort's landscaper, his audio-visual guy as well as two high-end clothiers and showed Manafort's unusual practice of paying many of his personal expenses through money wires from overseas entities.
The jury also heard from several money managers contracted to keep tabs on Manafort's cash flow. Those money managers said Manafort claimed he didn't control any foreign accounts and left them largely in the dark about his clients. They believed the overseas entities that were dumping money into Manafort's domestic accounts were third-party clients, not slush funds controlled by the former Trump aide.

Cindy LaPorta, a certified public accountant who worked with Manafort and was granted immunity to testify, told jurors on Friday that she became suspicious about loans that Manafort had reclassified as income and regretted having helped prepare the lobbyist's tax returns based on information she "didn't believe."
Blame It All On Rick Gates
As the trial continues next week, Manafort's team is expected to attempt to pin this all on Rick Gates, the lobbyist's longtime deputy and colleague on the Trump campaign. Gates has reached a plea deal with the special counsel team and will likely testify sometime next week.
But, based on the government's case so far, Manafort's defense team will argue that Manafort was in the dark about arrangements that benefited him financially. Some of the businesses that provided Manafort with services communicated only with Manafort, while his finance team either dealt with Manafort or Gates, who appeared to stay in communication with Manafort and relay requests from him.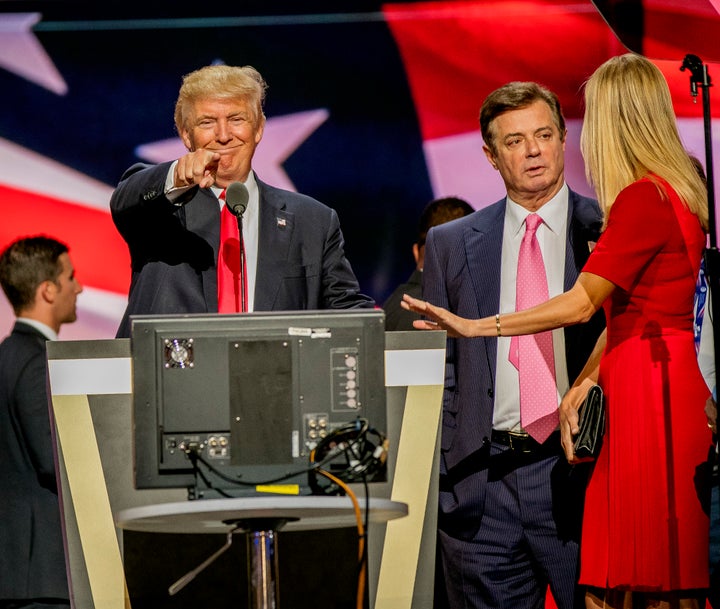 In 2015, for example, Gates sought to adjust the amount of a 2014 loan and therefore change the amount that Manafort would be paying in taxes because Manafort didn't have enough money, LaPorta explained. She believed that Gates was trying to reduce the amount of taxes Manafort had to pay. It wouldn't have benefited Gates personally.

Manafort was also directly involved in discussions that gave false impressions about his finances, and the lobbyist signed tax returns that falsely claimed that he didn't have any foreign bank accounts, which were supposed to be disclosed to the government.
Is A Pardon Manafort's Best Bet?
Amid the headline-grabbing details about Manafort's extravagant spending ― the $15,000 ostrich jacket, the thousands of dollars worth of suits, the red flowers in the shape of an "M" ― prosecutors' narrative about Manafort's shady financial dealings is going to be difficult to refute.
Given the way the trial is unfolding ― and with yet another trial still on the agenda for Manafort in the District of Columbia ― hoping for a pardon or commutation from Trump might be Manafort's best bet.
Trump has somewhat distanced himself from Manafort in the past months, tweeting that his former top campaign official worked for him "only for a very short time" and asking why the government didn't tell the Trump campaign that Manafort was under investigation.
But the president has also shown sympathy for Manafort's plight, suggesting his former aide is being treated worse than 1920s gangster Al Capone and taking issue with Manafort's pretrial confinement. Trump has also shown a willingness to use his presidential pardon power for political allies including Sheriff Joe Arpaio, conservative commentator Dinesh D'Souza and former Republican aide Scooter Libby.
Manafort's trial, on its face, doesn't have much to do with Russian collusion or even Trump. The president's name has barely come up in the trial. But some of the evidence does overlap with his time on the Trump campaign. In one email, shortly before Manafort left the campaign, Manafort emailed LaPorta about a document he was submitting for a loan application that prosecutors say falsely inflated his income. While reports typically reflected only income that had already been collected, Manafort requested she create a document to "reflect collection of income earned in Ukr of 2.4M that is to be collected."
The expected month of payment? November 2016.
Ryan Reilly is HuffPost's senior justice reporter covering the Justice Department, federal law enforcement, criminal justice and legal affairs. Have a tip? Reach him at ryan.reilly@huffpost.com or on Signal at 202-527-9261.
Support HuffPost
The Stakes Have Never Been Higher
Popular in the Community