Most New Yorkers gasped or tittered upon strolling into Hauser & Wirth's 69th Street location. This reaction isn't surprising, considering the young actress Elyse Poppers, or, rather an exact simulacrum of her, appears naked and splayed on a white table near the opening of Paul McCarthy's latest exhibition. (Scroll down for photos.)
In the adjacent room three statues sit open-legged on tables, some facing outward and others gazing down between their legs. To call these casts realistic would be a serious understatement; these flawless sculptures -- made of silicone, paint and hair -- look absolutely real.
The gallery has devoted their entire spring program to one of the art world's most dearly beloved dirty old men, coinciding with his massive Snow White exhibition at the Park Avenue Armory this summer. In the first room viewers approach the sleeping Poppers brazenly, lingering over her delicate wrinkles and stray hairs. Yet it's harder to approach her dopplegangers in their waking states. Even though she's not alive, you're basically seeing the real thing up close regardless. As McCarthy said to Gallerist New York: "She's about as real as you're going to get."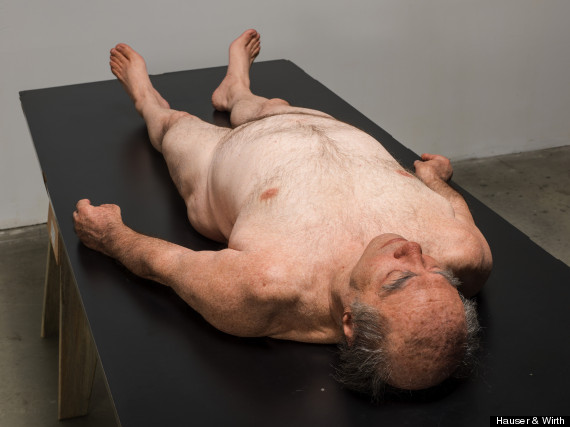 In the back room lays a life cast of Mr. McCarthy himself, naked and presumably dead. A real fly flits around McCarthy's silicone form, and not one detail -- from unruly nostril hairs to sagging testicles -- gives away any sign of artificiality. Throughout the entire exhibition, against our better judgment, our hearts pounded expecting McCarthy's eye to pop open and the nude creator to reveal his true wakeful state.
Much could be said about McCarthy's lifeless presence in his own exhibition, drawing connections to Marina Abramovic's "The Artist Is Present" and perhaps also Roland Barthes' "Death of the Author." And yet the strongest parallel seems to be the Walt Disney fairy tale version of "Snow White," where innocent slumber is interrupted by a lover's touch.
McCarthy more overtly channels Disney for the "Sculpture" portion of the installation, taking place at Hauser & Wirth's 18th Street location. The massive space contains humongous depictions of Disney characters, cross-pollinated with pop culture references from tabloids, advertisements and pornography. Alongside McCarthy's wooden sculptures are a series of crude erotic drawings.
The two exhibitions paint a clear picture of why McCarthy, now 67 years old, remains one of the most attractive and repulsive artists today. Few artists can go from creating an exact replica of their naked selves to giant inflatable feces -- and have both make sense in relation to their work. McCarthy's two latest exhibitions show the shifty relations between replica and original, fact and fantasy, clone and character. In the end, the artist accomplishes what he does best, bridging our dreams and realities, as well as our childhood and adult fantasies. A fairy tale and a porno may not quite be the same, but they both have happy endings.

"Sculptures" and "Life Cast" will show until July 26 at Hauser & Wirth in New York.
See a preview of the exhibition below: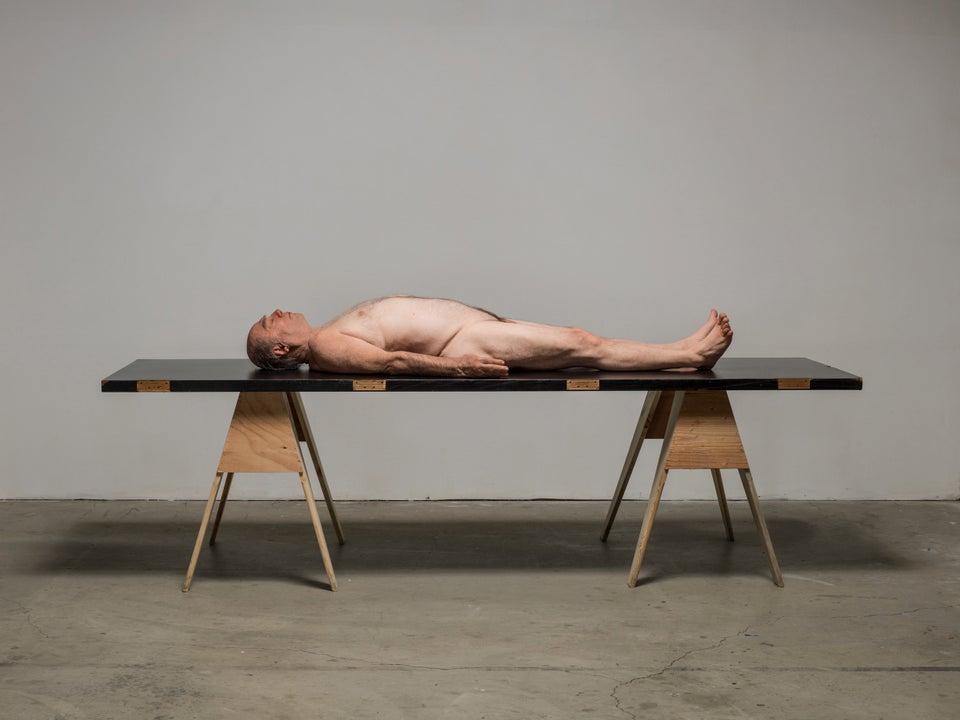 Paul McCarthy
Related
Popular in the Community