This week in art news, Parisians are up in arms over an 80-foot "butt plug" imagined by the art world's ultimate enfant terrible, Paul McCarthy.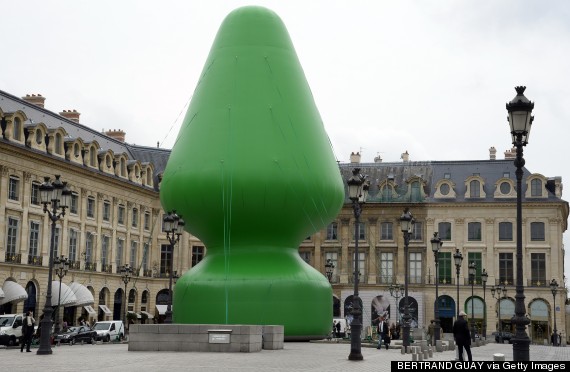 Of course, the massive sculpture isn't technically a butt plug. It's a Christmas tree, simply dubbed "Tree," that's made its way to Place Vendôme in Paris. The piece is part of the International Contemporary Art Fair (FIAC), writes Citylab's Kriston Capps, and is showing in conjunction with McCarthy's first solo show in France -- "Chocolate Factory."
Yet despite all the seemingly obvious signs -- it's art, McCarthy's an artist, FIAC is an art fair -- the inflatable masterpiece is attracting attention not for its aesthetic uniqueness but for its resemblance to sex toys. In fact, France's far-right is not convinced the 24-meter high plant is an objet d'art at all.
To those giggling at the fact the Paris Christmas tree looks like a buttplug, I suggest googling the artists work (Paul McCarthy).

— Huw Lemmey (@spitzenprodukte) October 17, 2014
"This tree is like a giant fantasy," Chiara Parisi, head of cultural programs at Monnaie de Paris, explains of "Tree" in an MSN video. "In the French tradition, it's a fantastical work. It's oversized, it can be analyzed from different angles, it needs this kind of ambiguity too. It's like a big dream that has entered the public space."
The words "fantasy" and "dream" don't exactly deter viewers from assuming "Tree" is an anal plug masquerading as a holiday decoration. But that's the point. In his own opinion, McCarthy says he originally imagined butt plugs looking like Brancusi sculptures, and when shown in green, says they resemble Christmas trees. "But it is an abstract work," McCarthy states firmly. "People may be offended if they want to refer to [it as a] plug, but, for me, it is more of an abstraction."
So everyone's in on the joke?
"Of course this work is controversial, it plays on the ambiguity between a Christmas tree and a plug: this is neither a surprise nor a secret," Jennifer Flay, artistic director of FIAC, explained to Le Monde. "But there is no offense against the public and enough ambiguity to not disturb the children. This work has also received all necessary approvals: the Prefecture of Police, the Mayor of Paris and the Ministry of Culture, in collaboration with the Comité Vendôme... What is art [meant to do] if not to disturb, to prompt questions, to reveal flaws in the company? "
There you have it. Let #PlugGate play on.
Support HuffPost
The Stakes Have Never Been Higher
Related
Before You Go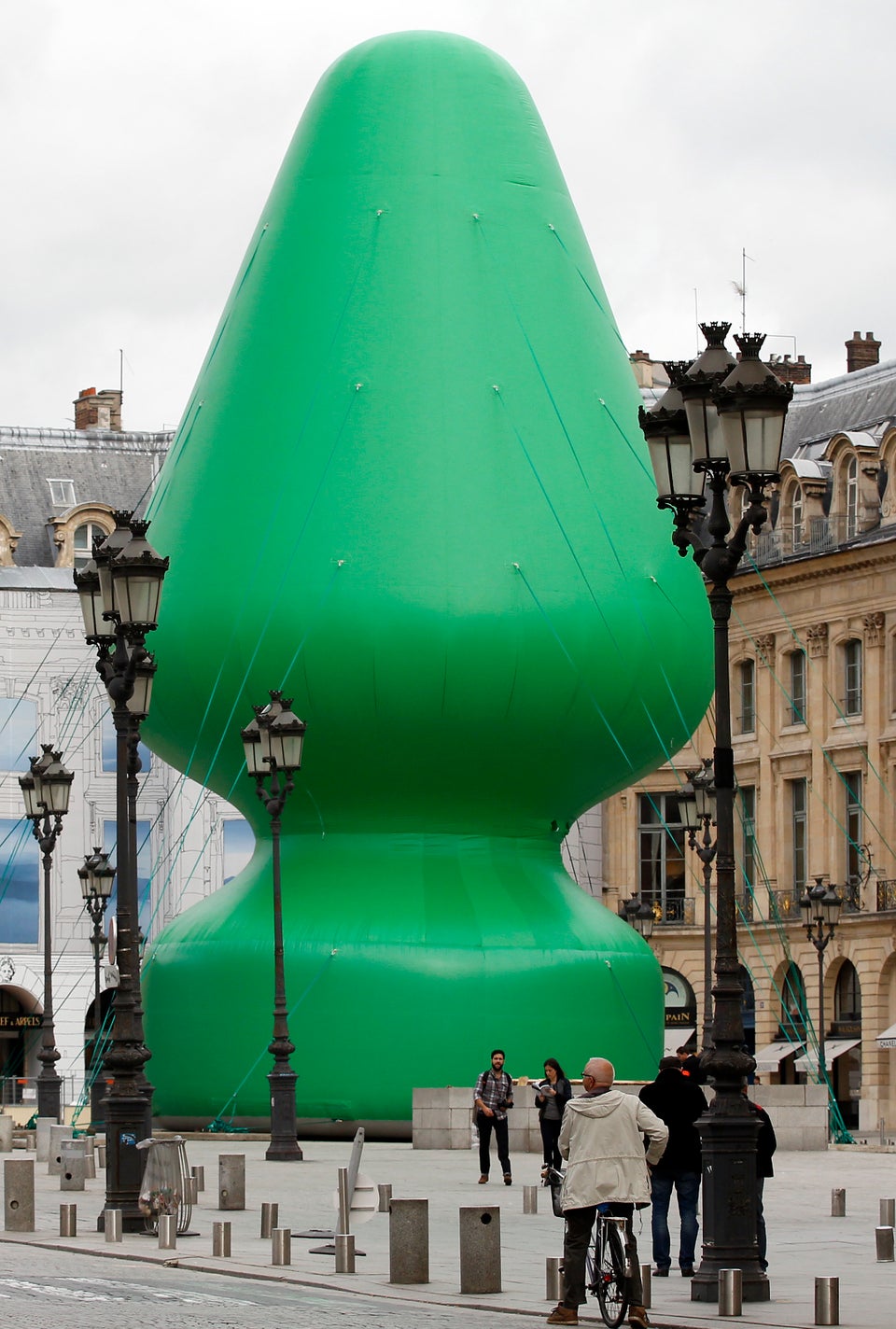 Paul McCarthy's "Tree"
Popular in the Community