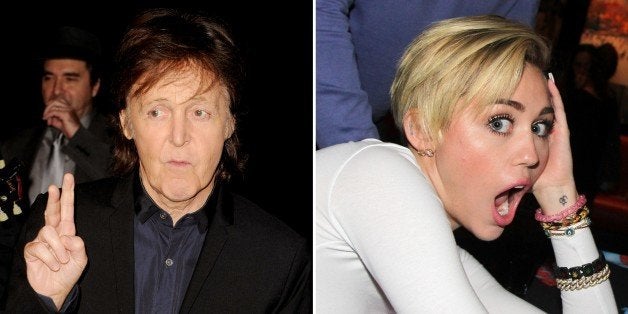 Speaking with Sky News, McCartney said Cyrus' infamous MTV Video Music Awards performance wasn't "explicit at all," in part because Cyrus remained mostly clothed. "You couldn't see anything! I watched it as an experiment to check," McCartney said.
According to Sir Paul, Cyrus was "just having a go" on the MTV stage. "Someone said to me that the world that a lot of those people like Miley live in is all noise, and they've got to get above the noise. So they have to do something," McCartney said. "I think it was only mildly shocking. She's dancing with Robin Thicke, so what? Come on, we've seen worse than that!"
McCartney's defense of Cyrus comes at a time when almost everyone is lining up to throw the 20-year-old singer under the bus. Cher, P!nk, Sinead O'Connor and even Sufjan Stevens have taken shots at Cyrus since the VMAs were held back in August (Stevens dinged her about using proper grammar). Even Thicke, who participated in the VMA performance with Cyrus, hasn't stood up for his former partner.
"Just remember, I'm singing my butt off so I'm sitting there, I'm looking up at the sky, and I'm not really paying attention to all that," Thicke told Oprah Winfrey in recent interview. "That's on her. [...] People ask me, 'Do you twerk?' I go, 'Listen, I'm the twerkee.' I'm twerked upon. I don't twerk myself, OK? I'm just twerked upon."
McCartney is currently promoting his new album, "New." For his full interview with Sky News, including what he thinks of One Direction, head to Sky News.
PHOTO GALLERY
Celebrity News & Photos
REAL LIFE. REAL NEWS. REAL VOICES.
Help us tell more of the stories that matter from voices that too often remain unheard.