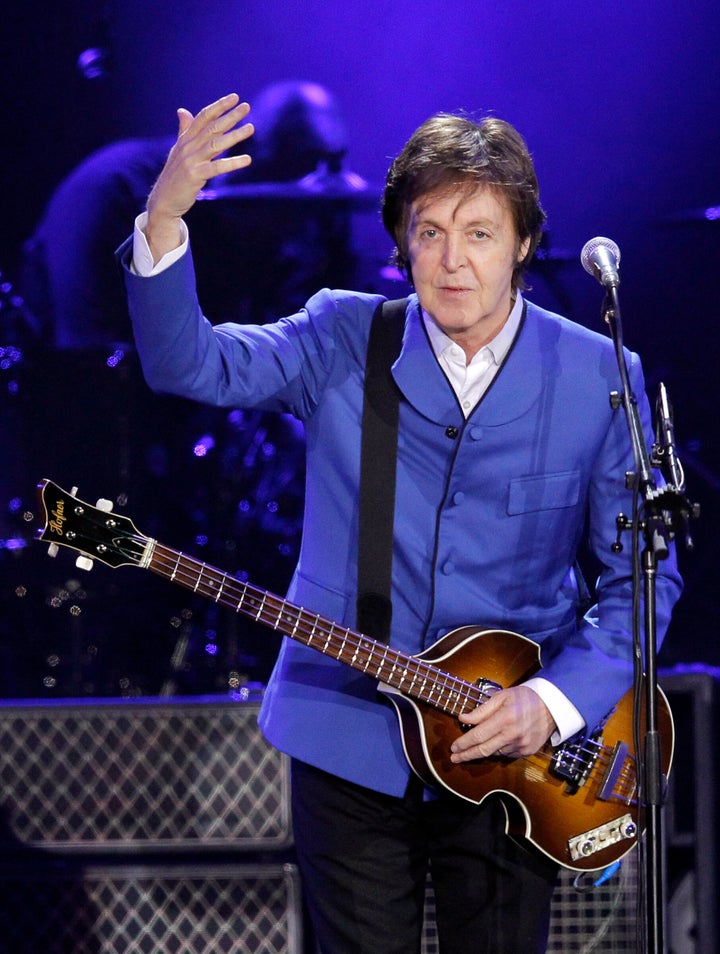 The sight of Fred Astaire in tails crooning "Cheek to Cheek" is hardly the first image that pops to mind when you think of the Beatles. But Paul McCartney's new album, "Kisses on the Bottom" will pay tribute to childhood songs that influenced him -- and the Beatles -- including music by Astaire.
"My dad was the piano player at the New Years Eve dinner," McCartney said. "So he played these songs at home."
At an online press conference, McCartney reminisced about his early memories listening to songs like "It's Only a Paper Moon" and "Bye Bye Blackbird." His love of the standards was shared by another Beatle: John Lennon. McCartney says that when he and Lennon first got together, they bonded over their shared taste.
"Those kinds of things drew us together," McCartney said. "And we'd be referencing those songs as we wrote the new songs."
The new album has apparently always been a project in the back of his mind. Former bandmate Ringo beat him to it on his 1970 album "Sentimental Journey," which also covers standards.
"I wanted to do it in The Beatles," he said. "I never got round to it because we were writing 'Sgt. Pepper,' 'The White Album,' the new stuff."
The influence of these standards is evident across Beatles records, as in the song "Honey Pie," which McCartney says "definitely hearken[s] back to pure Hollywood." And in the Beatles film "Magical Mystery Tour," the sequence set to "Your Mother Should Know" unfolds in the style of a 1930s musical, all four Beatles in tuxedos.
Pure Hollywood could also describe the content of his new album. Recent film "The Artist" (which McCartney referenced, and called "great") takes place in the same era as the album's songs.
"I remember in the 60s when we were making 'Sgt. Pepper,' I used to say I really like Fred Astaire," McCartney said. "Fred's jackets are cut very close, with very slim sleeves, so I wanted one -- those kinds of stylistic things came from people like him."
The music came from McCartney's father, who was a self-taught musician. According to McCartney, his father wanted him to take lessons and learn "properly." But after three tries with a teacher, he gave it up.
"It wasn't what I was hearing in my head," he said, describing one last teacher who tried to assign him five-finger exercises. "I had already written 'When I'm 64' at that point. I couldn't go backwards."
McCartney wrote that song when he was 16. Now, he's 69. [But his perspective on age has changed quite a bit since those days.
"We thought thirty was like really old," he said. "Now I think it's amazingly young. There was a guy at John's art college who was 24 and we felt very sorry for him, he looked like a real old guy, he had a five -o-clock shadow, he looked really pathetic to us because we were like, 16."
Though some people might be content to rest on their laurels after the Beatles, McCartney just can't stop making music.
"I'm really just some kid from Liverpool still," McCartney said.
Calling all HuffPost superfans!
Sign up for membership to become a founding member and help shape HuffPost's next chapter
BEFORE YOU GO