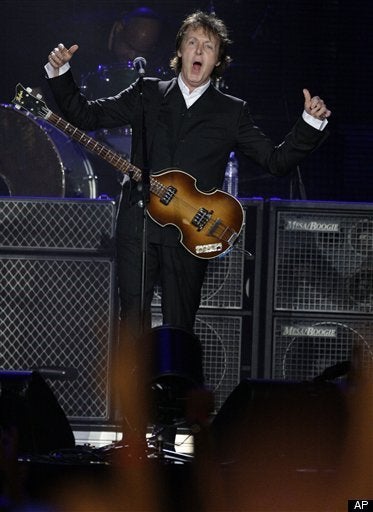 (AP Text, YouTube videos)
NEW YORK - Sir Paul McCartney knighted another New York Mets ballpark Friday night, playing the first concert ever at Citi Field.
"Long time since I've been here," the former Beatle told the crowd, then paused to take it all in.
Citi Field is the successor to Shea Stadium, where the Beatles played a historic concert in 1965 that's regarded as the precursor to the stadium rock concert.
Patty Parker attended Friday night's show and remembers the 1965 show well.
"I was three rows from the top. I was 10 years old," she said. "He captured that same tune; I'm so blown away."
Several times on Friday, McCartney alluded to that magical night 44 years ago. But he was also made it clear that it was less than perfect at times, saying: "The first time we played here, we couldn't hear a thing because of all the girls screaming and the stadium sound system."
Friday's two-and-a-half-hour show went more smoothly, highlighted by fireworks on and off the stage for "Live and Let Die" near the show's end.
McCartney played more than 30 songs, covering the Beatles, Wings and his solo catalog. When he introduced "I'm Down," he said it was also played at the Shea Stadium concert.
The crowd rocked most of the night, which was also filled with heartfelt dedications. The most poignant went to McCartney's late wife before an emotional version of "My Love."
"We'd like to do a song dedicated to Linda," McCartney said. "She was a New York girl."
He also played the Beatles classics "Hey Jude," Let It Be" and "Back in the USSR."
When he performed "A Day in the Life," McCartney swapped out John Lennon's part at the end with a version of Lennon's "Give Peace a Chance," asking the crowd to join in.
For the encore, McCartney brought out Billy Joel for "I Saw Her Standing There." Last year, McCartney joined Joel on stage for the last concert at Shea Stadium.
WATCH. SGT PEPPER:
Baby You Can Drive My Car:
Live and Let Die:
Helter Skelter:
Daytripper;
Hey Jude;
Popular in the Community