In explosive and somewhat bizarre testimony, McMullan implicated former top News International editors Rebekah Brooks and Andy Coulson in phone hacking, and openly admitted to hacking phones at the News of the World. McMullan, who worked at the tabloid for seven years, said that he and his colleagues hacked phones at the newspaper — and that their editors were well-aware of it.
McMullan alleged, "Andy Coulson brought the practice wholesale with him [from his previous jobs] when he was appointed deputy editor." He said that former editor Rebekah Brooks had an enormous budget for private investigators, and called Coulson and Brooks "the scum of journalism" for dragging him and his colleagues into the scandal.
McMullan also hinted at untoward activities during Piers Morgan's tenure as editor of the News of the World. Though Morgan's role in phone hacking has been the subject of much speculation, no hard evidence of his involvement has surfaced thus far. On Tuesday, McMullan alleged that Morgan set the cut-throat culture at the paper, and had spared no expense for stories as the editor. He also claimed that Morgan had once approved of him stealing a photograph from a subject's home.
"Morgan very much set the trend," he said. "He was 'I want that story at all costs,' pretty much, 'I don't care what you have to do to get that story.'"
McMullan defended some of the worst images of the British tabloid press. He said that he loved car chases before Princess Diana's death, and claimed that celebrities like Hugh Grant thrived off the media's invasion of their privacy. "I absolutely loved giving chase to celebrities," he said. "Before Diana died it was such good fun." He also explained that he did not believe in people's right to privacy. "Privacy is for paedos," he said. "Fundamentally nobody else needs it."
McMullan's tone early on in his testimony prompted Lord Justice Leveson to caution that he did not have to incriminate himself at the inquiry. But McMullan gave no heed to the warning. He went on to suggest that he had once attempted to hack David Beckham's phone. "I didn't hack his phone in that instance because he answered his phone really quickly," he recalled. He also explained that journalists went through trash and he had posed as other people in order to get stories.
He continued to defend phone hacking throughout his testimony as well. He called hacking the phone of murdered schoolgirl Milly Dowler "not a bad thing for a well-meaning journalist to do," because the police were "utterly incompetent" in searching for her.
7 of the craziest things McMullan said at the hearing: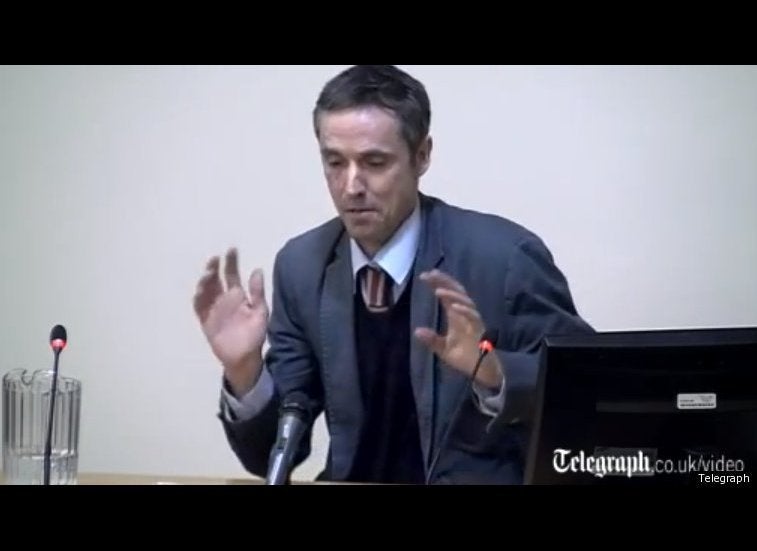 Related
Popular in the Community