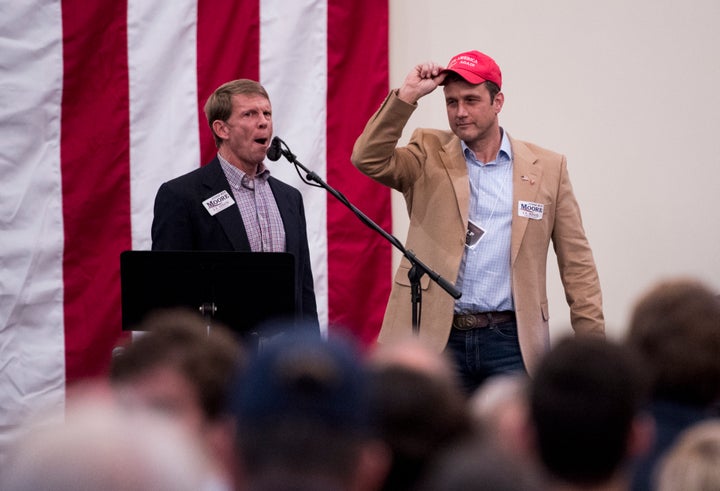 Bryan Steil won the GOP nomination for the seat House Speaker Paul Ryan (R) is giving up. Steil, a former Ryan aide who the speaker endorsed, faces Democrat Randy Bryce in the November general election.
Nehlen, a businessman-turned-aspiring-politician, finished far behind Steil in the six-candidate GOP primary. His defeat marks his second failed attempt at securing the Republican nomination in the district. In 2016, he received just 15 percent of the vote in a head-to-head race against Ryan.
In the 2016 race, Nehlen enjoyed the support of prominent right-wing figures including Sarah Palin, Anne Coulter and Steve Bannon, who that year became Trump's campaign manager and would later serve as the president's chief strategist in the White House. Breitbart News, the far-right site where Bannon was executive chairman, showered Nehlen with positive press.
But Nehlen enjoyed no such support in his primary bid this year. Republicans have raced to distance themselves from Nehlen since December, when HuffPost was the first to confront Nehlen about his open embrace of explicit white nationalism.
HuffPost — piggybacking off reporting from the site Angry White Men, which monitors the activity of white supremacists — documented Nehlen's history of making racist and anti-Semitic posts on Twitter and Gab, a social media platform used primarily by racists and fascists.
Nehlen demonstrated a fluency with the lingo of the so-called "alt-right," posting "It's Ok To Be White," Pepe The Frog and other white nationalist memes. He expressed support for the white supremacists who marched at the deadly 2017 "Unite The Right" rally in Charlottesville, Virginia, where a neo-Nazi allegedly drove his car into a crowd of counter-protesters, killing anti-racist activist Heather Heyer.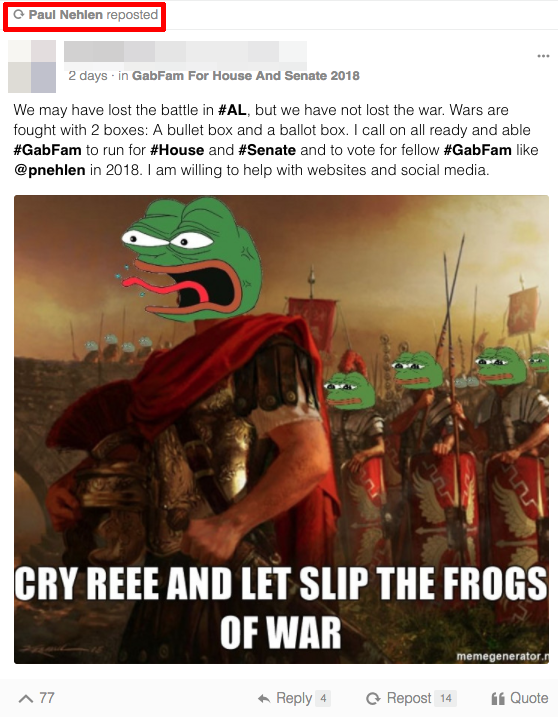 On Dec. 9, 2017 — two days before speaking on stage at an official campaign event for Alabama Republican Senate candidate Roy Moore in a special election that Moore would lose — Nehlen was a guest on an anti-Semitic white power podcast called "Fash the Nation," chatting with the show's hosts for about an hour. ("Fash" is shorthand for "fascist.")
On that show, Nehlen proudly recounted telling a Jewish magazine editor to "self-deport" and "eat a bullet." He also told the hosts — who support the creation of a white ethnostate — that he was "honored" to be a guest on their show.
HuffPost asked Nehlen three times in December if he considered himself a white nationalist. Three times, Nehlen didn't deny it.
In the following weeks, Bannon cut ties with Nehlen, and Breitbart News scrubbed its archives of articles Nehlen had written for the site. Wisconsin Gov. Scott Walker eventually called Nehlen a "racist" and the Wisconsin GOP disavowed him.
Nehlen, meanwhile, doubled down on being a white supremacist, appearing in January as a guest on the podcast of former Ku Klux Klan grand wizard David Duke. He talked with Duke about how "Jews control the media" and discussed turning Trump's proposed border wall on the Mexican border into a fortress for gunning down immigrants. "Armed machine gun turrets every 300 yards," he told Duke of his vision for the wall. "And you can automate those. Anyone who approaches that barrier will be treated as an enemy combatant. Man, woman or child."
That same month, Nehlen was suspended from Twitter for posting neo-Nazi propaganda showing predominantly journalists marked with the Star of David. The following month, Nehlen was kicked off Twitter — no easy feat — after posting a racist meme about Meghan Markle.
Last month — despite being permanently banned from Twitter — Nehlen reappeared on the site under a different handle to apologize to his fans for running a bad campaign. He blamed his failure, however, on hiring a Jewish campaign spokesman. (The spokesman, Josh Smith, admitted to HuffPost to growing up Jewish, despite being an anti-Semite himself.)
"Let's start by admitting that I was wrong to have ever trusted a ***," Nehlen tweeted, the asterisks undoubtedly obscuring the word "Jew."
"They are never to be trusted. Ever."
Nehlen is among a frightening number of out-and-proud white supremacists who have run or are running for office as Republicans in 2018 — some of whom have won Republican primaries in their respective districts.
America does not do a good job of tracking incidents of hate and bias. We need your help to create a database of such incidents across the country, so we all know what's going on. Tell us your story.
Popular in the Community