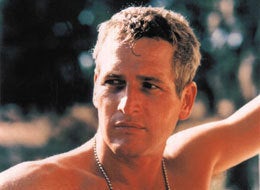 Paul Newman's sad passing leaves me short of one true bucket list item: to meet the man, rather than the actor, to thank him for all that he has given to us as a pathbreaking citizen philanthropist.
I spend my days teaching young people and families about the power of philanthropy, and how any person, regardless of how much money they have or where they are born, can be a giver.
This message is made easier when a respected public figure makes the simple case for giving.
Long after he was a Hollywood golden boy, Paul Newman made his mark in this world as a businessman who measured his bottom line by how much wealth he could create to uplift the human condition.
Over $250 million has been provided to charities worldwide thru Newman's Own, the food company that donated all profits and royalties to social causes. He founded the Hole in the Wall Gang Camp, a residential summer camp for seriously ill children in Connecticut, which has spread to Ireland, France and Israel, serving 13,000 kids a year free of charge.
Newman once told a group of UC Berkeley students that he views charitable contributions as investments in society, and he doesn't think of a corporation as "just being a cash register."
How sad it is that Newman passed from this earth as our country witnesses the naked and massive greed laid bare by the Wall Street meltdown and the ethics run amok among the so-called masters of the universe.
"I am confounded by the stinginess of some institutions and some people," Newman observed. "You can only put away so much stuff in your closet. In 1987, the average CEO earned 70 times more than someone working in his factory. It's now 410 times. I don't think there's anything odd about philanthropy. It's the other stance that confounds me."
Nominated 10 times for an Academy Award, his sole acting Oscar came for his work in "The Color of Money". How fitting, as Newman helped to change the bottom line of business from pure profit for self to social good for society.
It should be noted that Newman also avoided the hype of Hollywood, living far removed in Westport, Connecticut with fellow actress Joanne Woodward. He has passed along the giving gene in his family, as daughter Nell runs the organic side of Newman's Own, creating more profits for good works.
Perhaps the Hollywood community should create the Paul Newman Award, an Oscar for original or high impact work in giving back. That might remind us all that whatever roles we assume in life, the greatest is what we do for others.

Dan Siegel is co-President of YouthGive (www.youthgive.org), a nonprofit that enables young people and families to discover the power of philanthropy and create positive change in their community and the world.

Related