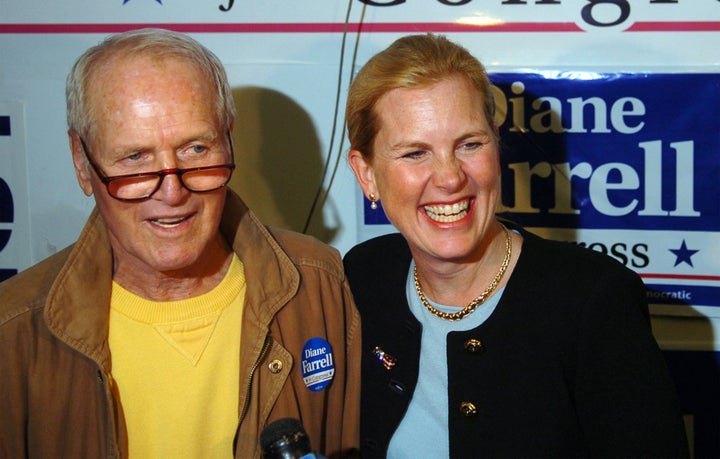 Paul Newman was the real thing.
He died yesterday at age 83 in his Connecticut home (close to his home race track, Lime Rock Raceway).
Newman was said to have been suffering from lung cancer, and was for many years a heavy smoker. Still, making it to 83, smoking or not, is not bad at all.
Everyone knows about his film career and there's no lack of information on his life all over the Web. So, here I'll share a few memories, and offer a few anecdotes which some readers might appreciate knowing.
Many of his obituaries are referring to him as a "racing enthusiast," but he was not a wealthy dilettante who spent weekends slumming with gear-heads and wrenches; he was a skilled, serious, professional and world-class race car driver as well as one of the most successful team owners in the sport's history. Had he never acted, his racing career alone would have garnered him great fame and fortune.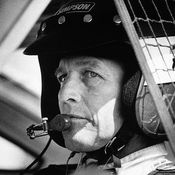 I first met him in the mid-1970s at Riverside Raceway in Southern California, once one of the greatest road racing tracks in the world, and today a down-at-the-heels shopping mall.
He was easy to spot: Those blue eyes, like little laser dots in the semi-darkness of the garage, and not very tall, but, naturally, "movie star thin." He even let me ask a couple of questions. I never saw him voluntarily start a conversation with a stranger or fan, but neither did he shy away from anyone who approached him.
I'd speak with him a few more times over the years, mostly just trading pleasantries.
His movie bosses were never happy with his racing; it's not easy to get insurance on a production with a star who spends his weekends racing. Often he'd enter events with a pseudonym or as "PL Newman." Newman's wife Joanne Woodward was rarely there when he was racing, but attended when his hired drivers were racing and he was safely "behind the wall" in the pits. Newman was usually afforded privacy and respect at the race track, usually walking or riding a mini-motorcycle alone with no security, so super-cool that he was allowed to be himself and relax at the track.
As his racing skills developed he often said that he was still acting and directing to afford the costs of his racing.



(Newman and wife Joanne Woodward in a contemporary photo).
He got his first taste of it in Winning, a 1969 movie starring Newman about Indy-style oval-track racing. Newman would specialize, though, in road racing; on tracks, some as long as six miles, built along natural terrain with left and right turns and elevation changes.
His first professional race was in 1972, at age 47, and from then into the '90s Newman was closely associated with Datsun (eventually rebadged as Nissan) Z-cars. He was a regular in victory circles around the country and some overseas for over 30 years.
Newman appeared in commercials for the car company, both in the US and Japan. He was also good friends with Yutaka Katayama, the legendary first Datsun executive in the US who urged the Japanese company to build the Z-car and bring it to America. A character called "Mr. K" in Nissan advertising was a reference to Katayama.
Newman as racer was affiliated with Bob Sharp Racing (Datsun and Nissan) and Dick Barbour Racing (Porsche). He finished second in 1979 at the the 24 Hours of LeMans, in a Porsche. He won his class at the 1995 24 Hours of Daytona, at age 70 the oldest driver to win a major professional racing event. He also tried the off-road Baja 1000 in 2004 and was in the 24 Hours of Daytona again as recently as 2005.
For a short time he owned a Can-Am racing team, a wild-and-wooly series featuring large-displacement American-built V8 engines in futuristic-looking cars which attracted many of the best drivers in the world.



(Newman and good friend and fellow racer James Garner; Garner was successful in several types of racing including off-road and in sports cars).
In 1983, Newman took on a co-owner role with a team which would enjoy tremendous success for many years.
Sports car driver, team owner and Lola race car and parts importer Carl Haas and Newman had known each other for years. A possibly apocryphal story has Haas asking Newman if he was in the market for some tax write-offs.
"Who isn't?" answered the successful actor.
Haas explained that owning a piece of a race team was a good way to lose a little money on write-off-able "advertising and promotions" costs, maybe save a bit on taxes and have some great fun.
Newman/Haas Racing was born in 1983 in the CART (Championship Auto Racing Teams) series.
Haas' racing and business acumen combined with Newman's star power attracted not only some of the best drivers in the world, but also some of the world's wealthiest sponsors, from Texaco to McDonalds. Sponsors got their money's worth by inviting their biggest customers to races where they could meet Paul Newman.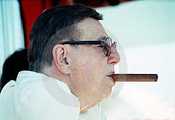 (Newman's long-time partner, Carl Haas, with trademark unlit Honduran cigar; Racing loves and welcomes characters of all kinds).
Newman/Haas signed two ex-Formula One World Champions, Nigel Mansell and Mario Andretti.
Newman/Haas has compiled 107 Indy car race wins since 1983, and other drivers have won
championships for the team, including Nigel Mansell (1993), Cristiano da Matta (2002) and Sebastien Bourdais (2004-07).
He was also a partner in the Formula Atlantic Championship team Newman Wachs Racing and owned a NASCAR Winston Cup car before selling it to Penske Racing, where this season it serves as the #12 Dodge driven by Ryan Newman.



(Newman as many racing fans will remember him, enjoying the privacy afforded him in the middle of the tumult of a race track).
Newman's and Woodward's contributions to charity are legendary, totaling many, many millions, much of it from the sale of "Newman's Own" labeled salad dressings and spaghetti sauces. Almost all of it has gone to benefit sick children. Newman's "Hole in the Wall Gang" charity (named after the gang in Newman's Butch Cassidy and the Sundance Kid film) has worked closely with NASCAR star Kyle Petty's "Victory Junction Gang" charity, and a second "vacation" facility for sick children will open, thanks to those charities, in 2010.
Newman's son, Scott, died at age 28 of a drug overdose in 1978.
He is survived by Woodward, five daughters, two grandsons, and his older brother, Arthur.
Calling all HuffPost superfans!
Sign up for membership to become a founding member and help shape HuffPost's next chapter