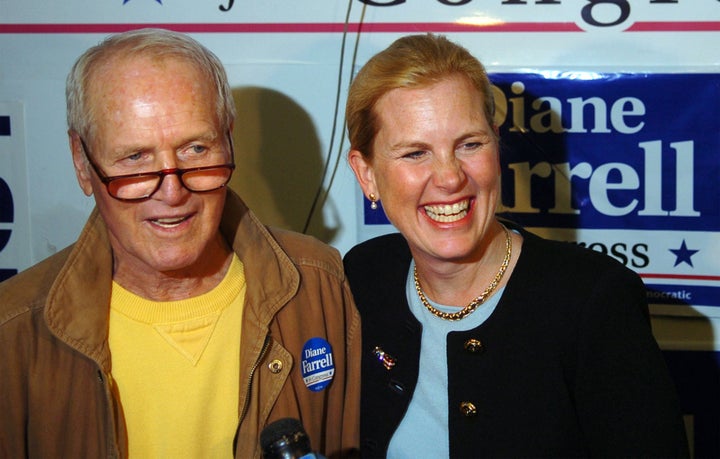 It's strange how someone's death can trigger the oddest of memories. When I heard that Paul Newman died, I suddenly flashed to the moment he walked into the house where I was babysitting and said, "Come on, kid - let's clean these fish."
Piercing blue-eyes. Brilliant smile. Easy-going, if somewhat hurried manner. Tight white tee shirt, blue jeans and some kind of serviceable jacket -- he was holding a plastic box filled with fish he and my summer-job boss and her husband had just caught.
Ugh! Of course, it was Paul Newman so I didn't immediately want to tell him "Are you crazy?" Instead I said something like, "Isn't that the man's job?" Well, he would have none of that. It was 1965 in Westport, Connecticut, the woodsy and quaint hide-away for liberal New York artists and media types -- and he knew more about the nascent Women's Liberation movement than I did.
Westport at this time was kind of like Haight Ashbury/East -- only richer. Very Age of Aquarius, folk-singing, both all black outfits and wildly colorful hippie hats and granny glasses, with civil rights activists who lent their names and gave money to good causes. In fact, closet impresario Leonard Bernstein lived in Westport -- though he threw his big party for the Black Panthers in his NYC apartment in 1970. "Twilight Zone" creator and host Rod Serling lived there, too.
Even before the rest of the country caught onto the devastation that would be the Vietnam War, many in Westport spoke out against it as citizens of the world. Paul Newman, for instance, was one of those who later spoke out publicly on behalf of the important Vietnam Moratorium produced by then-closeted David Mixner and friends -- the one where Mixner's friend Bill Clinton served as a volunteer.
So famous people blended in with the rest of the community. My father, a former Air Force colonel, was an executive at an aerospace company in Stanford that built helicopters for the military (lots of fights over the war) and my mother was a real estate broker. They liked to mix with old money and new. I was 15, transitioning from good girl to rebel, with a younger brother who could do no wrong.
I had seen Paul Newman and Joanne Woodward in town -- but like everyone else, I respected their privacy and left them alone. Truthfully, I had never seen any of Newman's movies -- but I had one of his pin-up posters in my room -- the one from Hud. I think, as I tried to play the straight game.
Paul Newman pretended not to notice my flustered embarrassment as he dashed into the kitchen and plopped the fish container on the counter. He looked for a knife while telling me about how they caught the fish. I really didn't have a clue what he was talking about -- I was focused on having to touch the smelly slimy things. Thankfully, he didn't make me do that. But he did insist on giving a running explanation as he cleaned them himself, as I looked on in disgust, swearing I would never ever eat fish again.
He seemed amused by my discomfort. He had three teenagers at home -- Scott, who was my age, and two daughters. He remembered me later that summer when I was responsible for watching his two daughters Susan and Nell when we all went on this trip to see the Beatles play at Shea Stadium. It felt weird since Susan was just two years younger. But hey -- we had great seats and a lot of fun -- though it was actually hard to hear with all the screaming.
Several years later -- shortly after Woodstock -- I ran into Scott at a company owned by the husband of a friend of mine. We went out back and smoked some pot and chatted. I remember how unhappy he was -- he was very dark and flippant. I'm not sure what he was so pissed about -- but he acted out a couple of times, getting arrested for drugs (or a DUI, I don't remember) -- and then he kicked the back of the driver's seat as the cops transported him to jail.
In 1978, Scott died of an accidental overdose of drugs and alcohol. I always wondered if it might have been more intentional than accidental since I was pretty dark and suicidal by then, too. Luckily, I worked for CBS News, which had an employee assistance program -- and I got sober in 1980. Years later, I ran into Paul Newman at a fundraiser. Thinking I might never see him again, I pulled him aside, reminded him of the fish scenario, and then told him how sorry I was to hear about Scott -- by then Newman had set up the Scott Newman Foundation to help people learn about the dangers of alcohol and drug abuse. I told him I smoked pot with Scott -- and how dark we both had become. And suddenly, in this cocoon of intimacy that surrounded us, I became overwhelmed with emotion and I blurted out: "I don't know why him and not me."
His eyes welled up and he hugged me. "Just be thankful that you're still alive," he said.
"I am. I'm very grateful. And I'll never forget Scott -- I promise," I said.
"Thank you," he said, giving me one more hug before returning to the party.
Last June, I celebrated 28 years clean and sober -- and I haven't forgotten Scott Newman.
And I've never forgotten how kind Paul Newman was to a strange teenage girl who didn't want to get her hands dirty cleaning fish. Hell, his little lesson about women's independence may have helped create the rebel I became -- and remain.
Thank you, Paul Newman. Rest in Peace.
Calling all HuffPost superfans!
Sign up for membership to become a founding member and help shape HuffPost's next chapter