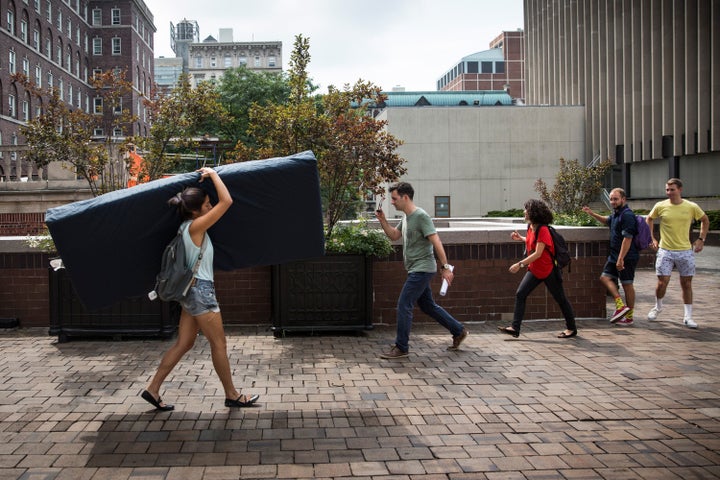 A federal lawsuit from a former male Columbia University student alleging the Ivy League school failed to stop harassment from classmates who accused him of rape was dismissed on Friday.
Paul Nungesser was accused of sexual misconduct by Emma Sulkowicz, two other female students and one male student. None of the accusations the students filed with Columbia resulted in the university's finding Nungesser "responsible."
U.S. District Court Judge Gregory H. Woods on Friday granted Columbia's motion to dismiss the suit but left open an option for Nungesser to try again. He wrote that Nungesser had failed to state a claim under Title IX, which prohibits discrimination on the basis of sex.
"Nungesser does not allege that Sulkowicz ever attempted to touch him, spoke to him, followed him, or otherwise interacted with him after the October 2013 hearing," Woods wrote in his opinion. "Nor does he allege that she ever used his name in any of her public statements."
The court rejected that Nungesser had his rights violated under the gender equity law, in part because it rejected that calling someone a "rapist, falsely or not," is a gendered term. Woods wrote:
[Nungesser] assumes that because the allegations against him concerned a sexual act that everything that follows from it is "sex-based" within the meaning of Title IX. He is wrong. Taken to its logical extreme, Nungesser's position would lead to the conclusion that those who commit, or are accused of committing, sexual assault are a protected class under Title IX. The statute does not permit that result.
The suit complained that Nungesser's parents notified Columbia of an impending December 2013 article in the New York Post about the cases against him, "but that no action was taken in response." In January 2014, a student publication called the Blue & White published a similar story and Columbia advised Nungesser not to comment for the piece, the suit said. Neither story identified Nungesser by name, and both alleged that Columbia mishandled the cases.
In the 2014-15 academic year, Sulkowicz began carrying a mattress around campus in an art activism project called "Carry That Weight," saying that she would do so until her "rapist was off campus." She later followed up with other art projects that used newspaper clippings of media coverage of her mattress protest.
While Nungesser complained that he was denied a security escort on two occasions during that school year, the court also said he did not have his access to educational opportunities disrupted.
The court also rejected Nungesser's complaint that Columbia failed to enforce confidentiality rules because there was no evidence that the university disclosed information about his case. Several other claims by Nungesser were also dismissed.
Woods said Nungesser can file a second amended complaint with respect to certain claims, including that Columbia was guilty of intentional infliction of emotional distress and failing to uphold its policy against retaliation. He can also replead his Title IX claims -- in other words, the court told him to essentially try again if he'd like.
Philip A. Byler, an attorney representing Nungesser, said they plan to do just that. He promised the public will hear more from their team on Woods' interpretation of Title IX.
"We very much believe in Paul Nungesser's case and further believe that a dismissal decision would represent a very, very erroneous interpretation and application of, [among other things], Title IX," Byler told HuffPost in an email Saturday.
Columbia did not immediately respond to request for comment.
Related
Popular in the Community