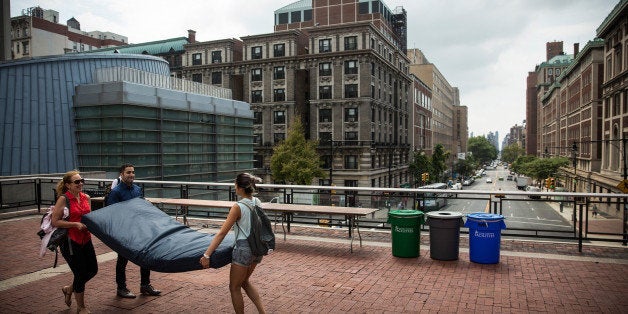 After months of widespread coverage of sexual assault allegations at Columbia, this week the Daily Beast published a piece by the reliably rape-skeptical Cathy Young that purported to find the gray area in the accusations. Young focused on Paul Nungesser, the Columbia student reportedly accused of sexual assault by three different women. "Columbia Student: I Didn't Rape Her" was the headline.
"If Nungesser is not a sexual predator," Young concluded, "he could be seen as a true victim: a man who has been treated as guilty even after he has proved his innocence."
To develop this contrary point of view, Young interviewed Nungesser, his family, and the student assigned to be his supporter in the disciplinary process, and she cited messages exchanged between him and his accusers. She was unable to interview any of Nungesser's alleged victims, who worried that the piece would be what it ultimately ended up being: an example of reporting that reads with a veneer of neutrality but nonetheless advances the notion of hysterical, scheming women unfairly turning ambiguous circumstances into an attack on a hapless target.
Jezebel has spoken with three students who accuse Nungesser of sexual assault—one of whom, a male classmate, is currently in the process of pursuing disciplinary action through Columbia and has never previously spoken publicly about his allegations. There is not, by these students' accounts, much ambiguity in their experiences with Nungesser.
Related
Popular in the Community