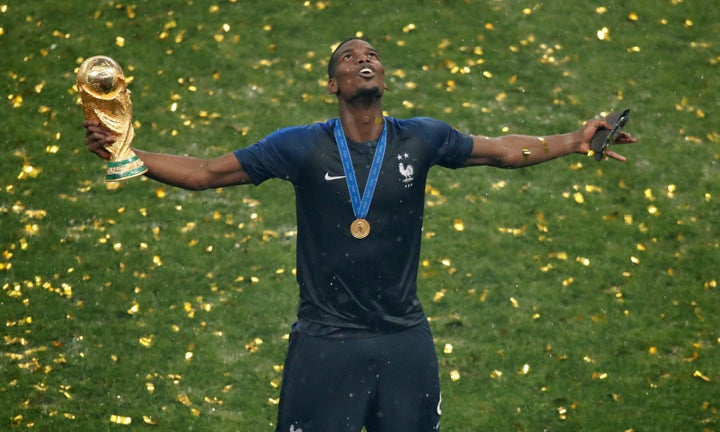 This World Cup had plenty of those. But one of the moments I will remember most vividly from the 2018 World Cup was a pass, delivered by the right foot of France's Paul Pogba in the 59th minute of the World Cup final.
Pogba wound up finishing the play with a beautiful curling shot ultimately that salted away France's 4-2 victory over Croatia. But as sumptuous as his goal was, the pass was even better.
There is Pogba, some 65 yards from goal when the ball winds up at his feet. He is surrounded by defenders, and France, at this point, does not seem dangerous. But then Pogba cracks a half-volleyed screamer up the middle of the pitch, angling it perfectly past a defender and into the path of Kylian Mbappé. What makes the pass truly amazing is that Pogba had defenders closing in both in front and behind him. There's no space to settle the ball and make a safer pass. There's even less time to conceive and execute an outlet pass like this. But he does it anyway.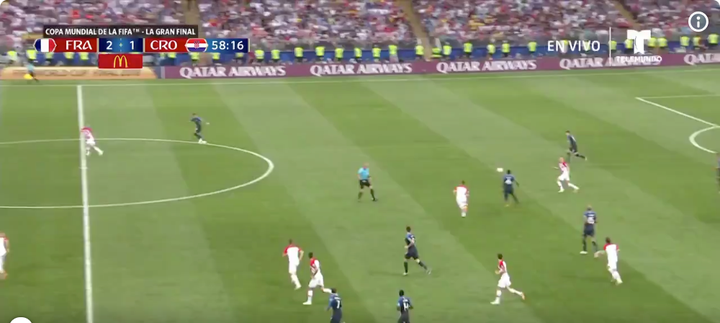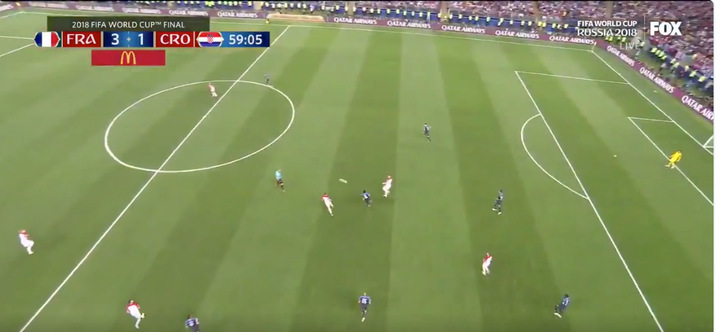 The pass was perfectly struck and perfectly weighted, and it put France on the attack mere seconds after they'd been crowded into their own defensive half. It was the sort of moment — like Romelu Lukaku's run against Japan that ended with a daring dummy — that can only be fully appreciated on replay, from different angles and vantage points and speeds. It was gorgeous. It was sublime.
There aren't many players who possess Pogba's talent; there are fewer still who can make that pass even once, much less over and over and over again. He has: It was Pogba who played the knifing ball that led to France's first goal of the tournament against Australia; it was Pogba who routinely gathered the ball in his own half of the field and launched waves of French counterattacks by picking the right pass to split entire defenses. It's nearly impossible to say that a single player made manager Didier Deschamps' defense-first, counterattacking system work in Russia. And yet, it's hard to imagine Deschamps' master plan working this well had Pogba not been at the center of it.
I could have just as easily chosen Pogba, who, coincidentally, is Lukaku's club teammate at Manchester United. Pogba, who was born in the banlieues of Paris to Guinean parents, was a much-heralded prospect at United before he moved to Juventus, in Italy, in 2012. There, Pogba was a key part of a team that reached the Champions League final and the sort of box-to-box midfielder who could change a match all by himself, even if he was still coming into his own. The sheer price of his move back to England in summer 2016 — for a then-European transfer record of more than €105 million — set a new standard. It was no longer enough for Pogba to be good. He had to be the best player in the world, or at least one of them.
Pogba instead spent most of the last two seasons, and this one especially, battling notoriously prickly United manager Jose Mourinho over what exactly he is supposed to be doing. He is a fluid player stuck in a rigid system. Few have ever doubted Pogba's physical skills, but among the European pundit class, everything from his commitment to the game to his intelligence has been questioned repeatedly. There is always something wrong with how Pogba approaches soccer, no matter Mourinho's track record of alienating superstars; no matter that Pogba's 10 assists last season ranked him fifth in the Premier League even though he missed nearly two months to injury.
Both for United and for France, Pogba is described, most often, as "an enigma." He has been criticized for "spending more time on his dress style" and "the colors in his hair" than on the sport, and for not "understanding" how to play the game. He's been lambasted, even, for making The Dab his signature celebration. Before the World Cup, Pogba was "a big problem (who) just doesn't contribute enough to be regarded as a world class player," retired player and broadcaster Eamon Dunphy said.
And even when the pundits try to praise the Frenchman, they often slip back into their familiar codes. Ahead of the World Cup final, former Scottish player and manager Graeme Souness ― one of Pogba's fiercest and most unrelenting critics ― said that he had "most definitely" warmed to Pogba during this World Cup. But he couldn't resist another barb. "He's indisciplined and that's the kindest word I can say about him," Souness said. Even those trying to praise Pogba's work turn his hairstyle into a metaphor.
"I went from the biggest transfer in the world to the most criticized player in the world," he said after France's opening victory over Australia. "The critics are always here."
But there is no way to criticize Pogba's play at this World Cup, and especially in Sunday's final. The pass, meanwhile, exposes the folly of the code. The pass is a perfect mixture of Pogba's athleticism and intelligence ― he had a split second to identify the open space ahead of Mbappé, and a split second to exploit it. A touch less intelligence, a drop less athleticism, and it doesn't work. It doesn't come close to working. He probably doesn't even try it. 
In the biggest match of his career, Pogba did it all. He led France in total passes and passes completed. He led France in tackles. He was dispossessed just once. He was the best player on a pitch full of world-class talent. It was a remarkable performance, and he gave us a moment to remember it by. But it wasn't the goal, as good as it was, because nothing Pogba did in Russia was better than that pass.
Calling all HuffPost superfans!
Sign up for membership to become a founding member and help shape HuffPost's next chapter
BEFORE YOU GO