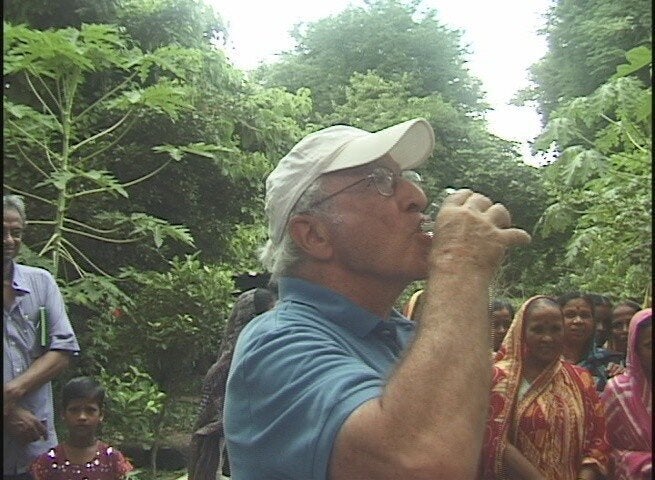 Lots of rich men try to help the world's poor, but Paul Polak brings more than money to the table.
The 78-year-old innovator fled his home at age 5 when Nazi troops invaded his small home town in Czechoslovakia. "My dad saw what was coming and said, 'if we don't get out of here, we're going to die,'" Polak said. "He tried to get everyone else to leave as well, but they said, 'what would we do with our furniture?'"
The family escaped to Canada with virtually nothing. "I lived in a house with no electricity and carried water from across the street in buckets. But I didn't feel poor," Polak said. "Some people who are broke are in despair, and some people who are broke know it's temporary."
And it was. Polak became a successful psychiatrist and, through side businesses in real estate and oil, reached a net worth of $3 million before turning to a third act. About 30 years ago, he founded International Development Enterprises (IDE), a non-profit venture that provides poor farmers access to affordable irrigation tools. Then in 2008, Polak created the for-profit Windhorse International and design incubator D-Rev, which design and sell innovations to the world's poorest 90 percent.
To date, these companies and their subsidiaries have created products that cost substantially less than their predecessors and counterparts, including an $8 treadle pump (compared to a $500 diesel pump), $25 artificial knee and $400 hospital lamp for treating neo-natal jaundice, saving lives of babies in impoverished areas that previously couldn't afford the comparable $4,000 Western devices. Next on the agenda are methods for selling safe drinking water, converting agricultural waste to green coal and delivering affordable photovoltaic energy.

Polak says his techniques and products can eventually lift up to 500 million people living on $2 a day out of poverty. But applying a for-profit business model to global poverty make him "a pariah" in the field, Polak said. "The mainstream thinking was that businesses ripped people off and put them into poverty, so to propose doing business as a way of ending poverty was very unpopular."
HuffPost Small Business reached Polak by phone to talk about his background, his approach to poverty and his business methods.
Do you see any connections between the mindset of people in your childhood town and those in your field today?
People now are just as blind as the people then who didn't want to leave their furniture. People who believe in the charity approach to ending poverty are not about to change their approach in the face of abundant evidence that it doesn't work.
And your solution is to view poor people as customers?
The key is understanding customers in a deep way. I've talked to farmers in Bangladesh for hours, at their barns, walking through their fields. When poverty experts discuss the root causes of poverty, they [cite] lack of education, roads, access to capital or absence of power, but these people said they were poor because they didn't have enough money. And when I asked them how they could make more money, they said from their farming. If they could grow crops in dry seasons, they'd make three times as much money. And it seemed to work the best when poor people could pay full price for irrigation tools. That put the onus on us to design things poor people could buy and use to make a profit.
What advantages does a for-profit business model allow that charity doesn't?
Nonprofit organizations were making treadle pumps available to farmers and subsidizing the drilling costs, but then they could only put in the amount of pumps their budget would allow. Instead, we trained local businesses to produce treadle pumps, village dealers to sell treadle pumps and well drillers to install treadle pumps. We eventually recruited about 70 manufacturers, 2,000 to 3,000 dealers and 3,000 well drillers, all of whom earned a living. We sold about 1.5 million treadle pumps in Bangladesh.
I've interviewed more than 3,000 $1 day people, and now they're out of debt, can keep their kids in school and buy animals, whereas before their family didn't have enough to eat maybe three months of the year.
Coming from poverty yourself, what made you focus on others' condition vs. your own comfort?
I risked some of my retirement money and am taking more risks than anybody 78 should be taking to start these global businesses. Being wealthy isn't my primary goal.
Name:Paul Polak
Companies: Windhorse International
Age: 78
Location: Lookout Mountain, Colo.
Founded: 2008
Employees: 24 in India
2012 Projected Revenue: Rolling out first project this fall
Website: http://www.paulpolak.com/
Related
Popular in the Community