It's easy to vilify fossil fuel companies.
Oil and coal giants like ExxonMobil and Peabody Energy profit from substances that ravage the environment and drastically alter the climate by warming the planet. Like tobacco companies facing cancer studies, they have helped seed doubt in sound, if inconvenient, science.
But rather than destroy energy giants through divestment or boycott, Unilever CEO Paul Polman wants to woo them to the right side of history. 
"It doesn't really serve right now to say we need to hit the fossil fuel industry," Polman told The Huffington Post's Jo Confino at the annual World Economic Forum meeting in Davos, Switzerland. "I don't believe that, and I don't believe it's constructive, either." 
These are energy companies, after all. The fact that they peddle polluting products could be seen as a shortcoming, not a fundamental flaw. The challenge should then be converting the firms to renewables, rather than financially knee-capping them.
The world needs more energy than ever, and fossil fuel firms' pockets may be the deepest ones from which to draw money for renewable investments. Earlier this week, the head of the global bank HSBC said it was "dangerous" to think that society should abandon the oil, gas and coal industry, which is such an integral part of the world economy.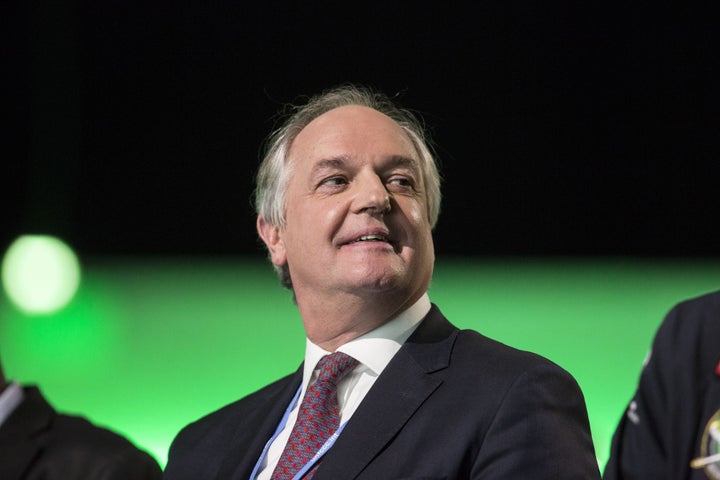 "If you're in the medical industry, there are many issues still of giving people access to health care," said Polman, whose corporate behemoth owns brands like Ben & Jerry's and Hellmann's mayonnaise. "If you're in the education industry, there are many people who need to be educated, still. If you're in the food industry, like us, there are still 800 million people going to bed [hungry]."
Some energy producers understand the importance of renewables -- half of power plants built worldwide last year were green. But cynics abound. Exxon CEO Rex Tillerson -- whose company was accused of covering up research about the effects of carbon emissions on the climate -- mocked renewable energy last year and said "we choose not to lose money on purpose." 
"We first and foremost need to be sure our leaders understand that investing in the common good, investing in the long term, is a better investment than just your short-term self-interest," Polman said. "That's really where [sic] it boils down to. In this case, by making a world function for all, it's in the best interest to have long-term prosperity for your own business."
Still, it can be hard to make fundamental changes to a business when Wall Street investors -- hungry for quick, quarterly dividends -- can send a stock plunging if they perceive a switch to renewables as a death knell for an oil company. 
"They need help to convert," Polman said. "It's already tough enough to do that when you have a shareholder base that looks at shorter-term returns."
"The main thing we need to work on is CEOs," he said. "CEOs need to have higher levels of awareness of these issues out there, then be very well engaged." 
He said that means rallying other business leaders to good causes, and setting clear goals and targets to which they can be held accountable. 
"[We need to] make these targets transparent, which is the best way I can think of to develop the trust that is desperately needed," Polman said. 
More stories from the World Economic Forum 2016:
REAL LIFE. REAL NEWS. REAL VOICES.
Help us tell more of the stories that matter from voices that too often remain unheard.