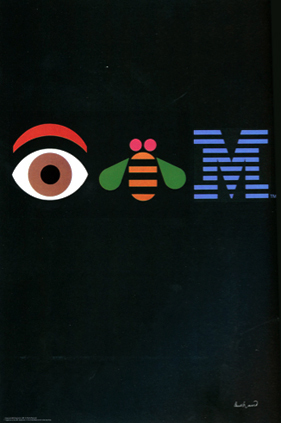 Perhaps the most recognizable poster created by Paul Rand is the one he made for IBM, with its clean iconic triad, the eye, the bee, with the alphabet letter M, striped to match the body of the bee, to complete the rhebus. The graphic designer Paul Rand (1914-1996) is acknowledged as the artist who lifted graphic design to a new level of Art. Known not only for his corporate work, identity programs, packaging design, brochures, Paul Rand, born Peretz Rosenbaum in Brooklyn, was a teacher, in the lecture halls at Yale, and as a writer of numerous volumes including Thoughts on Design and Design, Form, and Chaos. Writing constantly, he wrote not only to educate, but to clarify his thoughts and assertions. At the Museum of the City of New York, the breadth and scope of his career is in full display. A bit too crowded to give each work its full measure of weight, the exhibition, ads hung chockablock on the walls and laid out in vitrines in a first floor gallery, is a testament to his legacy.
His definition of quality written for his colleagues at IBM defies styles and trends: "The concept of Quality is difficult to define, for it is not merely seen, but somehow intuited in the presence of the work in which it is embodied. Quality has little to do with popular notions of beauty, taste, or style; and nothing to do with status, respectability, or luxury. It is revealed, rather, in an atmosphere of receptivity, proprietary, and restraint." At the exhibition's opening, designers Steven Heller, Bob Salpeter and Bob Gill were among those paying homage to this master in their field.
Calling all HuffPost superfans!
Sign up for membership to become a founding member and help shape HuffPost's next chapter