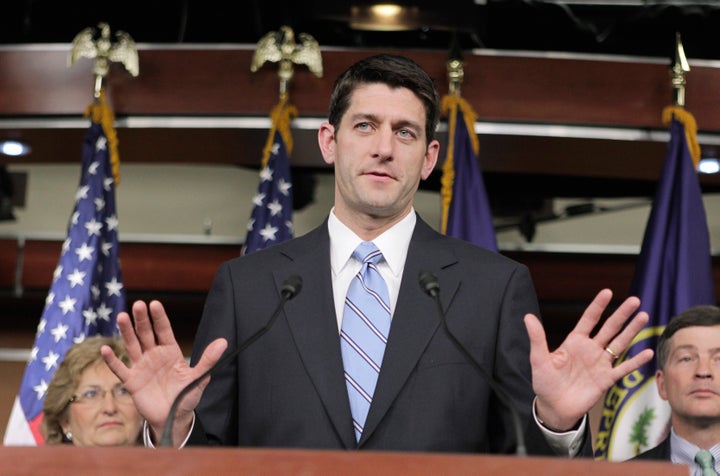 WASHINGTON -- Reince Priebus has begun exploring whether a presidential bid by House Budget Chairman Paul Ryan (R-Wis.) would have any impact on Priebus' ability to remain at the helm of the Republican National Committee, according to sources with intimate knowledge of the discussions.
Multiple sources who work for Ryan and speak with him on a regular basis said that the Budget Committee chairman has no intention of running for president in 2012. If there is any consideration at all within the Ryan camp about a 2012 run -- and that clearly remains a big if -- they are not ready to start talking about it.
"Paul is focused on representing his employers in Congress and serving as the Budget Committee chairman. His priorities are being the best husband and father he can be and doing his job to the best of his ability," said Susan Jacobson, finance director of Ryan for Congress. "He is not interested in running for president."
But Priebus' deliberations are the first real indication that those who are close to Ryan and who control levers of power in the GOP are taking the idea of a Ryan candidacy seriously.
Priebus and Ryan are both from Wisconsin, have known one another for years and talk regularly. They're slated to jointly headline a fundraiser Friday in Milwaukee along with Wisconsin Gov. Scott Walker (R) and Sen. Ron Johnson (R). In addition, the RNC chairman's comments at a breakfast Tuesday seemed to hint at the possibility of a Ryan candidacy.
Priebus has been seeking counsel since at least last week about what impact a Ryan presidential run would have on his own role at the RNC, sources told The Huffington Post. Other GOP hopefuls might object to someone so close to Ryan remaining as head of the party's main fundraising and organizing arm. The Republican presidential nominee usually installs his own RNC chair for the general election.

RNC spokesman Sean Spicer said Priebus remains impartial and supportive of all the Republican 2012 hopefuls.
"We enjoy great relationships with all potential candidates and whoever our nominee is will receive the full support of the RNC," Spicer said.
News of a Ryan candidacy would send shockwaves through the political world and radically alter the 2012 landscape. He has the potential to electrify a conservative movement that has thus far remained unexcited by the field of potential candidates and increasingly anxious that they will not have a formidable leader to challenge President Barack Obama.
An increasing number of conservative columnists -- including Charles Krauthammer, Bill Kristol and Ross Douthat -- have begun to call for Ryan to run, and speculation that such a scenario might actually be likely has picked up this week.

If he were to jump in, Ryan could immediately become the frontrunner in the race. He is conservative enough to win the primary -- though he would face some tough questions from the right about his record. While fiscal issues are his focus, his record on social issues is solidly conservative.
He also has qualities and attributes that could nullify many of the advantages Obama would hold over a number of other potential Republican candidates. He is young (41), telegenic and seen as one of the brightest lawmakers in Washington. He comes from a swing state that tilts Democratic and represents a district that voted for Obama in 2008, though it went for George W. Bush over John Kerry in 2004.

Perhaps most importantly, Ryan has been the only politician from either party in Washington over the last few years to present a detailed plan for reform of entitlement programs. The basic elements of his plan -- which would slash the top income tax rate from 35 percent to 25 percent while overhauling Medicare and shifting Medicaid to more of a state-run program -- were avoided by House Republican leaders for several years, but after assuming the Budget Committee chairmanship Ryan wrote such provisions into the official House GOP budget.
Ryan's biggest challenges in a campaign, GOP operatives said, would be raising money, overcoming his lack of executive experience and playing politics at the highest of levels. Ryan "hates politics," one observer said, and over the years has demonstrated a single-minded focus on influencing policy by remaining in the House, eschewing opportunities to run for governor or a Senate seat. But a presidential campaign would require him to be ready for hardball, and would also present a communications challenge.
Ryan's demeanor is efficient and not particularly warm. His focus is on technical budget and spending issues. He has tried to accentuate that his policies are intended to bring about economic growth -- his political action committee is called "Prosperity PAC" -- but would still need to improve his ability to connect with Americans who don't know the ins and outs of the debt, deficit and budgets.
"The budget battle is extremely difficult to explain to the average voter," said Chip Felkel, a Republican consultant in South Carolina. "If what you can run on is the daggum budget, good luck explaining that to America. It's a soundbite society unfortunately, and it's not a soundbite."
Nonetheless, Ryan has for some time cast the 2012 election as a "tipping point" that will decide whether the United States remains a nation driven by a self-reliant and industrious people or becomes a "cradle-to-the-grave European-type welfare state."
But he has consistently said that he does not want to run for president in 2012, citing the impact of a run on his ability to spend time with his wife and three children, who live in Janesville, Wis.
The pressure on him to run is clearly increasing, however, as GOP leaders and the activist base remain unsatisfied with the current crop of candidates.

And Ryan's profile has increased dramatically this year. Along with House Speaker John Boehner (R-Ohio), Ryan has largely become the public face of the Republican Party. Ryan delivered the GOP response to Obama's State of the Union address in January. He then vaulted into the public eye when he presented the budget proposal in early April. The GOP leadership in the House is united behind his plan.

But he has also helped unify members of the Democratic Party, who have attacked Ryan's cuts to government health care programs. One possibility is that Ryan decides that the only way out of the debate is up, and that to have a chance of winning the argument with Obama and Democrats he needs the kind of platform that only a presidential campaign can bestow upon a politician.

Ryan's path to the national stage began more than a year ago. Ironically, it was the president and his administration who began to single out the congressman as an ideological opponent.
Obama said that while he had read Ryan's plan and considered it "serious," he disagreed with its basic approach of moving away from a government-driven model for delivering health care to the poor and elderly, toward a more consumer-based, decentralized model that seeks to bring prices down through market forces and price transparency.

Ryan and Obama again tangled at a White House health care summit in February 2010. Many Ryan fans thought he was far sharper than the president, previewing what a presidential debate between the two might look like.

It was just this month, however, that the rivalry between Obama and Ryan became a grudge match.

Obama responded to Ryan's budget in a major speech just over two weeks ago. Obama stated broad goals and offered few specifics about how to achieve the federal deficit and debt reduction he aspires to. But he vigorously attacked Ryan's budget.

The White House invited Ryan to attend the speech. But the congressman left angry after sitting in the front row as Obama described his plan as "deeply pessimistic" and unfair to the poor and to seniors.

"I don't think there's anything courageous about asking for sacrifice from those who can least afford it and don't have any clout on Capitol Hill. That's not a vision of the America I know," Obama said.

Ryan, who scribbled the phrase "campaigner in chief" on a piece of paper as he listened, afterward blasted the speech as "excessively partisan" and "dramatically inaccurate."

Popular in the Community