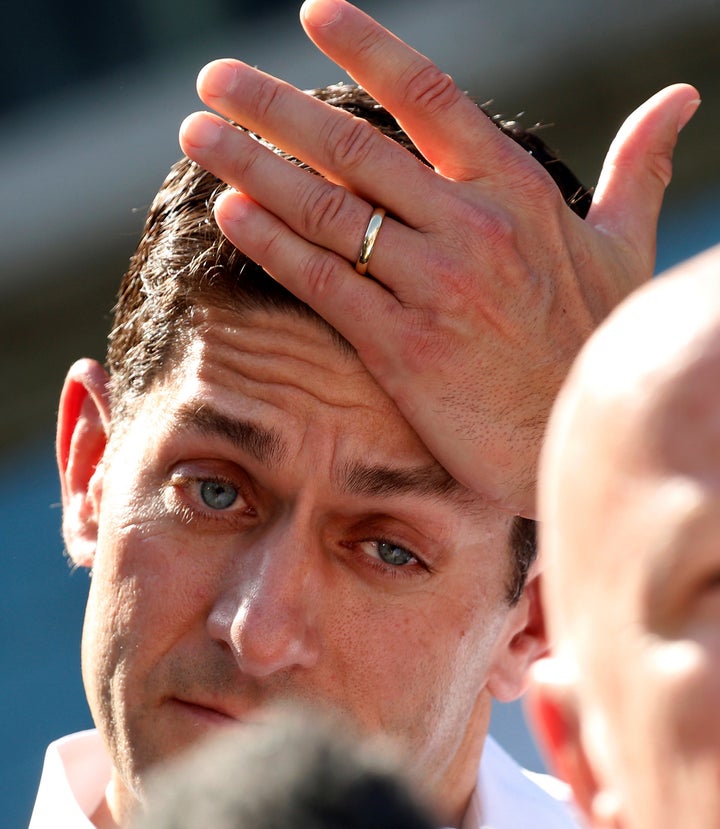 WASHINGTON -- Speaker Paul Ryan and a group of House Republicans came to a drug and alcohol rehab center in a low-income area of Washington on Tuesday to escape the shadow of Donald Trump, to talk about real issues that transcend politics, and to release an anti-poverty plan. Instead, Trump became the news.
In the release of their first of six policy planks, the Republican "Task Force on Poverty, Opportunity, and Upward Mobility" issued a 35-page report Tuesday laying out a vision of public-private partnerships intended to lift people out of poverty.
Much of the plan is just a reissuing of recycled Republican ideas, or, in the words of ranking Democrat on the House Budget Committee, Rep. Chris Van Hollen of Maryland, "an unspecific regurgitation of the same failed trickle-down policies that the GOP has been peddling for decades."
The key focus of the proposal seems to be expanded work requirements for welfare and other benefits, with a focus on requiring recipients to either be working or preparing to work if they're to get assistance.
Republicans also want to consolidate a number of poverty programs, emphasize private retirement savings accounts like 401(k)s, and reduce improper payments -- the tried and true talking point of reducing "waste, fraud and abuse."
"There are people on the front lines fighting poverty successfully," Ryan said Tuesday. "And the problem we have had in government for too long is we think the way to fight poverty is to treat its symptoms. And when we treat the symptoms of poverty, we perpetuate poverty."
A key finding in the report is that current efforts to combat financial hardship have not worked. That's a point Democrats contest.
"Speaker Ryan and Republicans continue to mislead and distort the truth by stating that the poverty rate has remained flat, despite spending trillions of dollars on social safety net programs," Rep. Rosa DeLauro (D-Conn.), one of the leading congressional advocates for the poor, said in a release. "This claim is simply not true. The poverty rate has fallen substantially since we began the war on poverty, and as of 2014, we have cut the overall poverty rate by 40 percent, and the child poverty rate by 35 percent."
Minority Leader Nancy Pelosi (D-Calif.) also called out Ryan and Republicans, saying that "beneath the sugary rhetoric" of the plan unveiled Tuesday, "Republicans are advancing the same callous, trickle down policies they've been pushing for years."
"No matter what new language they are using, the vast majority of House Republicans' legislation has consistently shown families in poverty nothing but indifference and contempt," Pelosi continued in a statement.
There are plenty of items lawmakers theoretically should be able to agree on. The plan wants to better support at-risk youth, improve technical and higher education, and strengthen nutrition for students and working families.
Anti-poverty groups applauded Ryan "for giving poverty the attention it deserves," in the words of Bread for the World president Rev. David Beckmann.
"We have disagreements with some of the proposals," Beckmann said. "But we are pleased that the plan doesn't propose to cut or block-grant anti-poverty programs, and we welcome the emphasis on making programs as effective as possible."
That's the conversation Ryan wanted.
He's made a point with the release of this GOP agenda to try to offer serious policy proposals, trying to contrast House Republicans with the toxic rhetoric surrounding their party's presumptive presidential nominee.
But he couldn't escape Trump.
The first question Ryan was asked was about Trump's comments on Judge Gonzalo Curiel -- whether he thought it was racist for Trump to say Curiel should recuse himself from a Trump University case because of his Mexican heritage.
Ryan was quick to disavow those sentiments, saying he regretted Trump had said those comments and wouldn't "pretend to defend them."
"Claiming a person can't do their job because of their race is sort of like the textbook definition of a racist comment," Ryan said, offering up perhaps the juiciest quote of his speakership thus far.
Trump surrogate Jeffrey Lord began accusing Ryan of being the real racist. New Jersey Gov. Chris Christie, another Trump surrogate of sorts, said Trump was "not a racist" -- a totally reassuring thing people have to say about Trump from time to time -- and said Ryan was "entitled to his opinion."
Meanwhile, the speaker faced more questions about whether he had been too quick to endorse Trump, and whether he might rescind his support.
Even as he called the comments "unacceptable," Ryan said he was still voting for Trump because Republicans have more in common with their nominee than they do with Hillary Clinton.
And in many ways, that was the quote Democrats were looking for, even more than the "textbook definition of a racist comment" soundbite.
For a policy agenda that was partly meant to separate Republicans from Trump, Ryan had just evidenced his support for the GOP nominee by noting that Trump was more likely to sign GOP legislation than Clinton.
"Do I believe that Hillary Clinton is going to be the answer to solving these problems?" Ryan asked. "I do not."
"I believe that we have more common ground on the policy issues of the day," Ryan said of Trump, "and we have more likelihood of getting our policies enacted with him than we do with her."
The moment wasn't lost on Pelosi.
"Donald Trump has exposed the true heart of House Republicans' agenda of recklessness, obstruction and discrimination," Pelosi said in her statement. "Republicans' half-hearted rebrand of their special interest priorities will do nothing to distract from the radicalism of Republicans' standard-bearer or House Republicans' longstanding disdain for people in poverty."
Popular in the Community