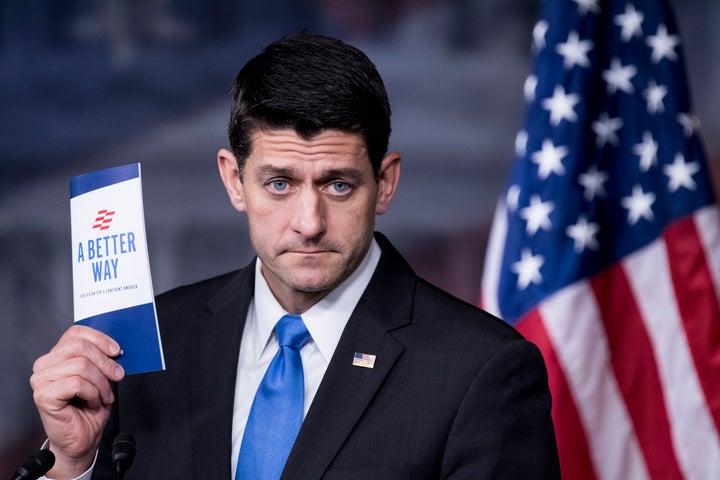 WASHINGTON ― If you thought Republican and Democratic leaders coming together at the last minute to work out a deal on a stopgap spending bill sounded familiar, you're right ― just don't tell that to Speaker Paul Ryan.
Congress continued the growing tradition of legislating-via-continuing resolution last week, failing for the seventh straight year to send even one regular appropriations bill to the president's desk. This was not supposed to be how 2016 went.
Ryan has clearly been successful ― once again ― in painting himself as the Republican Party's thought-leader. He likes to refer to himself as a "policy guy," even after endorsing a partisan demagogue manifestly devoid of real policy ideas. He will, of course, have to account for his support of GOP nominee Donald Trump at some point, particularly in the face of the long string of offensive comments that he has acknowledged crosses the line.
But there's a lot more for Ryan to account for than just his Trump support. The ultimate test for how House Republicans rate him as speaker will come in January, when he goes up for re-election to the position. And the year is not over yet. Many Republicans told The Huffington Post that they couldn't fully evaluate the speaker until they knew what he planned to do with a December spending deal. But many others noted that Republicans were never supposed to be in this position anyway.
When Ryan and Senate Majority Leader Mitch McConnell (R-Ky.) went before the press in January at a GOP retreat in Baltimore, both leaders spoke about the importance of getting appropriations bills done.
"It is not going to titillate the public," McConnell said of doing all 12 appropriations bills, but it would be one "obvious step" where Republicans could advance their priorities in a divided government.
Ryan said the House would do a budget early this year and then start the appropriations process a month ahead of schedule.
"Instead, the House slowed the budget and appropriations process from a legislative crawl to the shimmying of an overturned turtle trying to avoid death."
But House Republicans never agreed to a budget ― the Senate didn't either, for that matter ― and House lawmakers had a much later start on appropriations bills than usual. (By law, the House couldn't advance a spending bill without a budget before May 15.)
John Boehner (R-Ohio) was able to get a budget done every year of his speakership. And that was during a period marked by internal House Republican dysfunction. Ryan came into the speakership with the promise that he would cure the bad blood in the Republican conference and usher in harmony, progress and regular order. Instead, the House slowed the budget and appropriations process from a legislative crawl to the shimmying of an overturned turtle trying to avoid death.
When Ryan was asked last week how he was different at this point from his predecessor, the Wisconsin Republican didn't even wait for the question to be finished before he was answering it.
"We've actually passed appropriations bills," he said, ignoring the fact that the House, on average, passed more regular appropriations bills under Boehner than Ryan. "I think members of our caucus realize that when Harry Reid and Senate Democrats want to stop the appropriations process for political reasons and political motivations, they have the tools to do that."
That part is true, in a sense.
Senate Minority Leader Reid (D-Nev.) and the rest of the Senate Democratic caucus can prevent any appropriations bill from getting to the president's desk ― as they did with the Military Construction and Veterans Affairs conference report this year. Reid has no control, however, over how many spending bills get through the House itself.
As Ryan knows, the House only passed five regular appropriations bills this year. And that's after the speaker clamped down on the process, restricting which amendments could be offered to bills, something Boehner was able to avoid with a process that was almost entirely open. (Republicans have traditionally restricted amendments on a legislative branch spending bill out of fear that lawmakers would offer politically motivated proposals cutting or raising their pay.)
In January, back at the Baltimore retreat, Ryan spoke about the importance of maintaining open rules on appropriations bills. "That's how this system ought to be," Ryan said, "especially in the House. So that, I think, is what the Founders intended."
But he changed his tune soon after an appropriations measure went down on the floor, following an amendment ensuring that government contractors can't be fired simply for being lesbian, gay, bisexual or transgender was added to an energy and water spending bill.
Ryan told HuffPost at the time that the GOP conference wanted a more structured process for amendments coming to the floor because Democrats were proposing so-called poison pill amendments that were meant to kill legislation. (Democrats would contend that proposals barring Confederate Flags from being displayed on government grounds or provisions protecting LGBT workers are far from amendments simply meant to be toxic.)
Regardless, Ryan said last week he thinks Republicans understand the realities of divided government.
"Having said all of that, we still have passed some appropriations bills. The Senate even has passed some appropriations bills," he said.
Over his five years as speaker, Boehner managed to oversee the passage of, on average, six regular appropriations bills each year. Ryan ushered five bills through the chamber thus far, though he's said he hopes lawmakers returning from the November election, "drop their political shenanigans" and get on to "the serious business of actually appropriating."
"If we don't," Ryan added last week, "we'll do another CR."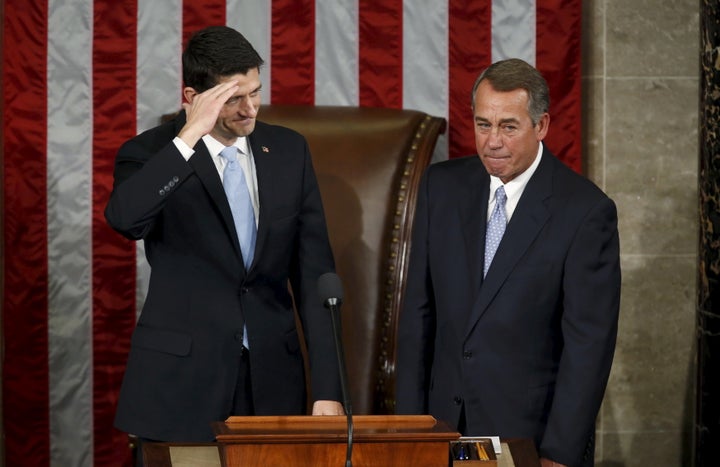 Ryan has been emphatic that this year won't end in an omnibus bill ― a 1,000-page-plus catch-all spending measure that, for all its procedural shortcomings, does at least reflect some of the work appropriators did in committee. (Despite inaction on the House floor, the Appropriations panel advanced each of their 12 individual spending measures internally.)
But if lawmakers return in November unwilling to advance individual spending bills, or some legislative package, Congress is headed for yet another bill extending current spending.
That would mean that, after not getting a budget done, after clamping down on the appropriations process, after passing five regular appropriations bills, after getting zero of those bills signed into law, after passing one stopgap spending bill, Congress would start next year with another stopgap bill.
Congress has been in that position before. The last two presidential election years ended with continuing resolutions. But it's hard to see how this outcome is much different than one Boehner would have produced, or, more to the point, much better for Republicans.
For one, if Boehner were still speaker, the deal worked out between Democratic and GOP leaders on the current CR would have probably looked similar.
The deal just wasn't fantastic for the GOP ― and Republicans know that.
Furthermore, like Boehner, Ryan isn't completely sheltered from the speaker coup pressures that his predecessor twice faced.
"If we lose 15, it'll be tough for Paul Ryan, especially if we do an omnibus in December."
Discussing the January speaker vote, one conservative member told HuffPost on Friday that Ryan could be in trouble, depending on the number of seats Republicans lose this election.
"If we lose 15, it'll be tough for Paul Ryan, especially if we do an omnibus in December," the member said.
If you ask members themselves what the difference is between Ryan and Boehner, responses will range from those who genuinely think the current speaker's more open lines of communication have made a dramatic difference, to those who will stare at you like you're crazy to think there's any change at all ― just as House Freedom Caucus member Rep. Paul Gosar (R-Ariz.) did last week when HuffPost asked him the question.
But even among the Freedom Caucus, a group of roughly 40 of the most hardline Republicans in the House, opposition to Ryan isn't monolithic.
When HuffPost asked HFC member Rep. Ken Buck (R-Colo.) what the difference between Ryan and Boehner is, he said things had significantly changed. And he defended the process by which Ryan completed a backroom spending deal with House Minority Leader Nancy Pelosi (D-Calif.) to pass the CR. "Is it regular order? I'm not sure. Is it necessary? Probably," Buck said.
Ryan has generally avoided the type of direct criticism that Boehner withstood at the end of his speakership, partly because he really has tried to communicate with his most hardline members. Ryan has even been bringing in individual Republicans lately to have one-on-one chats.
Ultimately, however, the legislative outcomes that Ryan has produced during his speakership have been no different than those of Boehner, according to conservatives.
"Are you kidding me? Nothing has changed," one Freedom Caucus member told HuffPost last week. "Nothing."
However, he did concede that Ryan is far less dismissive of conservatives than Boehner. It's just that, how much credit are conservatives supposed to give Ryan, the member asked, for being able to carry on a conversation with them?
Still, the floor chats and occasional dinners seem to be helping.
"I talk to him regularly," Freedom Caucus member Scott DesJarlais (R-Tenn.) said last week, "mostly about football."
The one area where conservatives truly seem hung up is Ryan clamping down on what amendments are allowed on appropriations bills. They agree that it was what the GOP conference wanted at the time, but they worry about the precedent it sets. As Rep. Justin Amash (R-Mich.) told HuffPost in July, "a speaker needs to defend the institution, even if that means pushing back on his own conference."
Rep. Thomas Massie (R-Ky.), during that same conversation, said Ryan had "cracked down" on the process. "This is the opposite of what he promised," Massie said. And he was particularly critical of Ryan preventing votes on Massie's gun amendments on a Financial Services spending bill.
As wonky and under-the-dome as those complaints are, Ryan's decision to remove so-called open rules on appropriations bills ― meaning not every amendment is guaranteed a vote anymore ― that continues to bother some members.
And if you were already looking for a reason to be upset with the speaker, that's an easy item to take issue with. But then again, so is the fact that nothing has really changed in terms of legislative outcomes.
It's unclear how much sway that will have in a January speaker vote.
Again, members seem content to wait the election out, to see how many seats Republicans might lose and to find out what Ryan does on a spending deal in December.
That wait-and-see attitude seemed to be Freedom Caucus chairman Jim Jordan's approach.
When HuffPost asked the Ohio Republican what had changed between Boehner and Ryan, he stared for a moment, then said, "I'll talk about the WRDA bill," referring to the Water Resources and Development Act, to which Republican leaders added a Flint amendment that Ryan described as non-germane a day before. (Nine Republicans ended up voting against the rule for that legislation, including Jordan.)
Jordan detailed why he felt the rule violated GOP principles ― allowing a vote on the Flint amendment but blocking other Republican proposals ― but he said Ryan has "a tough job and he's doing a good job of communicating, talking about our vision."
Pressed again, though, on what's changed between Boehner and Ryan, Jordan demurred.
"I'll let you write about that, brother," he said.
Jason Linkins contributed to this report.
Before You Go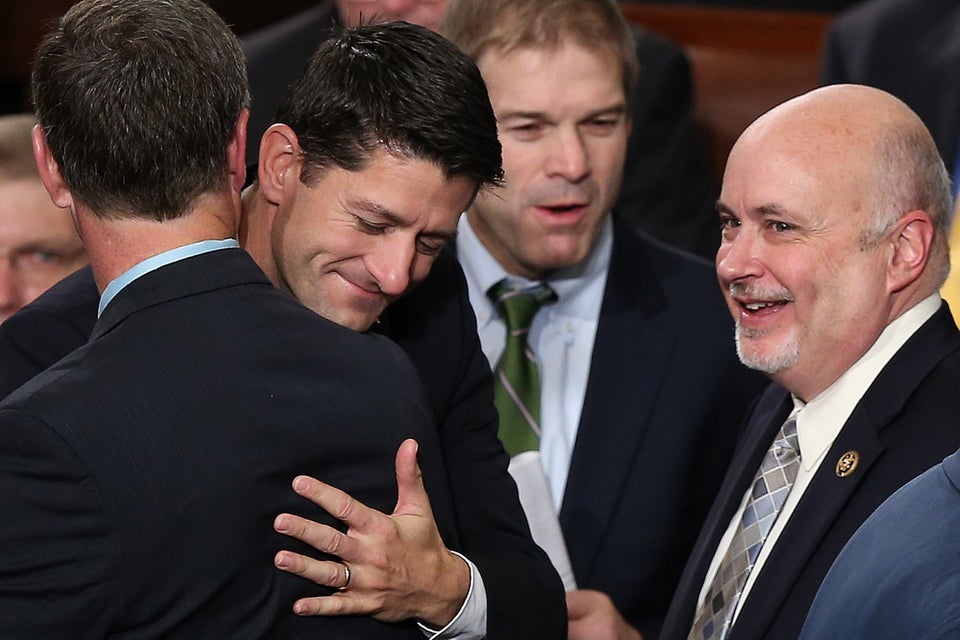 Paul Ryan's Speaker Election
Popular in the Community