 WASHINGTON -- A spate of anti-democratic actions in the Persian Gulf nation of Bahrain have turned an unflattering spotlight on a six-year-old U.S. free trade agreement sponsored and promoted by Rep. Paul Ryan, the Republican candidate for vice president.
Ryan was the House GOP point man for the U.S.-Bahrain Free Trade Agreement, which Congress passed by a wide margin in 2005. By finalizing the deal, Bahrain landed the biggest prize in global economics: unfettered access to American consumers, the largest market in the world.
In return, the oil-rich kingdom agreed to reform labor practices and improve conditions for workers. Ryan and foreign policy leaders said they hoped an economic relationship would help stabilize the Middle East by spurring democratic reforms and improving the region's human rights record. The 9/11 Commission also said trade deals may improve counter-terrorism operations in Bahrain.
"It's the carrot approach," Ryan said in 2009, explaining a positive way to encourage a change in behavior, rather than relying exclusively on punitive or military measures. "This is a way to help expand democratic capitalism, because through each of these trade agreements we require things like the rule of law and forcible contracts, women's rights, advancements towards openness, transparency and democracy."
But the hoped-for reforms never materialized. And rather than help change Bahrain for the better, the trade pact is making it difficult for the U.S. to discourage recent misbehavior.
In recent years, Bahrain has repeatedly resorted to brutal tactics to put down a democratic uprising in the wake of the 2011 Arab Spring. Numerous accounts said the regime imprisoned and tortured doctors who had treated protesters.
Last week, Nabeel Rajab, one of Bahrain's leading political opposition figures, was sentenced to three years in prison for supposedly "inciting" protest by using Twitter.
The trade pact with Bahrain not only took a powerful economic carrot off the foreign policy table, it also eliminated a critical economic stick. Any economic sanctions that the U.S. might seek to impose on Bahrain would violate the terms of the trade deal.
"We know that free trade agreements lead to offshoring and job loss to the detriment of middle-class American families," said Rep. Rosa DeLauro (D-Conn.) "What may be less known by the American public is that these agreements, supported by the Romney-Ryan ticket, allow global institutions to impede our ability to exert economic leverage over nations with whom we sign FTAs when they do not play by the rules, or act against U.S. interest. In the case of Bahrain, rather than any move toward democracy, we are witnessing gross human rights abuses, including against workers' rights, with little leverage to change the regime's behavior."
Ryan declined to comment.
Breaking the deal and imposing economic sanctions for Bahrain, ironically, could subject the U.S. to retaliatory trade sanctions.
"A lot of times people just say, 'Free trade breeds democracy, we don't have to worry about it beyond that.' And our view is, Where is the evidence for that?" said Celeste Drake, an international trade specialist at the AFL-CIO, which fought the Bahrain deal -- as it does most free-trade agreements -- and still opposes it. "Often all you've done is limited the scope of the how you can try to persuade a country to change its ways."
Organized labor has been particularly aggrieved with the Bahrain free-trade agreement. A labor dispute filed last year by the AFL-CIO and others accused the kingdom of violating the labor protections of the Bahrain free-trade deal.
In a recent hearing of the Tom Lantos Human Rights Commission on Bahrain, Sen. Ron Wyden (D-Ore.) was among those concerned that the trade deal may grant too much support to a regime that has not lived up to its human rights obligations. Wyden's criticism is notable in light of his close relationship with Ryan. The two have co-authored a Medicare reform proposal, and are well known in Washington for their mutual affinity.
"I have always felt that expanded trade can be a great force for progress as one of the tools for real social progress and improving the quality of life of people," Wyden said. "But free trade cannot mean trade free from honoring commitments, and I am concerned that Bahrain's labor commitments pursuant to the U.S.-Bahrain Free Trade Agreement have not been fully implemented."
The Obama administration has been reluctant to use any foreign policy tools -- trade or otherwise -- against Bahrain. Labor and human rights activists said they believe the U.S. Department of Labor has completed a months-long investigation in the claims against the trade agreement, and sent a letter last week to Secretary of Labor Hilda Solis urging her to release the report -- and to nullify the free-trade deal.
"Serious and escalating violence and violations of human and labor rights continue in Bahrain," the letter to Solis concluded. "We believe this lack of progress risks sending a signal to both Bahraini civil society and to the Bahraini government that the U.S. government is not serious about the promotion of human and labor rights in Bahrain."
The Labor Department did not respond to repeated requests for comment from The Huffington Post. When she was a member of Congress, Solis voted against the Bahrain agreement, as did current Secretary of Homeland Security Janet Napolitano.
Some congressional Democrats are now voicing concerns about the deal. "One of the reasons I and many of my Democratic colleagues opposed the U.S.-Bahrain FTA was our fear that Bahrain would not live up to its commitments to protect workers enshrined in that agreement," said Rep. John Conyers (D-Mich.). "Unfortunately, these concerns were clearly warranted in light of the multi-year campaign of violence against trade unionists and the repression of peaceful protests. In my view, Bahrain has clearly violated the labor rights provision of the trade agreement."
The flaws with the Bahrain deal were evident to organized labor and other groups when the agreement was inked. When nations trade with an unstable or abusive regime, they sometimes include specific terms in trade agreements nullifying provisions in the event of a coup or a human rights crackdown.
But as the AFL-CIO's Drake pointed out, the labor provisions in the Bahrain deal were weak, with generalizations and unenforceable pledges that both countries would "strive to ensure" certain working standards.
Not all pro-democracy advocates see the Bahrain free-trade agreement in itself as an obstacle to democracy. The irony that a Labor Department investigation would never have happened without the deal is not lost on them. But they said the agreement's value is largely dependent on whether these provisions are actually enforced.
"The sentiment we're hearing from the activists isn't that FTA is bad, actually quite the opposite," said Cole Bockenfeld, the director of advocacy on the Project on Middle East Democracy, where he has worked extensively with Bahraini rights groups. "They realize how important it is to get the economy independent from the hard-liners in the government, and that is helped by FTA. But the problem people have with it is that it's leverage the U.S. has that they aren't using."
"There's no point in having the leverage of the FTA unless it's being used," added Brian Dooley, a Bahrain advocate at Human Rights First. "If we see the FTA as a point of engagement for the U.S. government to press the Bahrain regime on reform, then it has to use it. Progress has been glacial or non-existent."
Members of Congress are traditionally far more concerned with the domestic economic effects of trade deals than the foreign policy implications. The Bahrain pact came up for a vote at a time when Congress was also considering the much larger Central American Free Trade Agreement, which had more serious implications for U.S. jobs, especially in the textile industry. Many members of Congress who voted against CAFTA voted in favor of the Bahrain deal in order to appease the trade-friendly U.S. Chamber of Commerce, which backed both agreements. Only 95 members of the House voted against the Bahrain deal, including 13 Republicans.
The pact passed the Senate by unanimous consent, when both President Barack Obama and Vice President Joe Biden were senators.
"I vote against most trade deals because they negatively impact textiles, and I'm from North Carolina," said Rep. Howard Cobell (R-N.C.), who opposed both deals. When asked whether human rights issues had come up at the time, Cobell replied, "That could have been part of it, but I don't remember."
Sen. Robert Menendez (D-N.J.), who was a congressman in 2005 and opposed the trade agreement, said the U.S. "must press Bahrain to abide by core human and labor rights" because it is required by the deal and "because it is the right thing to do."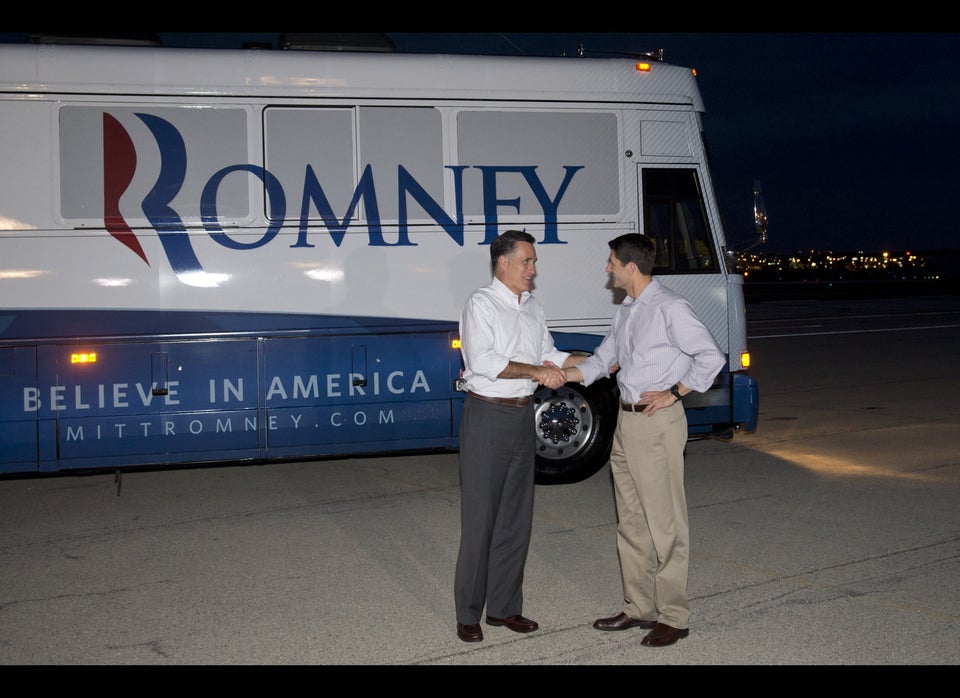 Romney-Ryan 2012 Soundtrack
Popular in the Community