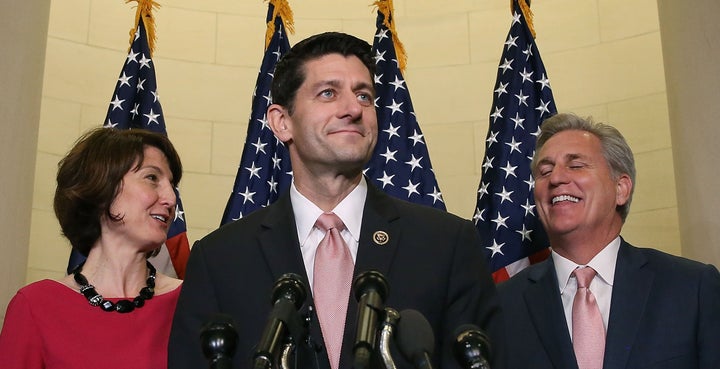 WASHINGTON -- It's a new day in the House. Speaker Paul Ryan is at your service, and he's already gotten his first request. It's from a top Democrat who hopes Ryan means it when he says he wants to restore people's trust in Congress.
Rep. Louise Slaughter (D-N.Y.), the ranking Democrat on the Rules Committee, wrote to Ryan on Thursday, urging him to disband the GOP's select committees on Benghazi and on Planned Parenthood.
"While your predecessor assumed the speakership with promises of restoring the House 'as a place where the people's will is done,' he leaves Congress saddled with two partisan committees that waste the taxpayer's money and distract from the true business of running the country," Slaughter wrote. "You now have the chance for a fresh start."
The Benghazi committee has spent nearly $5 million investigating the 2012 terrorist attack in Benghazi, Libya, despite seven previous congressional investigations into the incident finding no wrongdoing by former Secretary of State Hillary Clinton. Democrats say Republicans formed the committee to look for ways to hurt Clinton in her 2016 White House bid.
"Dismantling this committee should be the easiest decision of your speakership, and would send a clear signal that the House is setting aside political distractions and getting back to work on behalf of the American people," Slaughter said.
She also called on Ryan to shut down the Planned Parenthood committee, which was "similarly created to satisfy partisan and political goals." This committee was formed to investigate the "sting" videos released over the summer by an anti-abortion group that claims the family planning provider was selling fetal parts for profit. Forensic analysis has already determined that the videos are totally manipulated, but that hasn't stopped Republicans from using them to attack Planned Parenthood.
"Instead of doubling-down on abusing taxpayer funds, you should start your speakership on a positive note by ending this political theater for the good of the country," Slaughter wrote.
It's unlikely Ryan will disband the committees -- the GOP has made a big push on both issues -- but this story will be updated if Ryan's office has any comment.
PHOTO GALLERY
Reactions To Paul Ryan's Speaker Announcement
Calling all HuffPost superfans!
Sign up for membership to become a founding member and help shape HuffPost's next chapter