Rep. Paul Ryan, Mitt Romney's pick as vice presidential running mate, has used his position as chairman of the House Budget Committee to become one of the Republican Party's most influential policymakers.
As architect of the GOP budget plan, Ryan pushes for tax cuts for both corporations and individuals. He advocates turning Medicare into a voucher program, shrinking food stamps and turning Medicaid into a block grant program that would turn power over to states. Slashing federal spending is at the heart of the proposal.
Democrats have seized on the Ryan plan as an embodiment of what's wrong with the Republican Party.
"To envisage what Republicans would do if they win in November, the person to understand is not necessarily Romney, who has been a policy cipher all his public life," Ryan Lizza wrote in a New Yorker profile of Ryan published this week. "The person to understand is Paul Ryan."
Ryan, 42, has represented Wisconsin in Congress since 1999. He was 27 when he began campaigning and has won re-election six times.
Ryan is not known for being a firm conservative. In late 2010, as a member of the president's bipartisan deficit-reduction commission, he had a chance to vote on the $4 trillion plan put forward by the commission's chairmen, Erskine B. Bowles and Alan K. Simpson. He voted no, leading every other House Republican on the panel and preventing a vote in Congress.
He's the youngest of four children and was voted "Biggest Brown-Noser" of his 1988 high school class before leaving for college in Ohio, according to the Associated Press.
At age 16, he found his father, a lawyer, dead in bed from a heart attack. Using the Social Security survivors benefits he received until his 18th birthday, he paid for his education at Miami University in Ohio, where he completed a bachelor's degree in economics and political science in 1992, according to U.S. News & World Report.
"The death of my father had an enormous impact on accelerating his development," his brother, Tobin Ryan, 47, told The New York Times.
After graduating college, he worked as a marketing consultant for his family's construction business before being elected to Congress.
Ryan continued his education at a conservative policy institute founded by Republican Jack Kemp, who was a congressman, a member of the George H.W. Bush presidential administration and GOP presidential nominee Bob Dole's running mate in 1996. Kemp advocated tax cuts for promoting economic growth. Ryan said he considers Kemp, who died in 2009, his mentor.
Ryan is Roman Catholic and was for a time a devotee of the libertarian author Ayn Rand.
In Congress, he voted for the Iraq invasion, the TARP bailout, and the bailout of Detroit automakers. He helped found the GOP's congressional Young Guns program to recruit and promote promising conservatives.
He a Capitol gym regular, has Led Zeppelin and Rage Against the Machine on his iPod and likes to hunt and fish back in Wisconsin. He's an expert shot with a bow.
He sleeps in his Capitol office or at his sister-in-law's house in Bethesda, Md., when Congress is in session.
Ryan is married to the former Janna Little, who was a Washington tax attorney living in Arlington, Va., when she met him. His wife, an Oklahoma native, is a cousin of Rep. Dan Boren (D-Okla.), the son of former Democratic senator and governor David Boren. The couple wed in 2000 and have two sons and a daughter.
CORRECTION: A previous version of this post stated that Ryan has been reelected four times; he is currently in his seventh term.
Before You Go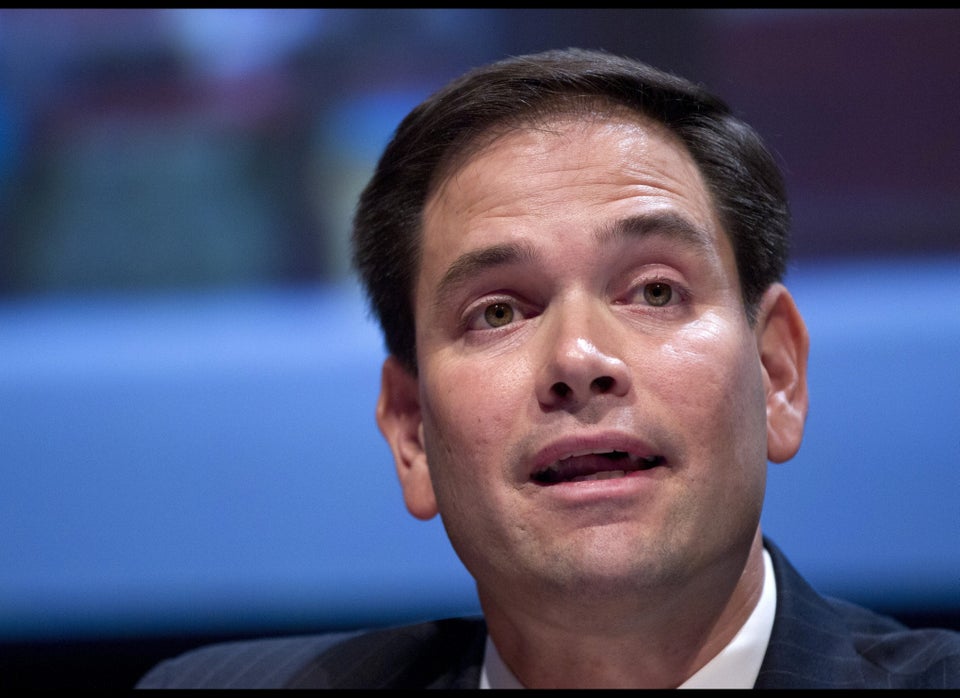 Political Reaction To Mitt's VP Pick
Popular in the Community