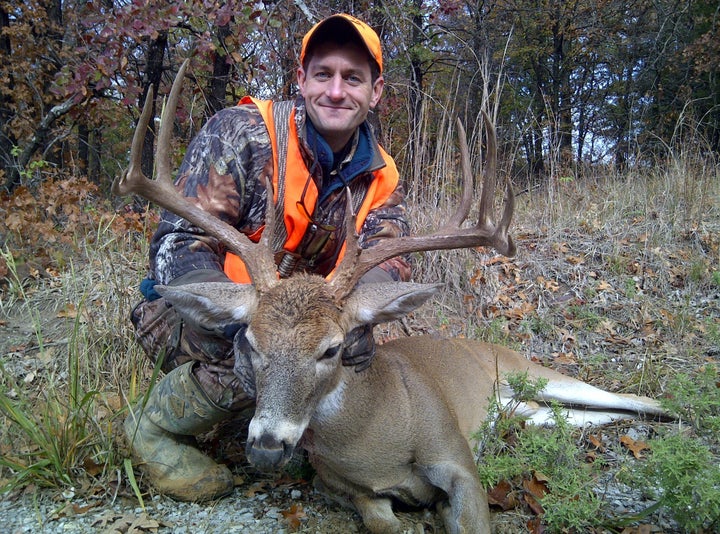 WASHINGTON -- When Mitt Romney announced his choice of Rep. Paul Ryan (R-Wis.) as his running mate last weekend, cheers erupted on internet message boards for a core GOP constituency: conservative hunters and outdoors enthusiasts.
Unlike many a candidate on a presidential ticket, Ryan isn't the kind of hunting dilettante who reaches for the shotgun only when it's campaign time. The Wisconsin native is an accomplished bowhunter -- a form of hunting that requires strength, stealth and precision. Republican-leaning bowhunters were thrilled to see one of their own chosen for the VP slot.
But what kind of record has Ryan amassed on issues important to hunters and anglers? As it turns out, the 7-term congressman has been far more supportive of generous gun rights than conservation and access to public lands, including federal hunting and fishing grounds.
But on conservation and access, hunters could take issue with some of the marks in Ryan's record. First would be a passage (on page 33) in his Path to Prosperity report, his budget resolution for 2013. (The document isn't a formal budget but merely a blueprint.) In it, Ryan suggested putting millions of acres of publicly owned land out west up for sale in order to help balance the budget.
Much of what Ryan deemed "unneeded federal property," falling under the Bureau of Land Management, would be public land used for recreation, including hunting. Less well-heeled hunters who don't have access to private ranches and farms rely on such public lands to hunt. The budget document noted that "such sales could also potentially be encouraged by reducing appropriations to various agencies." In other words, stripping funding to federal agencies through broader budget cuts could expedite the sale of public lands to private owners.
David Jenkins, vice president for government affairs at ConservAmerica, a Republican conservation group, told HuffPost that Ryan probably included the measure in his blueprint at the behest of Western GOP lawmakers who want more public land in private hands. Utah Rep. Jason Chaffetz (R), in particular, has championed the idea of these land sales. But Jenkins said his group -- whose motto is "growing a greener GOP from the ground up" -- is "wary" of such measures, seeing them as shortsighted and ultimately not in the public interest.
"We just don't think it's a very prudent thing, just because of the current budget situation, to decide you're going to have a firesale," said Jenkins. "When the government decides to sell stuff like that, they're turning over a long-term asset and transferring it into a short term windfall that undervalues the resource."
Ultimately, it's the hunters of lesser means who would lose out, Jenkins added. "If you don't have those public lands, where else are you going to hunt?"
The Romney campaign did not respond to a request for comment about Ryan's record.
On actual House votes, Ryan has been landing on the side of sportsmen all along, said Jeff Crane, president of the Congressional Sportsmen's Foundation. (Ryan has previously served as a co-chair of the foundation's bipartisan caucus for lawmakers.) The foundation doesn't score votes for members of Congress, but Crane, who said he's personally shot sporting clays and gone fishing with Ryan, points to the congressman's support of the Sportsmen's Heritage Act, which passed the House earlier this year but hasn't become law.
"I would have to say that, along with his Democratic co-chairs, Paul Ryan was an absolute champion for our sportsman issues and conservation issues," Crane said. "On specific bills we've been working on, he's been voting on our side without hesitation."
The Sportsmen's Heritage Act would open many BLM and Forest Service lands to hunting, fishing and recreational shooting. But it also includes a measure that upsets many hunters and anglers, particularly those who don't want to see or hear ATV's in the backcountry, as the bill would loosen restrictions on using off-road motorized vehicles in roadless areas. Many conservationists consider such restrictions sacrosanct, and the bill has divided outdoors enthusiasts and advocacy groups. It has not yet passed the Senate.
On conservation and the environment more broadly, Ryan has a lifetime score of only 20 percent from the League of Conservation Voters, a liberal leaning advocacy group. The group is particularly critical of Ryan's support for a bill that would open up wilderness areas near the national border to surveillance in the name of national security.
But according to Joshua Saks, legislative director at the National Wildlife Federation, if Ryan were to have a negative impact on wildlife management, it would probably be through his broader budget. Ryan's blueprint for trimming the deficit doesn't take an axe to specific fish-and-wildlife programs, but they could easily get pinched through the deep domestic cuts at the heart of Ryan's fiscal plan. The Clean Water Act and wetlands protection require federal dollars, and the states rely heavily on federal funding to maintain wilderness lands.

"The budget doesn't drill down to the program level, but it does take whacks at non-defense discretionary spending," Saks said. "There are really major programs that outdoor enthusiasts count on ... It's clear you'll have to reduce programs across the board, so they'd all get hit."
Before You Go
Paul Ryan Hunts Animals
Popular in the Community