 WASHINGTON -- Since Paul Ryan was chosen as Mitt Romney's running mate, Republicans in competitive congressional races have tried to strike a balance between praising the ticket, and emphasizing that they disagree with the fundamental premise of Ryan's budget.
Almost immediately after the presumptive GOP presidential nominee announced Ryan's candidacy Saturday, Democrats revived an old attack line against the Wisconsin congressman over his budget, introduced in 2010. Opponents' argument that the budget would "end Medicare as we know it" seemed to trickle down to both Republican congressional candidates who voted for the budget, and those who opposed it but didn't want to impair Romney's presidential bid.
Massachusetts Sen. Scott Brown (R), who is in a heated contest with Democratic challenger Elizabeth Warren, was one of the first to be targeted in a web video released Monday morning by Warren's campaign. The video tried to tie Brown to the proposed economic policies of both Romney and Ryan, featuring video of the incumbent senator saying "thank God" Ryan's budget proposal would tackle the nation's crippling debt.
The video doesn't mention that Brown voted against the Ryan budget twice, in 2011 and 2012, a point his campaign sought to clarify without undermining Ryan. "Senator Brown believes Paul Ryan is an impressive individual with innovative ideas on how to tackle the problems of spending and debt," Colin Reed, a spokesman for Brown, said in an emailed statement. "They've had their differences on policy issues."
His staff pointed The Huffington Post to an op-ed the senator penned for Politico in May, "Why I Won't Back Paul Ryan's Medicare Plan." Brown wrote at the time that he did not think changes to Medicare were necessary and expressed his concern for seniors having to take on a disproportionate burden, a position his campaign said he maintains.
Rep. Justin Amash (R-Mich.) also voted against the Ryan plan this year, a decision his reelection campaign said he hasn't reconsidered.
Like Brown, Amash authored an op-ed to justify his stance on the budget, writing on local Michigan site MLive that he could not "in good conscience" support it.
As a conservative, I applaud the GOP budget for presenting good ideas about reforming health care costs, simplifying the tax code and changing spending priorities. But beyond the good ideas, the budget accomplishes little now while making lofty promises about what we hope to address in the future.
"He hasn't changed his view on that," Amash spokesman Will Adams told The Huffington Post, adding that Amash "has a great relationship with Paul Ryan and considers him one of the brightest minds in politics."
Amash stated on his Facebook page Sunday that he already endorsed Ron Paul for president and "will not be making any other endorsements for President."
Following Saturday's announcement, Rehberg, who is challenging Sen. Jon Tester (D-Mont.), praised Ryan as a "public servant of the highest order," but mentioned there were "occasions where we haven't [agreed]."
At the time of his vote against the Ryan budget, Rehberg was more straightforward: "I simply won't support any plan until I know for a fact that Montana's seniors will be protected."
A spokesman for Richard Tisei, who is trying to unseat Democratic Rep. John Tierney in Massachusetts, also doubled down on his candidate's opposition to the Ryan plan Monday.
"Like Simpson-Bowles, Richard said [the Ryan plan] is a good start," Tisei spokesman Paul Moore told HuffPost. "Richard doesn't agree with certain aspects of it," adding that the budget may not be as clear and stark as everyone wants.
But when asked if Tisei would have voted for the Ryan budget, Moore was vague. "Richard would have taken a good hard look at it," he said. "If it was appropriate to vote for it he would have, if it was not appropriate he wouldn't have."
The list of Republicans seeking to distance themselves from the Ryan budget keeps growing.
Linda McMahon's campaign said in a statement that the Senate candidate from Connecticut "will never support a budget that cuts Medicare, after her Democratic opponent Rep. Chris Murphy posed the question "Mitt Romney Picks Paul Ryan – Does Linda McMahon?"
Rhode Island congressional hopeful Brendan Doherty lauded Ryan as "articulate, intelligent, and open-minded" but added, "I do not agree with his proposals on Medicare and his opposition to the Simpson-Bowles Plan."
North Carolina gubernatorial candidate Pat McCrory ducked questions on whether he supported the newly minted vice presidential nominee's budget proposals, simply stating that he would "support the Romney plan."
But with Ryan's name attached to Romney, it is unlikely that Ryan's budget will not be associated with Romney's plan, or seen as a liability. Democrats already are likening the Ryan budget to steps outlined by Romney, comparing across-the-board tax cuts, including steep ones for the wealthy, at the expense of investments in health care, education, job training, and other domestic programs.
Republicans are now left to determine how to defend that vision, without weakening support among voters who hold a mostly negative view of the proposal.
Support HuffPost
The Stakes Have Never Been Higher
Before You Go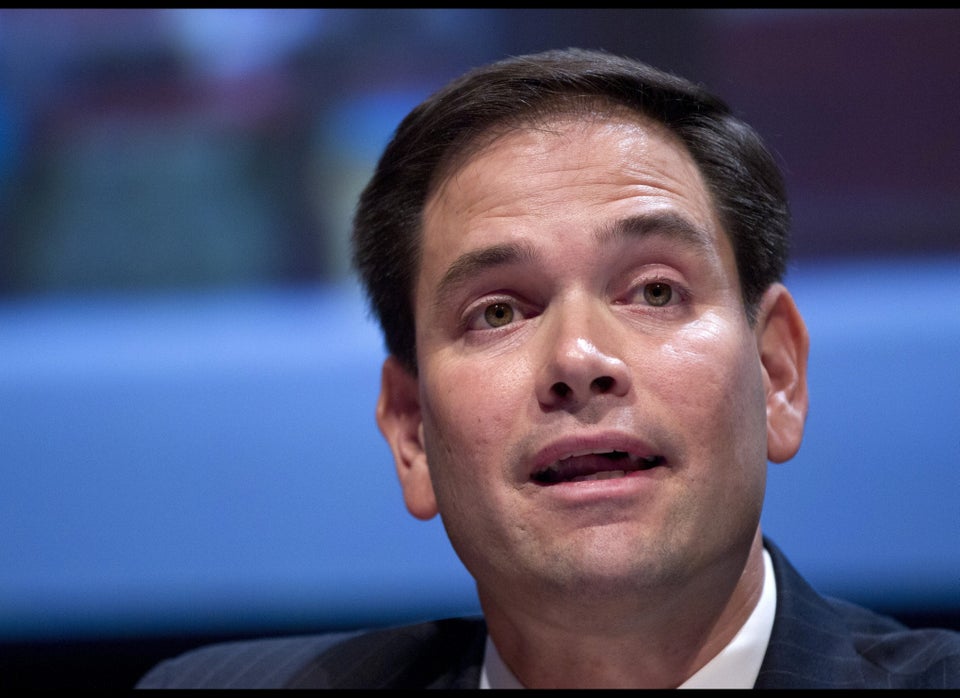 Political Reaction To Mitt's VP Pick
Popular in the Community