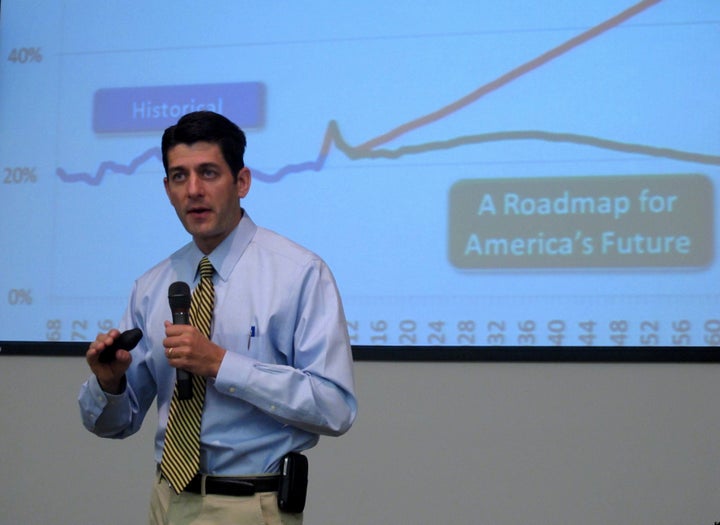 UPDATED: Additional GOP candidates supporting Ryan's plan have been included below.
While many House Republicans in leadership positions have shied away from embracing Rep. Paul Ryan's (R-Wis.) controversial budget proposal, a handful of GOP congressional candidates are doing so while campaigning in their districts to the party faithful.
Ryan is the top Republican on the House Budget Committee and set to become chairman if his party wins back control of Congress in November. Ryan claims that his Roadmap for America's Future Act of 2010 would eliminate the long-term budget deficit. It includes sharp cuts in just about all government spending -- Medicare, Medicaid, Social Security, defense, education, the FBI, etc.
There are, however, several top-tier candidates who are expressing support for Ryan's budget plan:
-- Martha Roby, AL-2: On June 4, Roby put out a statement criticizing Democrats for refusing to move forward with a budget proposal. "The American people deserve better. They deserve solutions," said Roby. "Conservative leaders like Rep. Paul Ryan are offering real solutions to cut wasteful spending, such as canceling unspent TARP and stimulus funds, cutting non-defense spending back to 2008 levels, and reducing the government workforce. I endorse these solutions and other common sense approaches to start getting our fiscal house back in order." Roby is one of the National Republican Campaign Committee's "Young Guns," the party's top new prospects.

-- Francisco Canseco, TX-23: In a video posted on July 13, Canesco told a questioner that he supports Ryan's alternative budget proposal. Canseco is also one of the NRCC's Young Guns.

-- Andy Barr, KY-6: In a July 15 radio appearance on WVLK-AM 590, a caller asked Barr whether "we can count on you to support the Republican budget." Barr responded, "Yeah. I mean, absolutely. I'm not in Congress now, of course, and I don't have an opportunity to support a particular budget, but that's certainly preferable -- that budget, a leaner budget -- is certainly preferable to the ones that have been offered by the President and the Speaker of the House."

-- Dan Lungren, CA-3: Lungren is already in Congress, but he hasn't yet co-sponsored Ryan's plan. On Aug. 11, Lungren told the site ThinkProgress that the roadmap was "the best long-term look at trying to deal with our fiscal insanity right now that anybody has done." He refused to say, however, whether he would officially sign on to the bill before the election.

UPDATE: Sean Duffy, the Republican candidate in WI-7, is also backing Ryan's roadmap: "I don't regret his roadmap for America. I think it's one of the best proposals to get our country back on track. I think it's a starting point to...fiscal responsibility."
Robert Hurt, running in Virginia's 5th district and a "contender" in the Young Guns program, has said Ryan is "one of the first people" he would work with if elected to Congress. Ryan is also one of the co-founders of the Young Guns program.
Part of the reason these candidates may be supporting Ryan's budget plan is that they have no other alternative. They are coming out against Democratic policies, but since the Republican leadership hasn't put forward any blueprint, they are forced to endorse Ryan's roadmap.
Former House majority leader Dick Armey last week chastised Republican leaders for distancing themselves from Ryan's roadmap, saying the "fact that he has only 13 co-sponsors is a big reason why our folks are agitated against the Republicans as well as the Democrats." He added that Ryan is "probably the most creative-thinking and most courageous guy in Washington."
Several economic think tanks have raised questions about whether Ryan's plan would actually do all it promises. The Center for Budget and Policy Priorities has noted that the roadmap would raise taxes on the vast majority of Americans (while cutting them for only the wealthiest few) without actually significantly reducing the deficit. House Minority Leader John Boehner (R-Ohio) has stated that Ryan's roadmap will not be part of the GOP agenda this fall. "There are parts of it that are well done," Boehner told reporters in July. "Other parts I have some doubts about, in terms of how good the policy is."
UPDATE: In a Broomfield Republican Women's candidate forum on July 15, Colorado Senate candidate Ken Buck said he liked Ryan's roadmap: "The best plan that I saw to try to balance this budget is Paul Ryan's plan, a congressman who is the minority leader on the House Budget Committee," Buck said. "He has put out a plan that has suggested that we can balance the budget through some spending cuts and, and changing some of our tax structure."

Popular in the Community