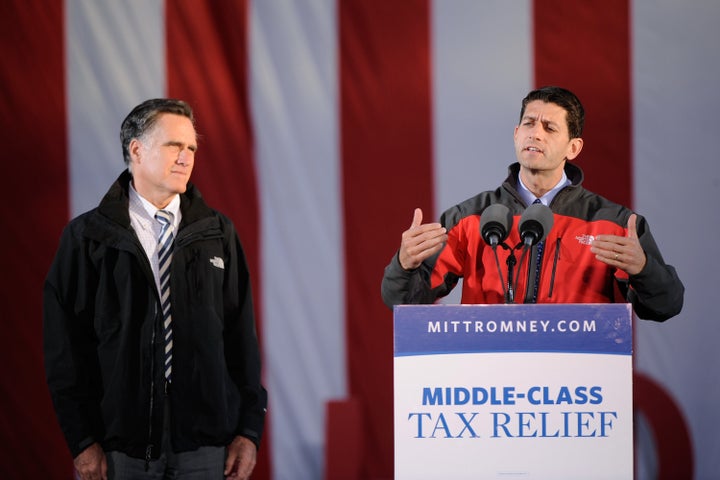 My favorite scene from The West Wing is the episode in which the President's press secretary is recovering from a root canal and Josh Lyman decides to handle a press briefing. Lyman is a young whiz kid who believes he is the smartest guy in the room, but the briefing goes disastrously. Lyman has to explain to the president that he has, sarcastically, told the press that the president has "a secret plan to fight inflation." The press, fed up with Lyman's arrogance, has decided to report Lyman's statement about the secret plan without noting the sarcasm. Worse is still to come, for upon questioning Lyman about the incident, the president asks in exasperation: "Are you telling me that not only did you invent a secret plan to fight inflation but now you don't support it?"
At Thursday's vice presidential debate, Representative Ryan renewed his claim that he has a secret plan to cut the deficit while cutting all tax rates by 20 percent and not eliminating any tax deductions for which the middle class are large recipients. Oh, and Romney has also promised to increase military spending.
Romney is reprising the three contradictory budgetary promises that President Reagan made during the 1980 campaign. Reagan's OMB Director David Stockman admitted no plan could produce the three promises. Stockman's job was to lie in order to cover up the fact that the administration had no plan that could simultaneously (1) cut taxes, (2) end the budget deficit, and (3) increase military spending. Stockman invented the "magic asterisk" to hide the truth from the public.
There is, of course, no Ryan plan. There cannot be a Ryan plan because mathematicians are not like historians. The cruel joke about historians is that while God himself cannot change history; historians can. It is perhaps because they can be useful to God in this regard that he tolerates their continued existence and frequent errors. Mathematicians are useless to God, at least in the non-exotic realms of mathematics relevant to budgets, because they are so good at exposing errors and when they do so the error is beyond dispute. (Econometricians are God's favorites among the quants.) No budget plan could meet all (or even most) of the policy constraints Ryan and Romney have promised they would obey. It is mathematically impossible. Romney and Ryan's primary lie is that they have a secret plan to cut taxes, cut the deficit, and increase military spending.
Ryan claimed during the debate that he could not tell the voters the plan because then it would not be secret and this would somehow prevent a bipartisan agreement to adopt the secret plan after the election. On September 30, 2012, however, Ryan told Fox News he could not tell them his secret plan because "it would take me too long to go through all the math."
Ryan's secondary series of lies is required to cover up the primary lie. He cannot keep his cover up lies straight. He tried out the first version ("it would take me too long to go through all the math") on Fox, the most Republican turf in media, and was ridiculed. His handlers developed a new lie to cover up the primary lie that there is a secret plan to reduce the deficit. Ryan's handlers think their new lie is a clever bit of alchemy, transmuting the "lead" of Ryan and Romney's constant refusal to give any facts about their (non-existent) secret plan into the "gold" of bipartisanship.
Halperin: Why not in the first year, if you're elected -- why not in 2013, go all the way and propose the kind of budget with spending restraints, that you'd like to see after four years in office? Why not do it more quickly?

Romney: Well because, if you take a trillion dollars for instance, out of the first year of the federal budget, that would shrink GDP over five percent. That is by definition throwing us into recession or depression. So I'm not going to do that, of course.
If Ryan actually had a secret plan that slashed social spending and tried to reduce the deficit dramatically the plan would be an austerity program as self-destructive as the European austerity program that gratuitously threw the Eurozone back into recession and the periphery into depression. Romney has stressed that adopting such a plan "is by definition throwing us into recession or depression. So I'm not going to do that, of course." It's a good thing that Ryan doesn't really have a secret plan to reduce the budget deficit, because it would cost millions of Americans their jobs by throwing us into a recession or depression. Paul Krugman's recent column explains how the House Republican budget calls for extreme austerity of the nature that Romney accurately warns would throw our nation "into recession or a depression."
Ryan is the architect of this House Republican budget. The House Republican budget is not a plan, but a fantasy. It assumes that governmental spending cuts will cause a huge increase in economic growth, but as Romney admits it would do the opposite. Recessions or depressions cause budget deficits to grow massively as tax revenues fall precipitously. If you hate budget deficits avoid austerity like the plague. Romney admits that the House Republican budget would produce the Ryan Recession of 2013.
Calling all HuffPost superfans!
Sign up for membership to become a founding member and help shape HuffPost's next chapter