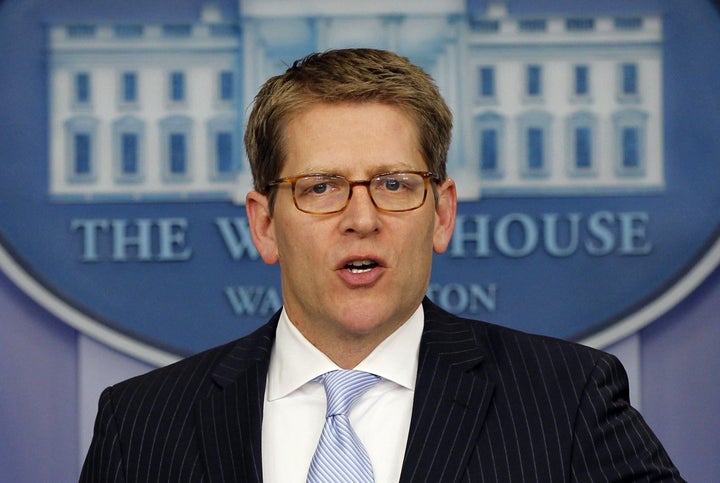 WASHINGTON -- White House Press Secretary Jay Carney on Wednesday blasted the House Republican budget proposal unveiled this week and said that anyone who supports it must be "deliberately ignorant" and have "severely diminished capacity."
During a gaggle with reporters aboard Air Force One, Carney said the budget plan offered by House Budget Committee Chairman Paul Ryan (R-Wis.) has "many serious problems," including its dramatic cuts to Pell Grants and clean energy investments. Democrats have slammed the GOP budget for, among other things, proposing to change Medicare into a voucher-based system, repeal President Barack Obama's health care law and scale back many social welfare programs.
Carney then took his criticisms a step further: He questioned the intellectual competency of the GOP lawmakers backing the bill.
"You have to be aggressively and deliberately ignorant of the world economy not to know and understand that clean energy technologies are going to play a huge role in the 21st century," he said. "You have to have severely diminished capacity to understand what drives economic growth in industrialized countries in this century if you do not understand that education is the key that unlocks the door to prosperity."
"The budget proposed by Chairman Ryan and supported overwhelmingly already by Republicans suggests that those problems exist in the minds of the supporters of that plan," Carney continued.
A moment later, the White House spokesman appeared to try to dial back his remarks.
"That was a bad sentence, but you get my point," Carney told reporters. "I lost track because I was watching RG3 over there, future quarterback of my Washington Redskins."
A request for clarification from Carney was not immediately returned. A request for comment from Ryan's office also was not immediately returned.
Calling all HuffPost superfans!
Sign up for membership to become a founding member and help shape HuffPost's next chapter
BEFORE YOU GO