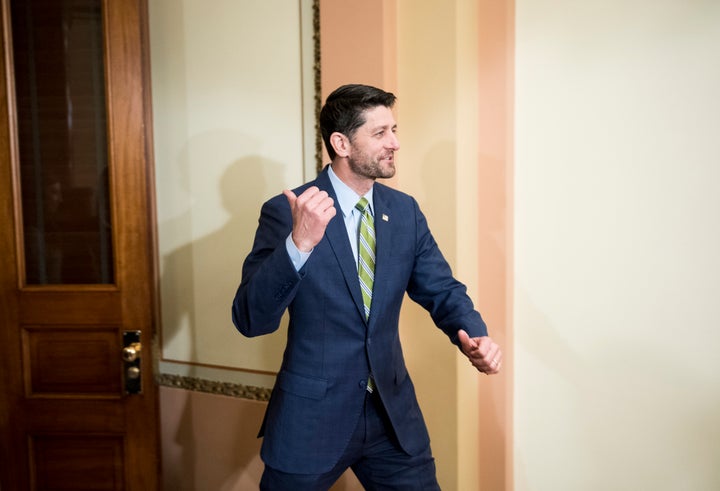 House Speaker Paul Ryan (R-Wis.) said Thursday it was "bizarre" that Republicans lost House races in California in races they appeared to be winning on election night, saying the state's election processes were "very strange" and he did not understand how vote totals could change after Election Day.
This year, Democrats flipped six seats in California, including several by very narrow margins. Democrats could flip a seventh: As ballots continued to be counted, The Associated Press, considered the gold standard in projecting elections, retracted its call that Republican Rep. David Valadao would win re-election. This month, President Donald Trump and Florida Gov. Rick Scott (R) suggested something was amiss as Florida counties continued to count ballots after Election Day and Scott's Democratic opponent in their Senate race shrank the margin. (Scott ultimately won.)
Election officials are almost always still counting ballots after Election Day, but that counting often goes unnoticed because the votes tallied on election night usually provide a clear enough picture for news organizations and other outlets to project who will win. But when races are close, as some were in California and Florida this year, the post–Election Day counting gets more attention. Experts are worried that rhetoric questioning these practices will only intensify, undermining public trust in legitimate election practices.
"The way the absentee ballot program used to work and works now, it just seems pretty loosey-goose," Ryan said at an event hosted by The Washington Post. "Point being, when you have candidates that win the absentee ballot vote, win the day of the vote, and then lose three weeks later because of provisionals, that's really bizarre. And so I just think that's a very, very strange outcome."
State law gives counties in California until Dec. 7 to count all their votes and the state until Dec. 14 to certify the results. The reason California takes such a long time to count ballots is that many people in the state vote by mail and as long as they are postmarked by Election Day and are received within three days of the election, state officials are required to accept them. Also, the state gives people eight days to provide a signature if they forget to sign their mail-in ballots. A 2002 federal law requires election officials in every state, including California, to allow voters to cast a provisional ballot if they cannot establish their eligibility at the polls. Officials must verify those ballots before counting them.
About 7.4 million ballots in California were counted on election night, according to CNN. There were some 4.8 million mail-in ballots remaining to count after Nov. 6, said Sam Mahood, a spokesman for California Secretary of State Alex Padilla (D).
"When you win the absentee ballots and you win the in-person vote, where I come from, you win the election," Ryan said, according to the Post. "If you then — and you're up six points or something like that, it's really bizarre. So my only point is, I'm not saying there's anything nefarious about it, because I just don't know, but we believed we were up about six seats in California the night of the election, now I think we lost just about every single one of those."
"California just defies logic to me. We had a lot of wins that night. We were up 26 seats the night of the election and three weeks later we lost basically every contested California race," Ryan also said at the event.
Ryan said that in his home state of Wisconsin, voters knew the next day that Gov. Scott Walker (R) had lost his re-election bid. Even though Walker conceded the race the next day, the state isn't required to certify its election results until Dec. 1.
Edward Foley, a law professor at Ohio State University, has studied the way vote tallies change after election night. Those shifts tend to benefit Democrats, he told HuffPost this month, because the demographic groups more likely to use provisional ballots ― young, mobile voters ― are more likely to vote Democratic.
"It is bizarre that Paul Ryan cannot grasp basic voting rights protections. It shouldn't 'defy logic' that elections officials are meticulous in counting every eligible ballot," he said. "California works to ensure every ballot is counted properly and every ballot is accounted for. In the most populous state in the nation — and the state with the largest number of registered voters — this takes time."
Popular in the Community