 Paul Ryan waded into the Chick-fil-A controversy when he told a reporter that he associates the fast food chain with "free speech."
On Thursday, a reporter from Virginia-based CNN affiliate WDBJ, upon finding out that he would only have five minutes with the Republican vice presidential candidate, decided to engage Ryan in a round of word association.
"Chick fil-A," Orlando Salinas, the WDBJ reporter, offered.
"Good chicken," Ryan said. "Free people exercising their free speech rights."
Chick-fil-A sparked controversy last month when company president Dan Cathy said that he and his company support "the biblical definition of the family unit" when asked about the issue of same-sex marriage.
Cathy's remarks were met with backlash, as many LGBT activists called on supporters of gay marriage to boycott the chicken chain. Protesters have organized "kiss-ins" at Chick-fil-A locations across the country.
Meanwhile, conservatives jumped to defend the chain's right to condemn same-sex marriage. Mike Huckabee organized a Chick-fil-A Appreciation Day earlier this month, which was endorsed by a number of notable right-wing figures including Sarah Palin, Rick Santorum, and Michele Bachmann.
Romney, however, has distanced himself from the controversy, declaring that the Chick-fil-A debate was not "part of my campaign." While he has avoided directly addressing his stance on the chain, his campaign may have made a quiet showing of support. Politico reported earlier this week that the Romney campaign spent $500 in "meeting expenses" at the chain last month, just days before Huckabee's appreciation day.
Before You Go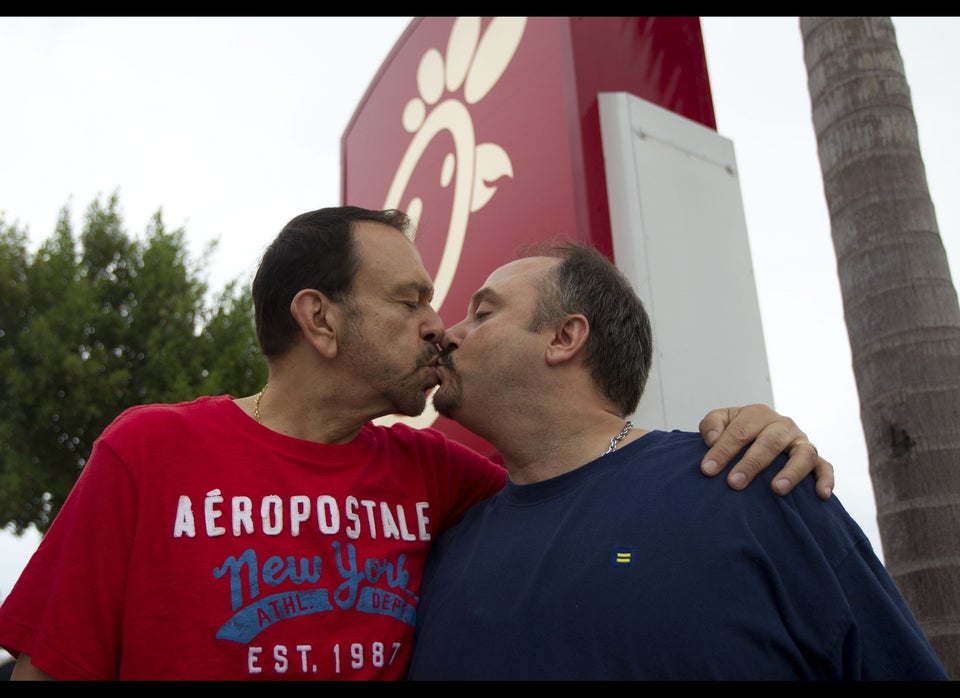 Chick-FIl-A Kiss-In Day
Popular in the Community