WASHINGTON ― A bipartisan group of 46 lawmakers wrote to House Speaker Paul Ryan (R-Wis.) on Friday, urging him to schedule a debate on Congress' role in authorizing wars ― and on the need for President Donald Trump to get their approval before he takes any further military action overseas.
"It's long past time for Congress to take responsibility for the war against ISIS by finally holding a debate and vote on whether to authorize any future military action," said Rep. Jim McGovern (D-Mass.), a leading voice on the issue who signed Friday's letter.
"With his recent military strike against Syria, we are also declaring that President Trump must not undertake any new military operations without the approval of Congress," he said.
The Constitution says that it's Congress' role to declare wars, and the president is supposed to get lawmakers approval before any U.S. military action. But in the aftermath of the Sept. 11, 2001, attacks, Congress hastily passed a sweeping Authorization for the Use of Military Force that allowed President George W. Bush to attack anyone connected to al Qaeda, anywhere, at any time. That AUMF never expired, and President Barack Obama stretched its limits to argue he could use it to take military action against the so-called Islamic State, too, since the terror group is an offshoot of al Qaeda.
Today, that means Trump can use a 16-year-old war authorization to unilaterally take military action in Syria or anywhere else in the Middle East, if he can make the case that Islamic State or al Qaeda targets are there. Trump bombed Syria earlier this month, in what was the United States' first direct military strike against Bashar al-Assad's regime. He took that action in response to Assad gassing his people, which was not connected to the Islamic State.
The prospect of Trump taking military action without consulting Congress is troubling to many lawmakers, who say it's time to finally get rid of the 2001 AUMF and pass a new one, with more narrowly tailored limits on the scope, duration and costs of a potential new war. To some, the old AUMF has amounted to a blank check for endless war.
"One of our most sacred responsibilities in Congress is that of debating war policy and deciding whether or not we send our service members into conflict," said Rep. Walter Jones (R-N.C.), who signed the letter. "We owe that to the American people, and we owe that to our men and women in uniform."
A Ryan spokeswoman did not respond to a request for comment.
Despite the urgency some feel, Congress has demonstrated for years it has little appetite for taking a tough vote on authorizing war. Obama sent Congress a draft AUMF proposal in 2015 that went nowhere. A couple of senators introduced a bipartisan AUMF bill in 2015, which also went nowhere. The only thing left for concerned lawmakers to do, it seems, is to keep pressuring party leaders to take them seriously.
They do have momentum for their cause, though. Friday's letter to Ryan is the largest bipartisan coalition yet demanding action on war authorization. It includes seven bipartisan members of the Armed Services Committee, nine bipartisan members of the Appropriations Committee and four bipartisan members of the Foreign Affairs Committee.
Republicans on the letter include Reps. Tom Cole (Okla.), Thomas Massie (Ky.), Paul Gosar (Ariz.), Ted Yoho (Fla.) and Justin Amash (Mich.). Read the full letter here.
Correction: This story previously listed Rep. Massie as an Oklahoma lawmaker. It has been updated to reflect that he is from Kentucky.
Before You Go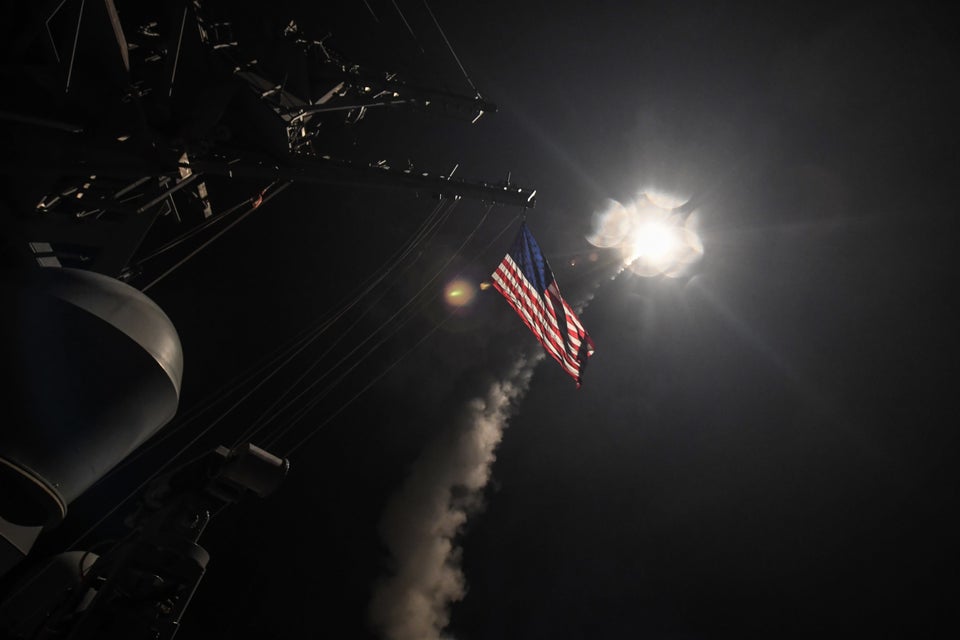 U.S. Strikes Targets In Syria
Popular in the Community